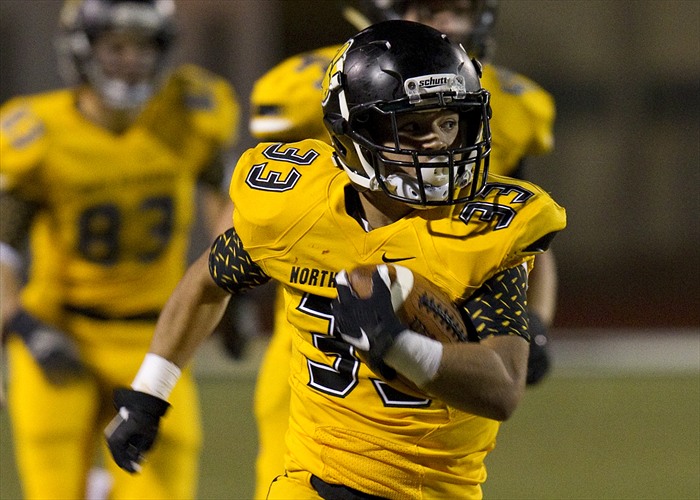 Tigers Batter Butler In Homecoming Blowout, 41-7
North Allegheny rolled up 437 yards of offense and ran roughshod over the Butler Golden Tornado en route to a 41-7 win on homecoming night at Newman Stadium. Four different players scored touchdowns for the Tigers, including Mike Pope who trotted into the end zone three times to help invoke the mercy rule by halftime. For his three-touchdown performance, the North Allegheny Sports Network anointed Pope as the Wright Automotive Player of the Game.
The Tigers started quickly on their opening possession when junior Ethan Maenza scored on a 62-yard touchdown run to give NA a 7-0 lead. The Tigers went 65 yards on 11 plays on their next drive and punctuated the march with a 6-yard touchdown run by Pope for a 14-0 lead with 2:25 to play in the first quarter.
With 9:14 remaining in the second quarter it was Pope who struck again, this time on a 65-yard punt return to stretch the NA lead to 21-0. Just over two minutes later Nick Provenzano galloped into the end zone on a 17-yard jaunt and it was 28-0, Tigers. North Allegheny continued to pour it on with another Pope touchdown, a 2-yard run with 3:14 left in the half to bring the score to 35-0.
With North Allegheny leading by 35 entering the third quarter, the mercy rule clock was in effect. The second half stayed scoreless until Turner White busted off an 89-yard touchdown run to balloon the lead to 41-0 with 1:22 remaining in the game. On the last play from scrimmage, Butler scored on a 53-yard bomb by Brandon Fleeger to Kelley Kuharic to bring the final score to 41-7, North Allegheny. For complete game stats, click here.
North Allegheny improves to 5-1 overall with the win and 4-1 in the Northern Eight Conference. The victory was North Allegheny's 12th straight against the Golden Tornado. Butler falls to 0-6 overall and 0-4 in conference play. The Tigers visit Fox Chapel next week.