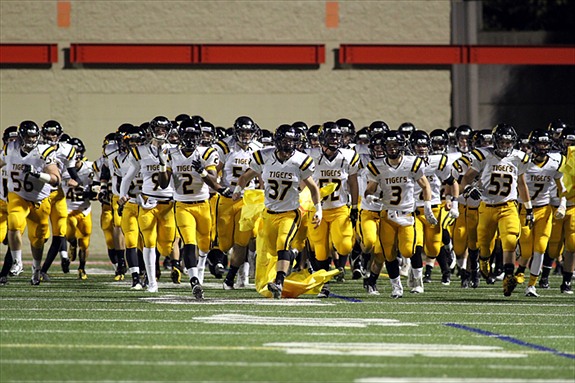 Tigers Battle Bethel Park Tonight In WPIAL First Round
The reigning three-time WPIAL Champion North Allegheny Tigers (6-3) open the Quad-A playoffs on the road tonight against the eighth-seeded Bethel Park Black Hawks (6-3).  Familiar foes in the post-season, the Tigers will battle the Black Hawks for the third time in the last four years and the fourth time in the last six.  The team that has won in the three previous meetings has gone on to win the WPIAL title.
Following an impressive 31-0 victory over rival North Hills in the regular season finale, the Tigers might be hitting their stride at the right time.  Forcing five turnovers and converting short fields into touchdowns, NA played their most complete game of the season in a hostile environment at Martorelli Stadium. Coping with the challenges of playing on the road, and also entering the game in a moment's notice on NA's first series, back-up quarterback Cage Galupi had a fantastic outing, throwing for 203 yards and two touchdowns.  With Jeff Clemens recovering from last week's low leg tackle at North Hills, Galupi will make his first start for the Tigers in tonight's First Round game.  With a vast knowledge of the offense, North Allegheny will be in good hands with Galupi under center this evening.
While the Tigers are without Clemens, Bethel Park will be without several players, including starting free safety and receiver Danny Emma.  Emma was injured three weeks ago at Upper St. Clair and has been ruled out for tonight.  In an injury riddled 2013 campaign, the Black Hawks have been minus several regulars throughout the year.  Even place kicker Danny Christenson had to miss a week eight game against Seneca Valley due to injury.
Despite the injury woes, Bethel Park boasts a big and burly offensive and defensive front that swallows up opponents on a weekly basis.  The offensive line weighs in at an average of 276 pounds and is anchored by Pitt Panthers recruit, Mike Grimm.  The 6-6, 308 pound senior is a mobile big body, reportedly clocking in a 5.0, 40-yard dash at a Pitt camp. Grimm is joined by returning starters Kevin Boyle and Ryan Sosnak on the O-line.  Sosnak, who stands at 6-3 and 290 pounds, is also a nose tackle on defense, leading the team in tackles with 37 stops. In the running backfield, junior Alex Minton is the leading rusher with 722 yards and seven touchdowns in a ground heavy, conservative attack.
A key for both Bethel Park and North Allegheny tonight will be staying in reasonable third down situations on offense and keeping the opponent to 3rd and long on defense.  Setting up winning third down situations is something that both teams head coaches agree with.  (Click here to listen to BP's Jeff Metheny, and click here to listen to NA's Art Walker, both speaking about third down situations).
With Galupi making his first start at quarterback, the Tigers would love to pound the football with running backs Josh Bergman, Sean Idowu and Isaac Weaver.  The trio has combined to rush for over 900 yards and 12 touchdowns.  In the passing game, Elijah Zeise is the top target with 38 catches for 781 yards and eight touchdowns, having already bested his totals in all three categories from last season.  An impressive feat considering the Tigers played 16 games in 2012.
Tonight's game marks the first time in eight years the Tigers have played a first round playoff game on the road. In 2005, North Allegheny traveled to the Wolverina and fell to Woodland Hills in a defensive struggle, 7-0. Having conquered an opponent in a road game with playoff–like atmosphere last week at North Hills, the Tigers are hoping to continue the momentum gained against the Indians in tonight's affair in Bethel Park. Kickoff is slated for 7:30 pm with pre-game coverage getting underway at 7:05 pm.  The pre-game show will feature interviews with Bethel Park head coach Jeff Metheny and North Allegheny head coach Art Walker.  Randy Gore and Rick Meister will have the call on the North Allegheny Sports Network. Click here to listen to tonight's broadcast.