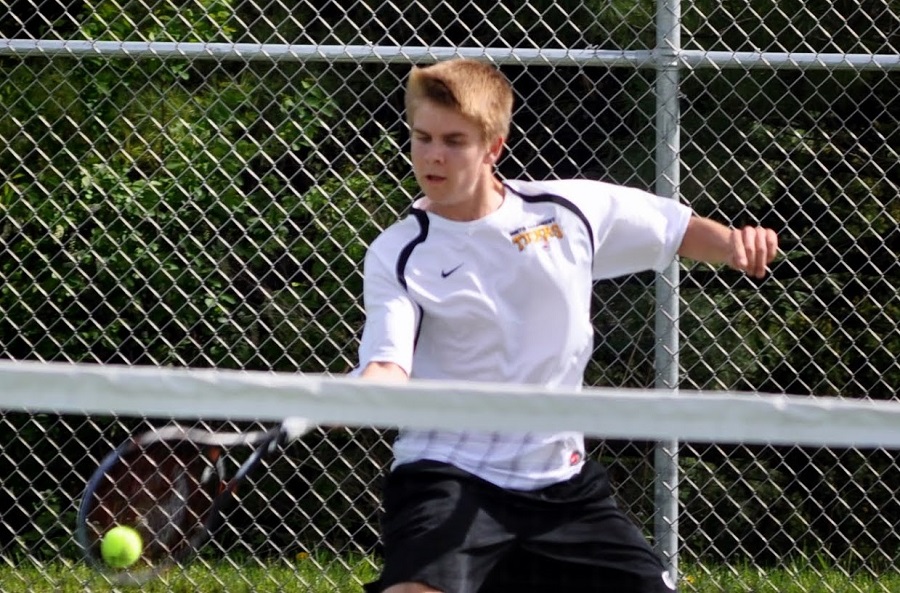 Tigers Beat Indians In Section 2 Rematch
Playing indoors for the sixth time this season, the Tigers hosted the North Hills Indians Tuesday afternoon and prevailed 4-1 over their rivals at the Pure Athletex Complex.   The match also marked the season debut for the Tigers' number one player, senior Kevin Goth.  The first point for the Tigers came from the number two singles racket of senior Kylie Isaacs who defeated Dan Schmidt in straight sets.  
The second team point was presented by the number one doubles combo of senior Stephen Chuirazzi and sophomore Andrew Xu who defeated Mike Chutko and Grant Traeger.  It was Xu's first doubles appearance in his two year varsity career.  The clinching point came at number three singles where sophomore Jared Isaacs sparred with and defeated Helena Varys.  The victory parade continued at number two doubles as junior Michael Helkowski and sophomore Apoorv Anand took a straight set match over Ryan Balog and Craig Deng. 
The Tigers moved to a 10-1 season mark, including a 9-1 section record.  Next on the schedule, they will take on the Ambridge Bridgers Thursday afternoon with a start time of 1:30 PM on the NASH courts.
Match Summary (4/15/14)
NORTH ALLEGHENY—4   NORTH HILLS–1
Singles
#1 Pablo Morcate (NH) def. Kevin Goth (NA) 4-6, 7-5, 6-3
#2 Kylie Isaacs (NA) def. Dan Schmidt (NH) 6-0, 6-0
#3 Jared Isaacs (NA)  def. Helena Varys (NH)6-2, 6-2
Doubles
#1 Stephen Chuirazzi/Andrew Xu (NA) def.  Mike Chutko/Grant Traeger (NH) 6-4, 6-2
#2 Michael Helkowski/Apoorv Anand (NA) def. Ryan Balog/Craig Deng(NH) 6-3, 7-6 (7-4)