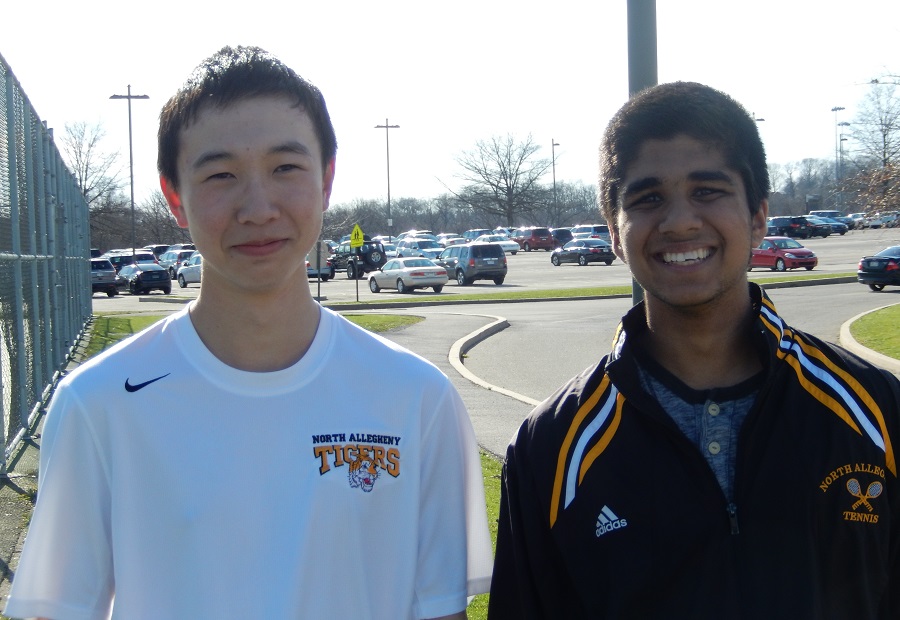 Tigers Beat Pine-Richland 4-1 to Win Section Championship
In the last Section 2 match of the season, the Tigers traveled to and tangled with their traditional tennis rivals, the Pine-Richland Rams, and walked off with a 4-1 win to clinch the section championship. This marks the seventh section title in the last eight years for the Tigers, as they start a new streak following last year's second place finish.
Leading off the scoring was sophomore Ivan Voinov who defeated Jack Nix at number three singles in straight sets.  The second point came from first singles where senior Jared Isaacs bested Ben Vinarski in short order.  The section clinching point came from number two doubles where senior swing man Apoorv Anand and freshman Jerry Huang prevailed in a solid effort. Sophomore Richard Hofmann took out Sid Iyer at number two singles in a straight set match.  Rounding out the scoring, brothers Andrew and Mark Chuirazzi played the most spirited match of the day at first doubles.  After splitting sets, the rival P-R duo took the third set in a raucous round of play.
With the win the Tigers improve to 13-1 on the season including an 8-0 section record. They travel to Peters Township Thursday afternoon for an exhibition match with the Indians, starting at 3:30.  The match carries significance in that both teams are vying for a high seed, to be determined, for the WPIAL team championships.
Match Summary (4/27/16)
NORTH ALLEGHENY—4 Pine-Richland–1
Singles
#1 Jared Isaacs (NA) def. Ben Vinarsky (P-R) 6-1, 6-0
#2  Richard Hofmann (NA)  def. Sid Iyer (P-R) 6-1, 7-5
#3 Ivan Voinov (NA) def. Jack Nix (P-R) 6-1, 6-0
Doubles
#1 Jack DiNucci/Jonah Krause (P-R) def. Andrew & Mark Chuirazzi 6-3, 6-7 (4), 7-5
#2 Apoorv Anand/Jerry Huang (NA) def. Nolan Rausch/Alex Goitz (P-R) 6-4, 6-3