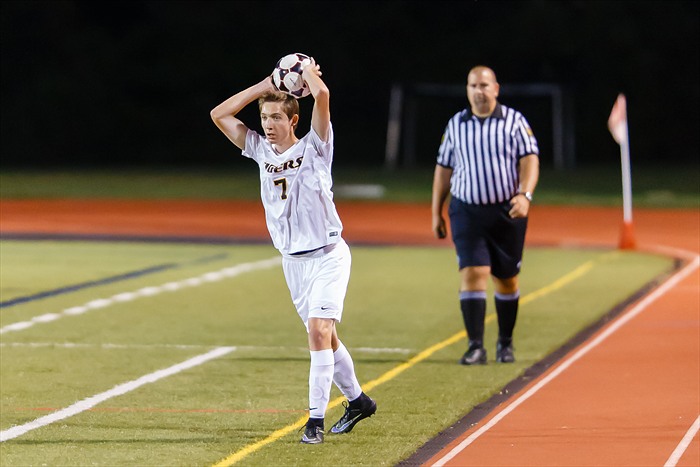 Tigers Cap Soccerfest with 5-0 victory over Plum
Using a dominating second-half performance, the North Allegheny Tigers capped off the day-long Soccerfest at Newman Stadium with a 5-0 defeat of the Plum Mustangs Saturday evening.  The victory extends North Allegheny's unbeaten streak to nine games.
Tigers head coach Bobby Vosmaer used the non-section contest as an opportunity to spread playing time among his squad, and the Tigers relished the opportunity.  The first half showcased the Tigers strong defensive back-line, anchored by Chip Dougherty and Nick Thornton.  While Plum struggled to generate offense, the Tigers were able create scoring chances but couldn't convert until late in the first half. Ben Cinker launched a deep ball that the Plum goalie couldn't control, leaving Roman Rainville alone in front of an open net for a 1-0 Tiger lead at halftime.
The second half was a dominant performance by the Tigers as they scored four goals while holding Plum without a single shot on goal.  Josh Luchini scored on a header on a nice assist from Jason Earle at 37:19, and the Tigers were off and rolling.  Less than three minutes later, Michael Peters scored on a rebound off a shot by Sean Atwater, putting the Tigers ahead 3-0.  Earle then took his turn, scoring on a header off a perfect cross from Nate Hall at 18:29, and Zac Marzula finished the scoring at 8:51 with a beautiful left-footed shot into the top-left corner of the net to bring the score to its eventual final, 5-0.
With the win North Allegheny is now 8-1-2 and remains 5-1-2 in section play.  The Tigers next game is a section contest against the Hampton Talbots on Monday at 6pm at Hampton. This is a rescheduled game that was postponed last week due to weather.