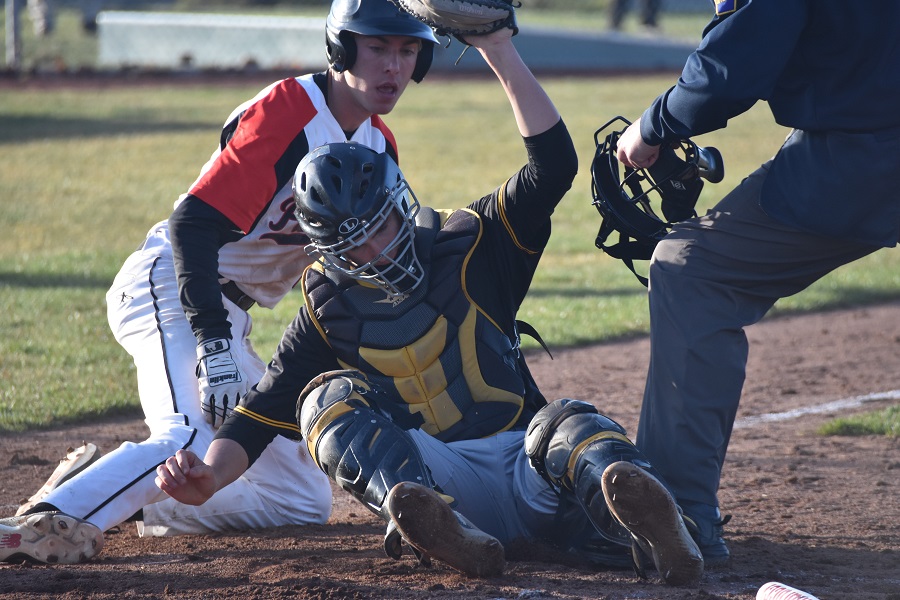 Tigers Claw Past Panthers For Non-Section Win
On the strength of a four-run seventh inning, the North Allegheny baseball team defeated Upper St. Clair by a 5-3 decision in non-section play on Monday afternoon. Senior C.J. Weller helped the Tigers collect the road win with a 3 for 3 effort and one RBI.
Weller's bat produced the game's first run in the top of the first inning, driving home Ryan Dougherty with an RBI single for a 1-0 lead.
Upper St. Clair was held scoreless by North Allegheny starting pitcher Ryan Partridge through three innings but managed a pair of unearned runs in the bottom of the fourth to grab a 2-1 lead.
The Panthers pitching staff limited North Allegheny to only two hits, both belonging to Weller, through six innings of play, still maintaining their 2-1 lead. The Tigers, however, turned the tables on the Panthers with a seventh-inning explosion.
Weller led off the seventh with a single, and later in the inning, his courtesy runner Logan Andreyko scored on a sacrifice fly by Cam Medic to tie the game at 2-2. Not done yet, the Tigers continued their threat and scored again when Jared Orwell raced home on a wild pitch for a 3-2 advantage. An RBI ground out by Cole Young made it 4-2, Tigers, and another wild pitch plated Joey Colella for a 5-2 lead.
Upper St. Clair rallied for one run in the bottom of the seventh but its comeback bid fell short thanks to the NA bullpen and defense as the Tigers held on for a 5-3 win. Reliever Trevor Freyvogel earned the victory for NA with 2.1 innings of work, allowing one run on two hits with five strikeouts and three walks.
Conor McSparran picked up his second save of the season, collecting the final two outs in the seventh courtesy of a fantastic play by Collela in the outfield. With one out and runners at second and third, USC's Andrew Casey flew out to Collela for the inning's second out and the NA right fielder uncorked a strong throw home to catcher Weller who tagged out Joseph Pulit at the plate to end the ballgame. (Final out in photo above.)
Upper St. Clair's Aaron Stephan took the loss, surrendering all four runs in the top of the seventh inning. Stephan tossed 3.1 innings with three strikeouts and three walks.
Following their third win in a row, the Tigers improve to 3-2 on the season. North Allegheny is slated to host Mars on Wednesday at home at 6:00 p.m.
Box Score - Baseball vs. Upper St. Clair - 04/01/2019
| Score by Innings | 1 | 2 | 3 | 4 | 5 | 6 | 7 | R | H | E |
| --- | --- | --- | --- | --- | --- | --- | --- | --- | --- | --- |
| North Allegheny | 1 | 0 | 0 | 0 | 0 | 0 | 4 | 5 | 6 | 2 |
| Upper St. Clair | 0 | 0 | 0 | 2 | 0 | 0 | 1 | 3 | 4 | 0 |
WP - Trevor Freyvogel (1-0) LP - Aaron Stephan SV - Conor McSparran (2)