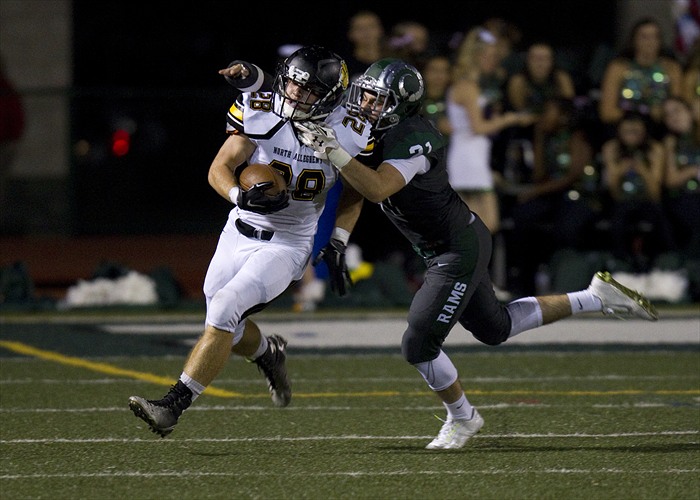 Tigers Comeback Bid Falls Short At Pine-Richland, 28-14
North Allegheny attempted to rally from a major deficit for the second straight week, but last night's comeback bid fell short as the Pine-Richland Rams hung on for a 28-14 victory. Pine-Richland sophomore quarterback Phil Jurkovec accounted for 328 yards of offense, 141 on the ground and 187 through the air, and scored three touchdowns to lead the way for the reigning WPIAL champions. In a game that featured plenty of offense, the Rams outgained the Tigers, 459-381, in total yards.
Jurkovec spearheaded the Rams to a 14-0 lead with rushing touchdowns of 32 and 12 yards. Running back Jimmy Graff added a 12-yard rushing touchdown with 3:59 to play in the second quarter to give PR a 21-0 lead. Desperately needing a score before halftime, North Allegheny marched 80 yards on 10 plays and capped the drive on a 26-yard touchdown pass from Ethan Maenza to Matt Sell to cut the score to 21-7, Rams, with 1:00 left in the half. Sell finished the night with seven catches for 186 yards and was named the Wright Automotive Player of the Game. Sell also added an interception on defense.
After both teams traded punts to start the second half, the Tigers finished off an 85-yard drive with an 8-yard scoring run by Mike Pope to trim the Rams lead to 21-14. However, that was as close as North Allegheny would come as Pine-Richland needed only two plays to regain its two touchdown advantage on the ensuing drive.
Rams receiver Anthony Battaglia took a screen pass 40 yards to the NA 40-yard line and a 15-yard facemask penalty moved the ball to the Tigers 25. On the very next play, Jurkovec tossed a 25-yard scoring strike to a wide open Jordan Crawford for a 28-14 advantage. The Rams defense made sure the lead stood as they forced two red zone turnovers in the game, a first half fumble and a third quarter interception by Tommy Camino. Pine-Richland's offense chewed up clock with lengthy possession in the final stanza to ice the victory. For a complete look at team and individual stats, click here.
North Allegheny slips to 1-1 overall and in the Northern Eight Conference following the loss. Pine-Richland stays unbeaten at 2-0 overall and in conference play. The Tigers will face another tough opponent next week with a home meeting with the Central Catholic Vikings.