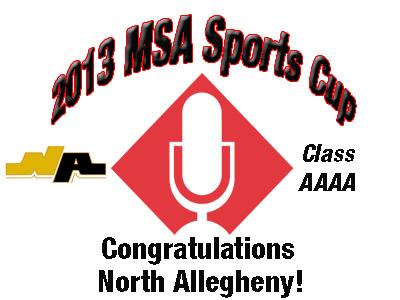 Tigers' Dominating Year Earns NA Another MSA Sports Cup
by Don Rebel
North Allegheny has won every MSA Sports Cup Class AAAA championship, but you could say the title they won in the 2012-2013 school year was perfect. There are 20 sports in which schools can earn points in the competition and for the first time in ten years, a school earned points in ALL of them.
North Allegheny scored a mind-numbing and record 1,115 points this year, 'edging' runner-up Peters Township by a mere 635 points. Mount Lebanon finished third, Canon-McMillan fourth and Hempfield fifth. The rest of the top ten was Upper St. Clair, Bethel Park, Latrobe, Gateway and Fox Chapel.
Where do you start with the sports year that North Allegheny enjoyed? In the fall, they captured WPIAL gold in boys cross country and district and state gold in football. Then in the winter season, more gold came in both WPIAL boys and girls swimming along with a PIHL and Pa Cup state championship in ice hockey. The golden season for the Tigers concluded in the spring with a WPIAL and PIAA state crown in boys volleyball, District 7 championships in baseball and boys track & field and district runner-up silver in softball and boys tennis. 
In all, the Year of the Tigers delivered eight district championships and three state crowns to North Allegheny High School and helped them cruise to a tenth MSA Sports Cup in ten years, thus concluding a decade of excellence at NAHS.