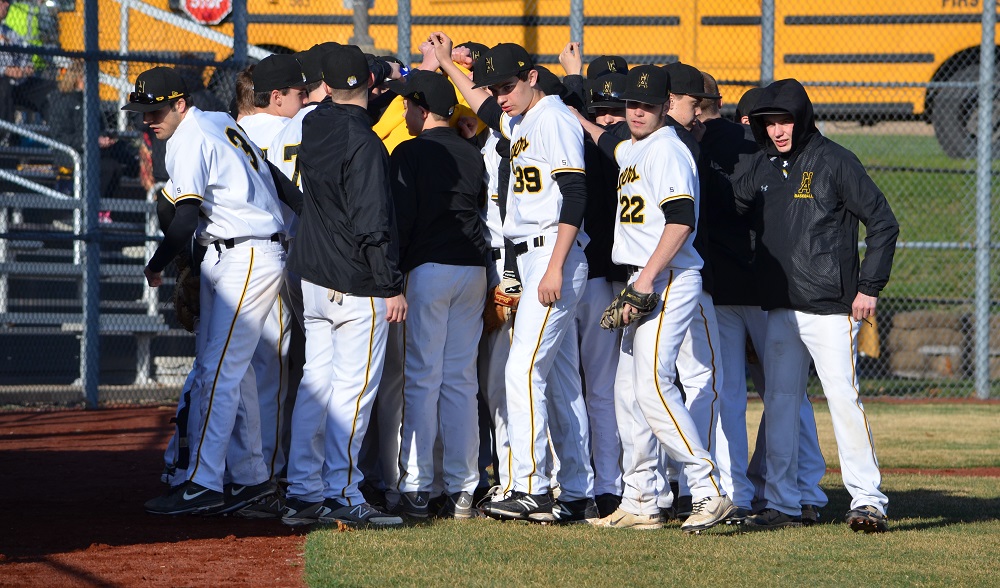 Tigers Drop A Pair In Monday Doubleheader
Pat Carlson's walk-off single in the bottom of the seventh lifted the Shaler Titans to a 10-9 victory over North Allegheny in game one in a Monday doubleheader for the Tigers.  Carlson's 3 for 3 performance was capped by his clutch base hit to give Shaler the one-run victory. Dan Trettel and Luke Zahren drove in a pair of runs for the Tigers in a game that featured plenty of offense.  North Allegheny trailed 8-4 before vaulting ahead with a five-run top of the seventh.  However, Shaler rallied in the bottom of the seventh with a pair of runs to steal away the win. Sam Ireland picked up the victory in relief for the Titans.
In game two at NASH Field, three Tiger errors allowed Hampton to score six unearned runs in a 6-1 triumph for the Talbots. Starting pitcher Blaise Smiley struck out six and tossed a complete game despite being saddled with the loss. Jason Monper drove in NA's only run with an RBI single in the bottom of the seventh. Ben Vey collected three RBI for the Talbots and David Cricks picked up the victory.
North Allegheny drops to 8-5 overall following Monday's doubleheader.  The Tigers return to Section 1-AAAA action on Tuesday night with a home contest against Fox Chapel. First pitch is slated for 7:00 pm.
Line Score - NA Baseball vs. Shaler, 4/21/14
| Score by Innings | 1 | 2 | 3 | 4 | 5 | 6 | 7 | | R | H | E |
| --- | --- | --- | --- | --- | --- | --- | --- | --- | --- | --- | --- |
| North Allegheny | 0 | 0 | 2 | 0 | 2 | 0 | 5 | | 9 | 10 | 6 |
| Shaler | 2 | 2 | 2 | 2 | 0 | 0 | 2 | | 10 | 15 | 2 |
WP - Sam Ireland LP - Dan Bergeron (0-1)
Line Score - NA Baseball vs. Hampton, 4/21/14
| Score by Innings | 1 | 2 | 3 | 4 | 5 | 6 | 7 | | R | H | E |
| --- | --- | --- | --- | --- | --- | --- | --- | --- | --- | --- | --- |
| Hampton | 1 | 0 | 0 | 5 | 0 | 0 | 0 | | 6 | 10 | 1 |
| North Allegheny | 0 | 0 | 0 | 0 | 0 | 0 | 1 | | 1 | 3 | 3 |
WP - David Cricks LP - Blaise Smiley (0-1)