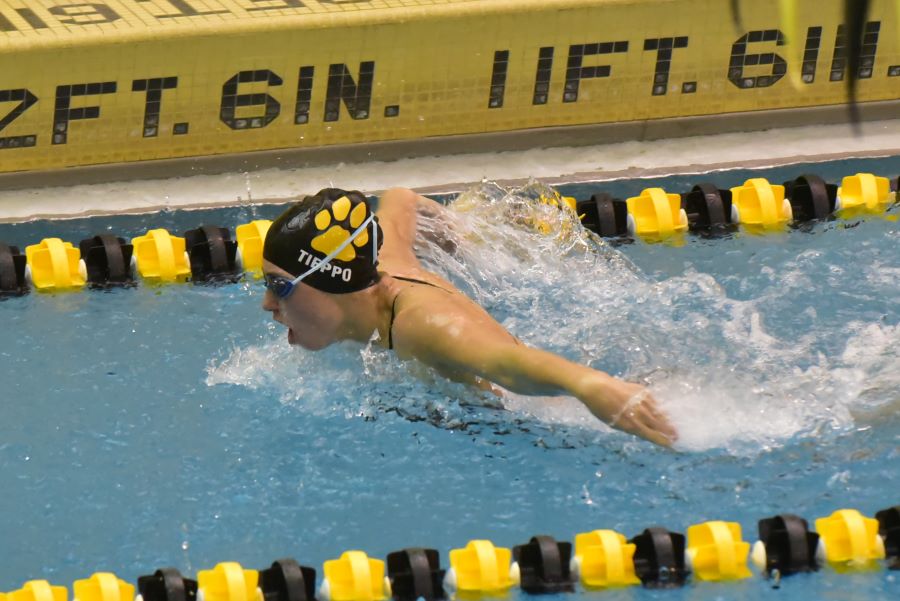 Tigers Earn Non-Section Sweep Over Black Hawks
North Allegheny took home a win during the away swim/dive meet at Bethel Park on Tuesday night. The NA Girls were victorious by a score of 98-78, and the NA Boys triumphed by a 106-78 decision.
The diving teams had a split result with North Allegheny winning the girls event and Bethel Park winning the boys.  In her season debut, NA senior Christina Shi came out on top with a score of 292.2, 28.35 ahead of sophomore teammate Lola Malarky.  On the boys' side, Alex Palermo finished second with a score of 169.4.
On the swimming side, there were many highlights of the evening, starting off with the 200 Medley Team Relay. For this event, the Girls team achieved first place with a time of 1:54.99 led by Claire Bacu, Emma Dietz, Greta Mott, and Natalie Sens. The Girls also took second and third place, respectively, in this event.
In the 200 Free, the Girls took the top three spots: Vivien Li (1st Place) 2:05:56, followed by Tori Tieppo, and Shelby Sundgren.
For the 200 IM, Gretta Mott won the event, with a time of 2:18.14. Eva Ogden, and Julianne Weaver rounded out the top three places. On the Boys' side, Gus Miller took first place with a blazing time of 2:02.07, followed closely by Danny Lesinski (2nd) with a time of 2:03.11
For the 50 Free, the Girls sprinted to the wall – taking the top three spots: Dietz 26.25, Mikayla Tieppo 27.10, and Erin Cuba 27.28. Grant Regule took first place on the Boys' side with a time of 22.32.
More great Tiger swimming with first-place finishes for the 100 Fly featuring Dani Hinkson's winning time of 100.23 and William Gao's time of 52.56.
Another sweep on the Girls 100 Free with Bacu 54.91, Marissa Milliron 1:00.37, and Weaver 1:02.03 taking the top 3 spots. For the Boys 100 Free, Zachary Jubeck 50.17, Grant Regule 51.02, and Zachary Totin 51.70 also swept the top three places.
On to the distance Swims, Ogden scored first Place in the 500 Free with a time of 5:34.63, and Eliot Maravich came a close second on the Boys side with a great swim of 5.02.94
Vivien Li swam an impressive 100 back with a first-place time of 1:01.94. Followed by an incredible swim by freshman Lesinski with a first-place finish of 54.12.
For the 100 Breaststroke the Boys to won the first and third spots with Gao's winning time of 1:04.05, followed by Dylan Seiford with a time of 1:05.64.
For a look at all results from Tuesday night's meet, click here.
Next Thursday, Dec 15, the Tigers travel to take on rivals Mt. Lebanon.