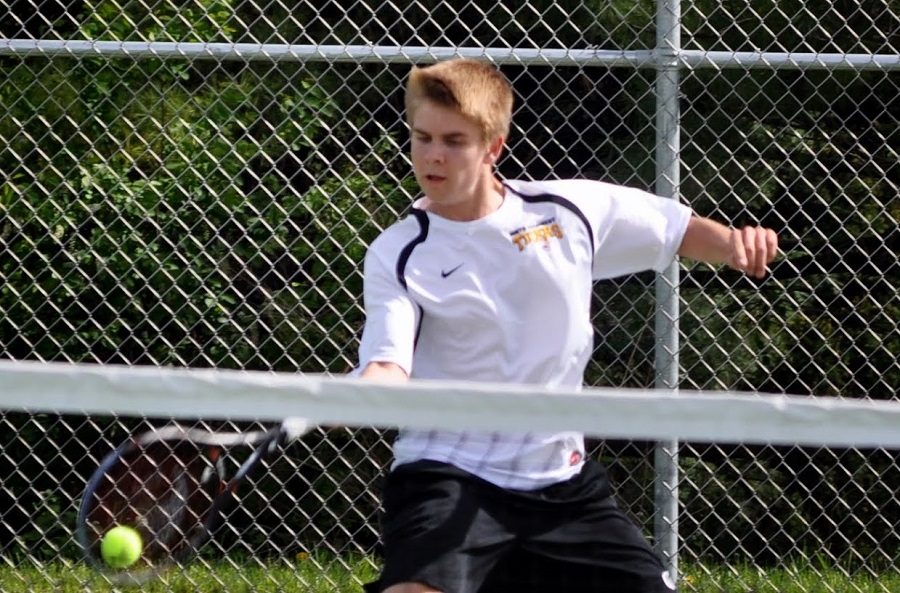 Tigers Fall to Shady Side Academy in WPIAL Semifinals
Playing at Sewickley Academy Tuesday afternoon, the 3rd seeded Tigers tangled with 2nd seeded Shady Side Academy for a WPIAL championship berth but could not upset the defending champions, falling 4-1.   The score did not capture the competitiveness of the contest, as the proud Tigers won first singles and found themselves in 'barn burners' at two and three singles.
Senior Kevin Goth led the way at number one singles with a dominating performance, controlling Cooper Kann from start to finish.  Senior Kylie Issacs challenged Derek Chen at number two singles, and both broke each other with regularity before Chen prevailed in the exciting see-saw battle.  Sophomore Jared Issacs played a classic three set match at number three, competing with an injury, and still extended Eric Grubbs to a three set match that ended in a tie break.   With WPIAL team play completed, the Tigers wrapped up the season as co-Section 2 champions and WPIAL semi-finalists with their 16-2 record.  On May 23, senior Kevin Goth and sophomore Jared Isaacs will represent the Tigers at the PIAA AAA Doubles Championship in Hershey, PA.
In the meantime, congratulations to seniors Kylie Isaacs, Stephen Chuirazzi, and Kevin Goth for their outstanding careers and competitive spirit as NA Tigers!
Match Summary
Shady Side Academy—4   North Allegheny—1
Singles
#1  Kevin Goth (NA) def. Cooper Kann (SSA) 6-1, 7-5
#2  Derek Chen (SSA) def.Kylie Isaacs (NA)6-4, 7-5
#3  Eric Grubbs (SSA) def. Jared Isaacs (NA) 1-6, 6-1, 7-6 (7-4)
Doubles
#1  Chris Grubbs/Michael Kann (SSA)def. Andrew Xu/Stephen Chuirazzi (NA) 6-1, 6-0
#2  Henry Cohen/Naveen Jain (SSA) def. Eric Huang/Michael Helkowski(NA) 6-3, 6-3