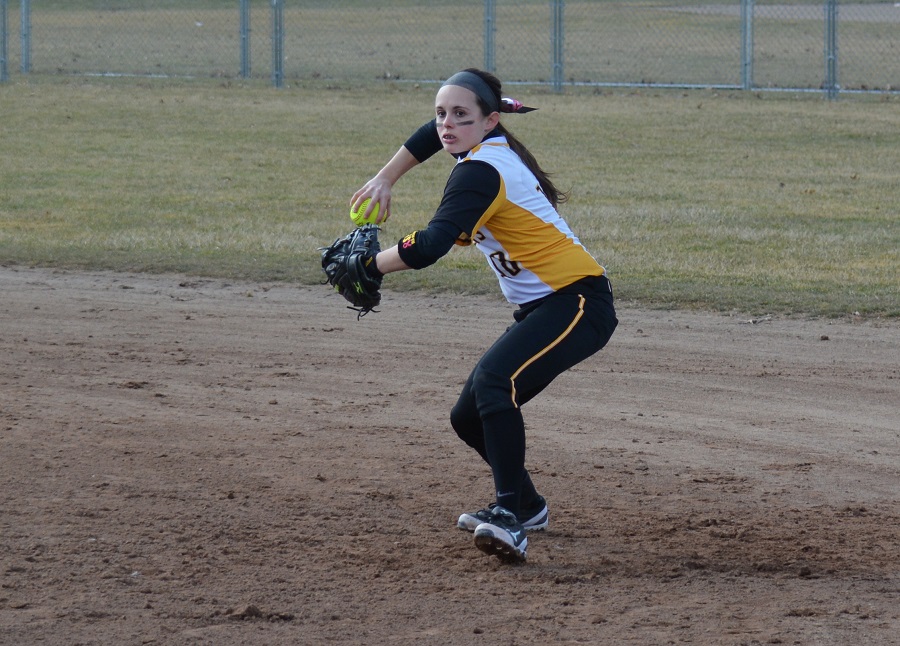 Tigers Finish Marathon Week Before Marathon Weekend, Top Blue Devils 7-0
The North Allegheny Varsity Softball Team concluded a marathon week in which they earned five victories in five consecutive days (three on the road and two at home) in temperatures that ranged from 37 degrees to 70 degrees by traveling to Mt. Lebanon to take on the host Blue Devils. The week's finale ended with a 7-0 Tiger victory as Madi Beining scattered three hits while striking out 12 and walking none.
After a sluggish start, the Tiger bats came to life in the fourth inning. The inning started when junior catcher Liz Scherer reached second base on an outfield error. Courtesy runner Allie Green reached third on a single by Beining and scored on a sacrifice fly by first baseman Logann Woodley, with courtesy runner Shannon Hamm moving to third.  Hamm scored on a wild pitch, and following a single by shortstop Lacey Hilderbrand and walks to designated player Erica Jelinek and right fielder Anna Sardon, left fielder Mackenzie Gostomski drove a double to deep right-center field to raise the score to 4-0.
North Allegheny put the game away with three more runs in the sixth inning when pinch hitter Hamm singled to center and was sacrificed to second by pinch hitter Allie Green. Center fielder Laura Cotter drove in Hamm with a single and moved to second on an outfield error. Once again it was Gostomski who came through with an RBI single to score Cotter, moving to second on the play.  Senior second baseman Emily Hogan drove in Gostomski to complete the day's scoring.
The victory raises the Tigers' overall record to 17-0, while maintaining their 13-0 mark in Section 3-AAAA play.  Following a much-needed weekend break, NA will travel to Montour on Monday evening to take on the Spartans in a 6:30PM non-section contest.  A final special event for the week was a trip to Beto's Pizza on Banksville Road funded by Coach Warren Pirring in a move greatly appreciated by all. (Coach Lamm, if you only had known you may have been tempted to ride the bus….nah.)
NA Softball vs. Mt. Lebanon, 5-1-15
| Score by Innings | 1 | 2 | 3 | 4 | 5 | 6 | 7 | | R | H | E |
| --- | --- | --- | --- | --- | --- | --- | --- | --- | --- | --- | --- |
| North Allegheny | 0 | 0 | 0 | 4 | 0 | 3 | 0 | | 7 | 9 | 0 |
| Mt. Lebanon | 0 | 0 | 0 | 0 | 0 | 0 | 0 | | 0 | 2 | 2 |
WP - Madi Beining LP - Catie Rogan