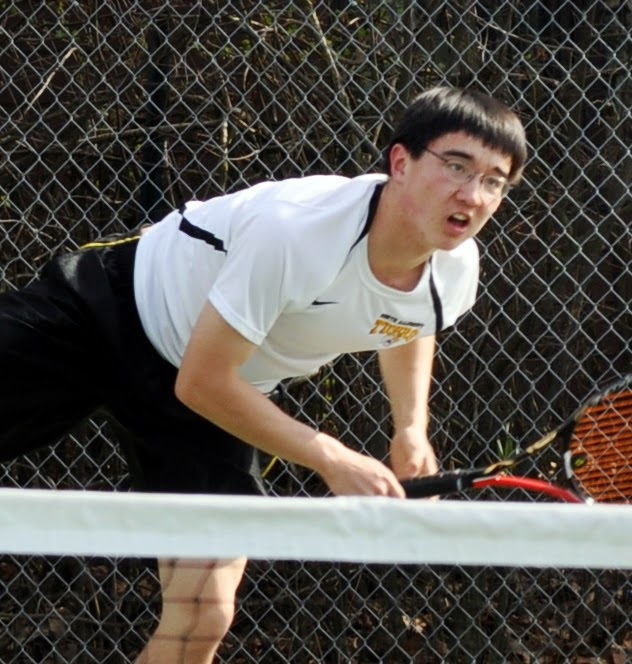 Tigers Finish Section Play With 4-1 Win Over Butler
On one of the most pleasant spring dates of the season, the Tigers traveled to Butler Thursday afternoon to finish Section 2 play with the Golden Tornado and came away with a 4-1 victory.    Playing a modified lineup as three regulars were given the day off, the Tigers were still able to control the action.  Making his singles debut at the varsity level, freshman Anmol Anand presented the first team point with a straight set win at the number three position.  Next, juniors Eric Huang and Michael Helkowski took the number two doubles match in straight sets.  The third and clinching point came from freshman Ryan Marczak who captured the first singles match, also in straight sets.  Rounding out the scoring was sophomore Eric Mi with a win at number two singles.    In an exciting and tight three set match, senior Stephen Chuirazzi and sophomore Andrew Xu fell to Butler's A.J. May and his partner Devin Fitz.
Moving to 14-1 on the season and 13-1 in Section 2 play, the Tigers will tangle with the Blue Devils of Mt. Lebanon next Wednesday in an exhibition match on the NASH courts starting at 3:30.   In the meantime, best of luck to Kevin Goth, Jared Isaacs, Kylie Isaacs and Andrew Xu as they represent North Allegheny and Section 2 in the WPIAL Doubles Tournament Monday afternoon at Bethel Park High School.
Match Summary (4/24/14)
NORTH ALLEGHENY–4   Butler–1
Singles
#1  Ryan Marczak (NA)def. Tony  (B)6-4, 6-2
#2  Eric Mi (NA) def.Devin Fitz (B) 6-1, 6-4
#3  Anmol Anand  (NA) def. Brock Hinton (B) 6-3, 6-0
Doubles
#1  A.J. May/Cam Sedwick (B) 6-7, 6-3, 7-6 def. Andrew Xu/Stephen Chuirazzi (NA) 7-6, 3-6, 7-6
#2 Eric Huang/Michael Helkowski(NA) def. Troy Ball/Ethan Turner (B) 6-2, 6-2