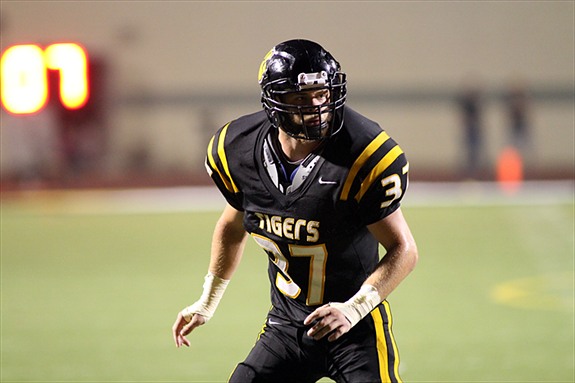 Tigers Focus On Titans For Senior Night
On Senior Night, the North Allegheny Tigers (4-3) host the Shaler Titans (0-7) at Newman Stadium this evening.  Despite back-to-back losses, the Tigers have already clinched a playoff spot and have a chance to add another conference win to their tally against the winless Titans. Shaler enters tonight's game having lost 20 consecutive games, including a 44-14 defeat to Pine-Richland last week. Their last win came back in October of 2011, a 41-28 triumph over Erie McDowell.
While the last two weeks have been tough on the Tigers, the last two years have been miserable for the Titans.  Shaler reached the playoffs in 2011 with a 5-5 record, but since then the Titans have been in the process of rebuilding.  Second-year head coach Chris Siegle, a former standout quarterback for Shaler in the late 1990's, is pressed with the task of building numbers and constructing a foundation from the ground up.  Siegle uses a spread offense with his top playmaker being junior receiver Robbie Reinheimer who has hauled in 20 passes for 329 yards and three touchdowns.  Reinheimer, who was the team's leading receiver as a sophomore in 2012, had a big game against Butler in week two with six catches for 141 yards and two scores.  Reinheimer is joined by Zach Carney as the top receivers in the Shaler passing attack.  Carney has 10 receptions for 174 yards and three scores.
Senior Josh Crawford is the Titians starting quarterback and has completed 40 of 111 passes for 516 yards and three touchdowns. Tonight will be Crawford's second start against North Allegheny as he filled in for the injured Brad Good last season.  In what resulted in a 55-7 win by NA over Shaler last year, Crawford was the lone bright spot, passing for a touchdown and running for another.  In the backfield, Louie Iezzi was the top running back a season ago for the Titans but has just 132 yards and touchdown this season.  Shaler's leading rusher is fullback Tim Nickel who has toted the football 42 times for 223 yards and a touchdown.  Nickel is also a very good run stopper on defense and was a Second-Team All-Conference selection at linebacker in 2012. The Shaler offense averages just 12 points per game while their defense allows a whopping 45 points per game.
Hampered by turnovers and injuries in recent weeks, North Allegheny has a chance to get back on track against the struggling Titans.  Last week, the Tigers saw the return of running back Sean Idowu from a foot injury and the senior is expected to line up in the backfield tonight with fellow senior Isaac Weaver.  Idowu has rushed for 247 yards and five touchdowns this season, and Weaver is the team's leading ground gainer with 300 yards and two rushing scores.  At quarterback, Jeff Clemens started last week and attempted to play through a thumb injury, but was relieved by senior Cage Galupi who completed 11 of 20 passes for 130 yards against a stout Central Catholic defense.  Clemens is hopeful to play tonight but Galupi could see snaps as well.  At receiver, Elijah Ziese is the team's top target with 27 catches for 547 yards and four touchdowns.  Zeise is joined by speedster Clay Byerly who has hauled in 13 passes for 217 yards and two touchdowns. The Tigers offense averages 32 points per game this season.
Also returning from injury to play last week was linebacker Jason Monper.  The 5-9 senior made 5.5 tackles in his return with some impressive impact on opposing ball carriers.  Lining up with Monper at linebacker are the team's leading tacklers, Layne Skundrich and Reilly Sullivan.  The duo of Skundrich and Sullivan has posted 72 and 58 tackles, respectively. Zeise is the leading thief in the defensive backfield with three interceptions and Eric Sprys has a team-high two sacks on the defensive line. North Allegheny allows 18 points per game on defense.
Kickoff for tonight's game between North Allegheny and Shaler is slated for 7:30 at Newman Stadium.  The game will be broadcast live via the internet on the North Allegheny Sports Network, with the pre-game show getting underway at 7:10 pm.  Join Randy Gore and Rick Meister for the call.  To listen, click here.