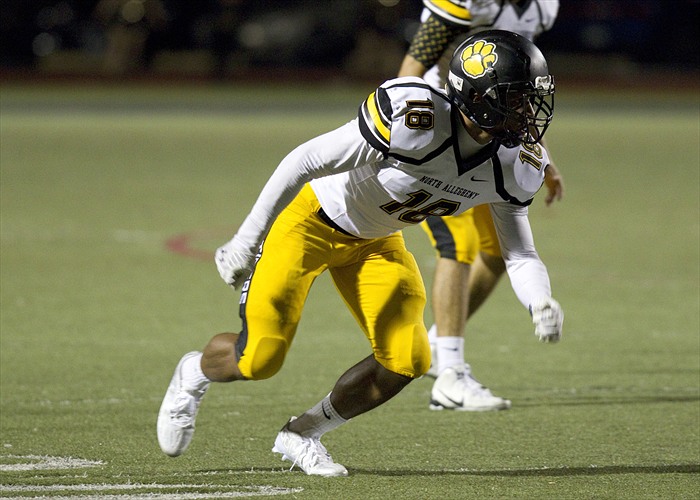 Tigers Go Fox Hunting In Week Seven
In week seven of the high school football season, the North Allegheny Tigers (5-1) will visit the Fox Chapel Foxes (0-6) tonight in a Northern Eight Conference contest. These teams come from opposite ends of the spectrum as North Allegheny is riding a four-game winning streak while winless Fox Chapel has lost eight straight dating back to last season.
Head coach Tom Loughran has had a tough first-season at the helm of the Foxes. Coach Loughran comes to Fox Chapel from South Park where he's won WPIAL and PIAA titles at the Class AA level. This year in Quad-A, Loughran's Foxes have struggled mightily after reaching the playoffs last season under Eric Ravotti. In week five, Canon-McMillan snapped a 17-game losing skid with a 21-0 win over the Foxes.  Last week, Shaler earned a 14-9 victory at Fox Chapel.
In Fox Chapel's loss to Shaler, quarterback Dimitri Spina completed 14 of 36 passes for 170 yards. The junior signal caller has thrown for 456 yards and two interceptions this season. Running back Thomas Smith went over the century mark with 120 yards rushing and a touchdown last week against the Titans. On the year, Smith has toted the football for 444 yards and averages 5.0 yards per carry. Spina and Smith will be the top two offensive players that Tigers have to be aware of.
Hired in March, Loughran used the summer to institute a new offensive and defensive system this season. On defense, the Foxes employ a "50 defense" which is essentially geared toward stopping the run and places seven men in the box. The Tigers rushing attack, which averages 250 yards per game, will try to break through this 50 defensive strategy with a bevy of runners. Quarterback Ethan Maenza is NA's leading rusher with 503 yards and four touchdowns. Fellow signal caller Riley Trueman has run for 188 yards and three scores.  Tailbacks Nick Provenzano and Mike Pope have rushed for 275 and 259 yards, respectively, combining for seven touchdowns. Pope, who busted off a 65-yard punt return touchdown last week against Butler, is also a threat in the return game.
Last season, North Allegheny defeated Fox Chapel at Newman Stadium, 31-21. The Tigers look to earn another victory against the Foxes tonight with kickoff slated for 7:00 pm.  The game will be broadcast live via the internet on the North Allegheny Sports Network. The pregame show, including an interview with Tigers head coach Art Walker, will hit the air at 6:40 pm. To listen to tonight's game, click here.