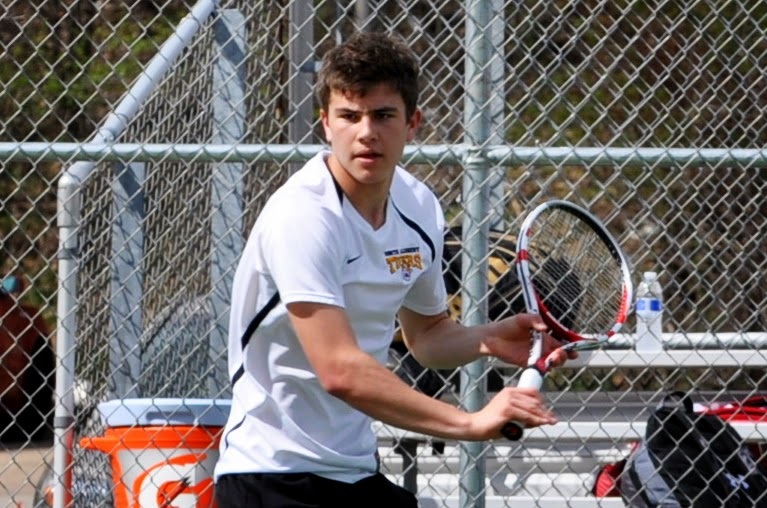 Tigers Halt Hampton for Second Time in Section 2 Play
Outdoors on the NASH courts but under windy conditions, the Tigers tackled the Talbots in the teams' second Section 2 match of the campaign Wednesday afternoon by a 5-0 score.  The first team point came from the first doubles duo of sophomore Andrew Xu and senior Stephen Chuirazzi in straight sets.  The second point was delivered at number two doubles by juniors Eric Huang and Michael Helkowski.  The clinching point came off the racquet of sophomore Jared Isaacs at number three singles, also in straight sets.  Seniors Kevin Goth and Kylie Isaacs won their singles matches at the 1 and 2 positions respectively, completing the sweep for the Tigers.
Moving to 13-1 on the season and 12-1 in Section 2 play, the Tigers will travel to Butler Thursday afternoon to tangle with the Golden Tornado.  The starting time for this last Section match of the campaign is scheduled for 3:30 PM.
Match Summary (4/23/14)
NORTH ALLEGHENY—5   Hampton–0
Singles
#1  Kevin Goth (NA) def. Jonathan Harrison (H)6-2, 6-4
#2  Kylie Isaacs (NA) def.Jung Bang (H) 6-3, 6-2
#3  Jared Isaacs  (NA) def. Weston Banks (H) 6-4, 6-1
Doubles
#1  Andrew Xu/Stephen Chuirazzi (NA) def. Cam Raidna/Nico Nigro (H) 6-1, 6-0
#2  Eric Huang/Michael Helkowski (NA) def.  Henry Uehling/Tanner Merigliano (H) 6-1, 6-1