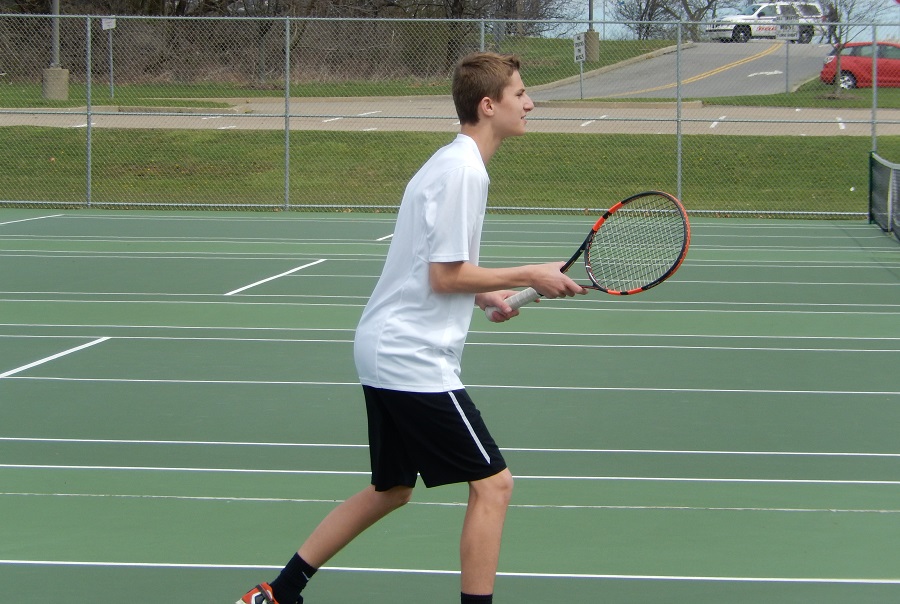 Tigers Manage 5-0 Win Over Mars
The Tigers hosted their neighbors, the Mars Area Planets, on the NASH courts Friday in a continuation of Section 2 play. Without their star singles player Josh Raymundo due to injury, the Planets played a doubles oriented line-up against the Tigers.  The Tigers took each match to manage a 5-0 victory.
Sophomore Ivan Voinov recorded the first Tiger point at number three singles in straight sets.  Sophomore Richard Hofmann followed at number two singles in the same fashion.  The clinching point was recorded by senior Apoorv Anand and sophomore Jerry Huang at number two singles.  Senior Jared Isaacs came from behind in his first set against the talented Aaron Gruber and then took the second set to control his match at number one singles.
The most exciting match of the day saw the Chuirazzi brothers (sophomore Andrew and freshman Mark) tangle with Mars' 2nd entrant to next week's Section 2 Doubles Tournament, Noah Raymundo and Drew Ellis.  The Chuirazzis held serve to churn out a hard fought 6-4 first set win.  The second set was just as challenging for both squads, as the Tigers were serving for the match at 5-4.  Unable to hold, they rallied to reach a tie break and then fought from 1-3 down in the extra play to fashion a 7-4 win, and thus their match.
With the win, the Tigers improve to 10-2 on the season and 6-0 in Section 2 play. On Monday the 18th, the Tigers send defending champions Jared Isaacs and Richard Hofmann, along with Andrew Chuirazzi and Ivan Voinov, to the Section 2 Doubles Tournament.  Match time on the NASH courts is scheduled for 12:30 PM.
Match Summary 4/15/2016
North Allegheny—5   Mars Area—0
Singles
#1 Jared Isaacs (NA) def. Aaron Gruber (MA) 6-4, 6-2
#2 Richard Hofmann (NA) def. Alex Gruber (MA) 6-0, 6-1
#3 Ivan Voinov (NA) def. Zack Greene (MA) 6-0, 6-0
Doubles
#1 Andrew Chuirazzi/Mark Chuirazzi (NA) def. Noah Raymundo/Drew Ellis (MA) 6-4, 7-6 (4)
#2  Jerry Huang/Apoorv Anand (NA) def. Nathan Walker/Chase Reck (MA) 6-0, 6-0