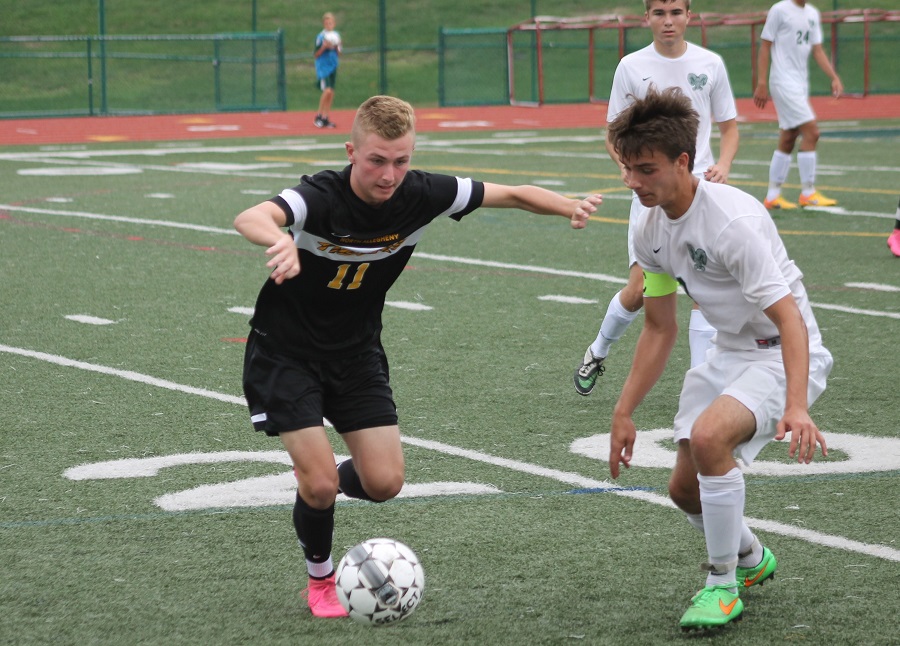 Tigers Play Rams To 0-0 Stalemate
The North Allegheny Tigers and Pine-Richland Rams played to a 0-0 tie on Saturday afternoon in a Section 2-AAA contest. The first half didn't bring many highlights, but starting goalie Josh Krassenstein's save of a header at 6:06 off a Pine-Richland corner kept the game scoreless. Ben Cinker had a few nice crosses to Josh Luchini who just couldn't get room to finish.  The half ended with Rams leading with shots on goal, 3-2, and corners were tied at 2-2 though few quality chances.
The Tigers started the second half lackluster as Pine-Richland had two shots that Krassenstein had to stop, including a shot that hit the crossbar but fell out of the net to keep the game scoreless.  Owen Leonard, Jack Passodelis and Cinker seemed to give the visitors a jumpstart as Cinker's cross to Michael Peters off a header was cleared wide by the Pine defense. Additional shots by Cinker in front of the net sailed high and another was blocked by the sagging Pine defense.  At 9:08, Cinker crossed another ball into the box to Luchini who made a nice move on the defense from 10 yards away, but didn't get a quality shot that rolled to the Pine goalie keeping the game scoreless at the end of regulation.
Overtime period number one was controlled by the Tigers when they generated three corners in the first six minutes, but unfortunately things didn't click.  At 3:13 Passodelis hit a rocket from 15 yards out that the Pine-Richland goalie saved and at 00:50 he nearly ended it again with a shot that sailed just wide.
During the second overtime, Peters had a shot at 08:54 and Leonard at 06:23, but the Tigers just couldn't finish today.  Krassenstein at 03:57 preserved the tie and the shutout with a leaping save to end the contest at 0-0.  North Allegheny is now 2-1-1 and in third place in Section 2 while Pine-Richland sits at 1-1-3.
Shaler visits North Allegheny this coming Tuesday at 7:30pm. The game will be broadcast live via the internet on the North Allegheny Sports Network.