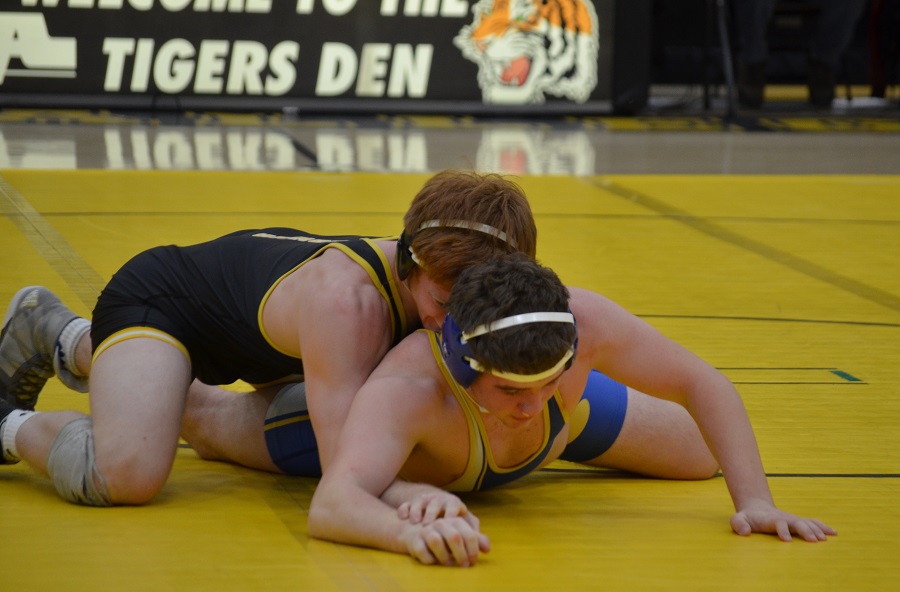 Tigers Reach Section 3-AAA Finals, Fall To Seneca Valley In Title Tilt
The North Allegheny wrestling team reached the Section 3-AAA finals on Wednesday night with an exciting 34-33 win over Butler, decided on criteria. Despite the win, the Tigers ultimately fell to host Seneca Valley for the section title by a 56-18 decision.
North Allegheny's semifinal victory over Butler was an intense back-and-forth matchup. After falling behind 18-9 through five bouts, the Tigers won six of the next eight bouts to grab a 33-27 lead. Needing a win by fall in the final bout, the Golden Tornado's Steven Green earned a pin at 145 pounds to even the score at 33-33. The section semifinal was ultimately decided on criteria with NA winning eight bouts compared to Butler's six, giving the Tigers a 34-33 victory.
In the win over Butler, the Tigers received a win by fall from sophomore Brady Leczo over Nate McDonald at 152 pounds. Other NA victories were provided by Jon Hoover (170), Ben Grafton (220), Austin Huebner (285), Brad Stipetich (120) and Max Stedeford (132). Collecting wins by forfeit were Dylan Coy (113) and Ian Branstetter (138). The North Allegheny Sports Network's honoree for the Wright Automotive Wrestler of the Match was Grafton, who came away with a 3-2 overtime victory over Shawndell Zapata.
Unfortunately for the Tigers, things didn't go quite as well in the Section 3-AAA championship with Seneca Valley. Chanz Shearer (126), Antonio Amelio (145) and Nick Montalbano (152) all had pins as the third-ranked Raiders prevailed, 56-18. All three North Allegheny victories were wins by fall, coming courtesy of Hoover (170), Grafton (220) and Huebner (285). Huebner, who pinned Tyler Proctor in 45 seconds, was selected as the Wright Automotive Wrestler of the Match.
North Allegheny sits at 10-2 on the season following Wednesday's outcome and will take on Connellsville in the first round of the WPIAL Team Tournament on Wednesday, January 30. For a look at the Class AAA bracket, click here.
Section 3-AAA Semifinal Match Summary: NA vs. Butler
| Weight | Wrestlers | Score |
| --- | --- | --- |
| 152 | Brady Leczo (NA) pinned Nate McDonald (B) | 6:36 |
| 160 | Pavlog Pawluk (B) wbf | |
| 170 | Jon Hoover (NA) dec. Jack Codispot (B) | 10-4 |
| 182 | Cooper Baxton (B) wbf | |
| 195 | Jacob Pomykata (B) wbf | |
| 220 | Ben Grafton (NA) dec. Shawndell Zapata (B) | 3-2, OT |
| 285 | Austin Huebner (NA) dec. Caleb Hartung (B) | 5-2 |
| 106 | Nick Schaukowitsch (B) dec. Brady Walker (NA) | 5-2 |
| 113 | Dylan Coy (NA) wbf | |
| 120 | Brad Stipetich (NA) dec. Clayton Dressler (B) | 8-5 |
| 126 | Dominic Vivirito (B) pinned Selena Brown (NA) | 0:21 |
| 132 | Max Stedeford (NA) dec. Nathan McMaster (B) | 6-2 |
| 138 | Ian Branstetter (NA) wbf | |
| 145 | Steven Green (B) pinned Brandon Weaver (NA) | 2:45 |
---
Section 3-AAA Championship Match Summary: NA vs. Seneca Valley
| Weight | Wrestlers | Score |
| --- | --- | --- |
| 160 | Liam Volk-Klos (SV) wbf | |
| 170 | Jon Hoover (NA) pinned Conor Hayes (SV) | 3:34 |
| 182 | Patrick Johnson (SV) wbf | |
| 195 | David Beahm (SV) wbf | |
| 220 | Ben Grafton (NA) pinned Nick Funovits (SV) | 5:20 |
| 285 | Austin Huebner (NA) pinned Tyler Proctor (SV) | 0:45 |
| 106 | Hunter Swedish (SV) maj. dec. Brady Walker (NA) | 10-2 |
| 113 | Dylan Chappell (SV) dec. Dylan Coy (NA) | 6-2 |
| 120 | Alejandro Herrera-Rondon (SV) tech fall Brad Stipetich (NA) | 16-0 |
| 126 | Chanz Shearer (SV) pinned Selena Brown (NA) | 0:12 |
| 132 | Jason Geyer (SV) maj. dec. Max Stedeford (NA) | 8-0 |
| 138 | Drew Vlasnik (SV) maj. dec. Ian Branstetter (NA) | 10-2 |
| 145 | Antonio Amelia (SV) pinned Brandon Weaver (NA) | 1:12 |
| 152 | Nick Montalbano (SV) pinnedBrady Leczo (NA) | 0:38 |