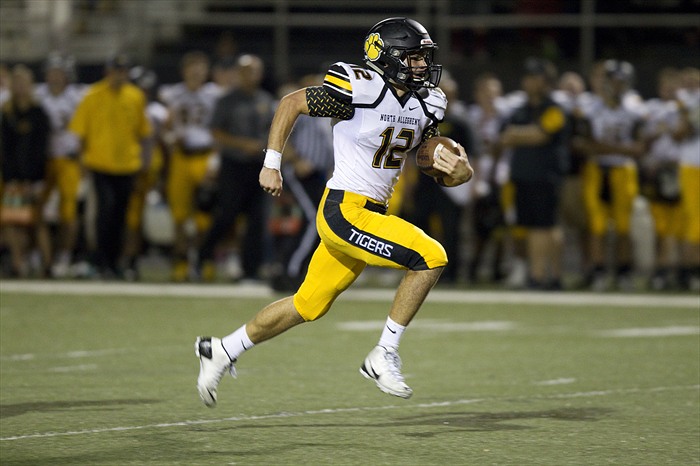 Tigers Runaway From USC In Non-Conference Blowout
Riding the wave of an emotional win over Central Catholic last week, the North Allegheny Tigers raced to a 24-0 lead and cruised to a 31-6 non-section win at Upper St. Clair on Friday night. Quarterback Ethan Maenza accounted for 228 total yards and three touchdowns to propel the Tigers to victory. Defensively, Maenza added an interception as well and was named the Wright Automotive Player of the Game by the North Allegheny Sports Network.
North Allegheny began the game with the football and methodically drove 63 yards on 10 plays before stalling at the USC 2-yard line. The Tigers took the early lead on a 20-yard field goal by kicker Seth Mancuso and led, 3-0.
After a three and out by the Panthers, North Allegheny quickly scored on a three-play drive that was punctuated on a 20-yard touchdown pass by Maenza to tight end Griffin Sestilli with 4:10 to go in the first quarter for a 10-0 advantage. Upper St. Clair's next possession was cut short when a pass by Jackson Geisler was intercepted by Maenza at the USC 34-yard line. Five players later the Tigers found themselves in the end zone, this time on a 3-yard rushing score by Riley Trueman for a 17-0 lead with 1:40 to play in the opening stanza.
In the second quarter, the Tigers added onto the lead thanks to a 65-yard touchdown scamper by Maenza that sent NA into the locker room with a 24-0 lead.
Upper St. Clair moved the ball well in the third quarter but was turned away on a 4th and 5 from the NA 6 yard line when Niko Mermigas broke up a pass by Geisler intended for Tom Kyle in the end zone, keeping the score at 24-0 with 6:43 to play in the period. The Panthers got their hands on the ball again two minutes later and put together another lengthy drive, finally finding pay dirt on a 13-yard touchdown run by Thomas Vissman on the first play of the fourth quarter. The Panthers two-point conversion attempt failed and the score stood at 24-6, Tigers. Vissman was certainly a bright spot for Upper St. Clair as the physical junior tailback finished the night with 27 carries for 157 yards and a score.
However, Vissman's running prowess paled in comparison to Maenza who capped the Tigers victory later in the fourth quarter with a 53-yard scoring jaunt that put the game on ice, 31-6, North Allegheny. The junior quarterback totaled 130 yards on the ground and 98 more through the air with three total touchdowns. For total game stats, click here.
With the win, North Allegheny improves to 3-1 overall while Upper St. Clair slips to 2-2.  The Tigers visit Shaler next week.