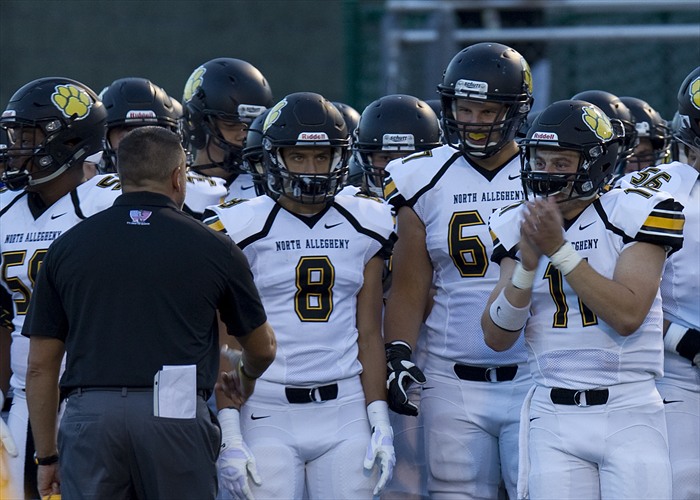 Tigers Set To Visit Upper St. Clair Tonight
Following a dramatic 24-17 victory over the Central Catholic Vikings last week, the North Allegheny Tigers (2-1) will try to ride that wave of emotion to another victory tonight at Upper St. Clair (2-1). Despite playing in separate conferences, the Tigers and Panthers are familiar foes and have ended the other's season in back-to-back campaigns. In 2013, Upper St. Clair defeated North Allegheny, 41-23, in the WPIAL quarterfinals. Last season, the Tigers got revenge with a 24-0 nothing blowout of the Panthers in the opening round of the WPIAL playoffs at Newman Stadium.
Last season's 24-0 drubbing capped a disappointing 4-6 season for the Panthers, marking their first losing season since 1979. That year was also Jim Render's first as head coach at Upper St Clair. Since then Render has amassed a total of 381 victories, the most of any coach in WPIAL history.
Two things you can be certain of when facing a Jim Render coached team, you'll need to be prepared to stop the run and face a hard-hitting defense. Upper St. Clair has always based their offensive success on the running game and this year is no different. The Panthers have the luxury of possessing a big and strong offensive line that is anchored by right tackle Brandon Ford, a Pitt recruit, and left tackle Gabe Houy who is also getting some D-I looks. A challenge for the O-line in 2014 was simply to stay on the field together. Beset by injuries and illness, rarely did the USC regular starting offensive line take the field as a unit. That has changed this season as all five linemen are healthy and at full strength. Along with Ford and Houy, left guard Matt Fennell is a Robert Morris recruit and a 2nd Team All-Great Southern Conference selection from a year ago.
The Panthers offensive line will attempt to open lanes for junior running back Thomas Vissman who has rushed for 287 yards and four touchdowns this season. Vissman was an all-conference honorable mention pick last year with 793 yards and six rushing scores. While Vissman is the bell cow of the USC offense, quarterback Jackson Geisler is the game manager. The senior signal caller has completed 12 of 28 passes for 232 yards and three touchdowns.
While the Tigers enter tonight's game following a big win, the Panthers were thoroughly beaten by Bethel Park last week by a 30-7 decision. Upper St. Clair was outgained 466-126 and allowed Black Hawks running back Terron Murphy to rack up 326 yards rushing and three touchdowns. North Allegheny was able to roll up 333 yards against the stingy Central Catholic defense last week and will try to exploit the Panthers run defense tonight. The Tigers had two 100 yard rushers last week in Ethan Maenza and Nick Provenzano. Maenza rushed for 122 yards and Provenzano added 103 more. Expect quarterback Riley Trueman and tailback Michael Pope to also see carries tonight against the Panthers.
Maenza is North Allegheny's leading rusher with 300 yards on the ground, and has completed 20 of 42 passes for 311 yards and two touchdowns. Senior Matt Sell is his favorite target in the passing game with 12 catches for 235 yards. On defense, North Allegheny's leading tackler is linebacker Francis Duggan with 35 stops and five sacks. The sophomore had a breakout performance last week with 16.5 tackles and three sacks against Central Catholic.
Including a 31-14 win over Upper St. Clair in week four last season, the Tigers have won the last two meetings between these two schools. The last time North Allegheny played at Upper St. Clair was on September 17, 2010, when the Tigers shutout the Panthers, 27-0. Alex Papson rushed for 233 yards and two touchdowns in that contest.
Kickoff for tonight's game is set for 7:30 pm from Upper St. Clair high school. The game will be broadcast live via the internet on the North Allegheny Sports Network with the pregame show getting underway at 7:10 pm. Randy Gore and Rick Meister have the call. To listen to tonight's broadcast, click here.