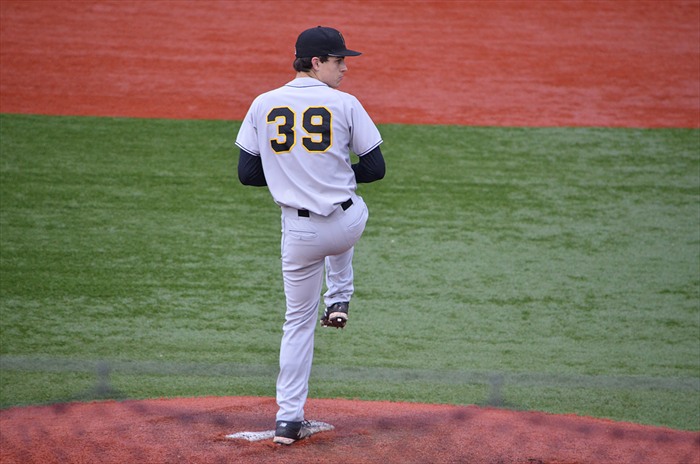 Tigers Silence Butler For 5-0 Section Win
On a cold and damp spring night at Kelly Automotive Park, the North Allegheny Tigers blanked Butler, 5-0, to draw even with the Golden Tornado atop the Section 1-AAAA standings.  The game featured a fifth inning power outage that caused an approximate 30 minute delay.  Once play resumed, the Tigers pitching staff sapped any remaining juice from a Butler lineup that generated just two hits in the game. Both of the Golden Tornado's hits were singles by Reid Werth.
North Allegheny starting pitcher Jon Dignazio tossed four innings of one-hit baseball and Tyler Saundry followed with three more scoreless frames for his fourth save of the season. For Dignazio, the win was his second of the campaign as the southpaw earned Wright Automotive Player of the Game honors.  Saundry struck out six of the 10 batters he faced.
With the Butler lineup doing very little, North Allegheny scratched a run across the pay station with some small ball in the third inning.  Luke Zahren led off the inning with a single and was sacrificed to second base by Josh Plichta.  Zahren stole third and scored moments later on a Matt Muslin RBI groundout to give the Tigers a 1-0 lead.
Garrett Hagen led off the fifth inning with a walk, but Golden Tornado starter Jesse Savisky followed with back-to-back strikeouts of Zahren and Plichta. With Muslin at the plate, the power went out at Kelly Automotive Field causing a 30 minute delay in the action. Once play resumed, Hagen advanced to second on a wild pitch and Muslin drove him home with a clutch two-out RBI single to bring the score to 2-0, Tigers.
In the sixth inning, another lead-off batter set the table for the Tigers.  This time it was catcher Ryan Hamm who doubled to start the frame and was substituted by courtesy runner Eric Nascone.  A throwing error by Butler catcher Kyle Campbell on a Blake Young sacrifice bunt allowed Nascone to score to make it 3-0, North Allegheny.
The Tigers put the game on ice in the seventh inning with an RBI double by Mitch Machi and a sacrifice fly and RBI by Hamm. Both seventh inning runs were charged to Butler reliever Nick Reamer.  Savisky was saddled with the loss for the Golden Tornado, allowing three runs (two earned) on seven hits in six innings on the mound.
North Allegheny improves to 11-5 overall and 7-1 in Section 1-AAAA.  Butler slips to 10-3 overall and 7-1 in section play. The Tigers are slated to host Hempfield tonight at 7:00 pm in a non-section affair, weather permitting.
Line Score - NA Baseball vs. Butler, 4/28/14
| Score by Innings | 1 | 2 | 3 | 4 | 5 | 6 | 7 | | R | H | E |
| --- | --- | --- | --- | --- | --- | --- | --- | --- | --- | --- | --- |
| North Allegheny | 0 | 0 | 1 | 0 | 1 | 1 | 2 | | 5 | 10 | 0 |
| Butler | 0 | 0 | 0 | 0 | 0 | 0 | 0 | | 0 | 2 | 2 |
WP - Jon Dignazio (2-0) LP - Jesse Savisky (3-1) SV - Tyler Saundry (4)