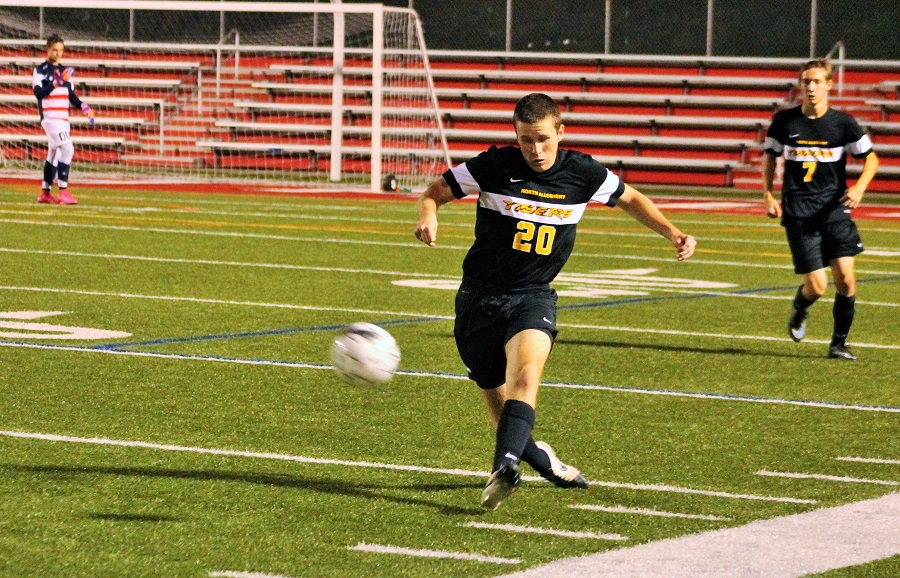 TIGERS SILENCE HAMPTON, 3-0
North Allegheny's unbeaten streak was lengthened to 10 straight games thanks to a 3-0 win over the Hampton Talbots on Monday night.
North Allegheny opened the scoring early as Josh Luchini popped a pass over the defense to a streaking Michael Peters who finished the play, giving the Tigers a 1-0 advantage at 34:20 in the first half.  Ten minutes later, Luchini was taken down in the offensive box and awarded a penalty kick which senior Nick Thornton used to beat the Talbot goalie to make it 2-0, Tigers.  On a free kick, Ben Cinker found Peters at 7:54 but the Hampton goalie made the save from close range.  The only Talbot shot in the half came from 35 yards out off a free kick which NA goalie Grant Glorioso leaped high to save.
The second half started with some giveaways and missed passes for both teams, but at 31:33 Luchini was fouled, took the free kick and found Michael Correa who headed the ball past the Hampton goalie from close range to give the Tigers a 3-0 lead.  Thornton almost scored his second of the game, but at 00:26, off a free kick, the Talbot goalie made a diving save as the clocked ticked down.  The Tigers defense, along with Glorioso, posted the team's sixth shutout of the season in twelve contests.
The fourth-ranked Tigers upped their section record to 6-1-2 and 9-1-2.  Hampton drops to 2-5-1 in the section and 3-7-1 overall.  The Tigers are next in action this Thursday at home at 7:00 pm against Pine Richland in a pivotal section matchup for both teams.  All are invited as we hope to PACK THE PITCH and get 1000 fans to the contest!