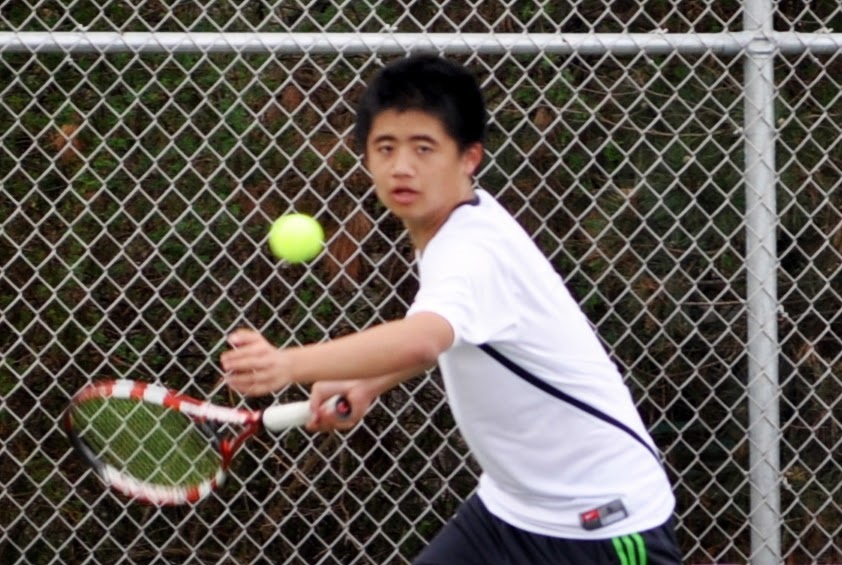 Tigers Slide Past Indians 3-2 In Section Play
On the heels of a section loss the day before, the Tigers managed to regroup and scrape by their arch-rivals, the North Hills Indians 3-2 indoors at Pure Athletex Thursday afternoon.  The talented Indians, led by Coach Matt Woffington, offered a strong push against the Tigers who responded just well enough to gain the victory.  The first point for the Tigers came from the number three singles racket of sophomore Andrew Xu who defeated Grant Traeger in straight sets.   The second team point was presented by senior Kylie Isaacs who defeated Pablo Morcate, also in straight sets. 
With sophomore Jared Isaacs forfeiting his second singles match due to injury, all eyes focused on the two doubles matches that would decide the contest.  Senior Stephen Chuirazzi and junior Eric Huang fell in three sets to Mike Chutko and Dan Schmidt at number one doubles.  Junior Michael Helkowski and sophomore Apoorv Anand clinched the win in a grueling three set match versus the incredibly game Helena Varys and Ryan Balog at number two doubles.   
The Tigers improve to 7-1 on the season, including a 6-1 section record.  Next on the schedule, they will take on the Shaler Area Titans Friday afternoon at the Pure Athletex complex with an early start time of 1:30.
Match Summary (4/03/14)
NORTH ALLEGHENY—3   NORTH HILLS–2
Singles
#1 Kylie Isaacs (NA) def. Pablo Mercate (NH) 6-0, 6-4
#2 Martin Varys (NH) ) over Jared Isaacs  (NA) Injury Forfeit
#3 Andrew Xu (NA)  def. Grant Traeger (NH) 6-0, 6-0
Doubles
#1 Mike Chutko/Dan Schmidt (NH) def. Stephen Chuirazzi/Eric Huang (NA) 2-6, 6-4, 7-5
#2 Michael Helkowski/Apoorv Anand (NA) def. Helena Varys/Ryan Balog (NH) 7-6 (9-7), 3-6, 6-4