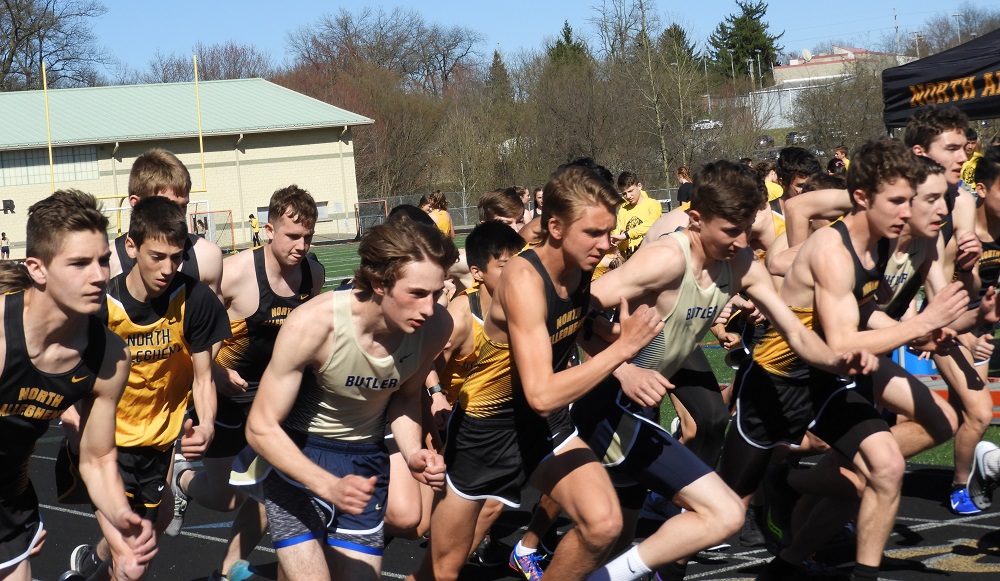 Tigers Split With Butler in Section Showdown
by T&F contributor
Almost perfect weather for a track meet and competition against your arch rival practically guaranteed one of the best track competitions in western Pennsylvania this day. The showdown between NATF and Butler was exactly that.
NATF Girls competed with a gallant effort, right to the very end of the meet. The defending WPIAL champions proved to be too much as they defeated NA 93-57, handing NA their first sectional loss of the season.   Outstanding performances at the meet included Emily Naughton winning the 100m Dash and the dynamic distance duo of Hannah Lindgren and Keeley Misutka both winning the 3200m and 1600m Runs, respectively.  In the field, Jenna McConnell outjumped her opponents in the Triple Jump while freshman sensation Evelyn Wiethorn captured first place in the High Jump.
The NATF boys proved they would not go quietly into the night and after regaining the lead in a dramatic sweep in the 400m Dash by Joey Porter Jr, Jacob Porter and James Huber, the team never looked backed and won the meet 80-70. Hurdler Donovan Rice continues to improve and win his events as he gained top honors in the 100m High and 300m Intermediate hurdle races. Zach Kinne also dominated his domain on the track winning the 1600m and 3200m Runs. Dan McGoey captured first place in the 800m Run and the only Tiger to win a field event came from Nathan Stetson in the discus.
The Tigers travel to Latrobe on Friday to compete in the 28th Hempfield Area Lady Spartan and 17th Greater Latrobe Wildcat Invitational. The meet will begin at 1:30 pm at the Latrobe Memorial Stadium.