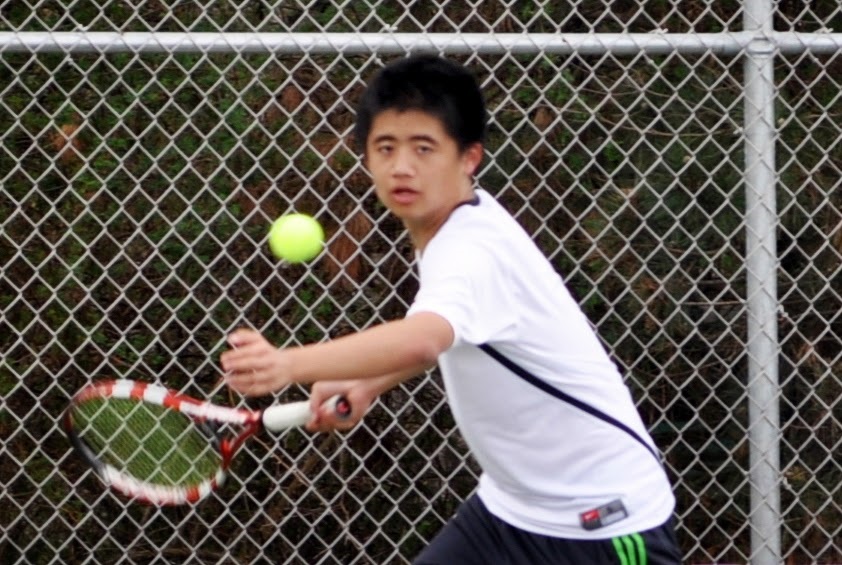 Tigers Squeeze by Central Catholic, Advance to WPIAL Semifinals
Facing the Central Catholic Vikings in the WPIAL Quarterfinals for the third time in four seasons, the Tigers  played a tight match but prevailed 3-2 to move on to the WPIAL Semi-Finals.   Going into the contest the Tigers were seeded third in the team competition while the Vikings drew the 11th spot.
The first point of the match came from sophomore Jared Isaacs who dispatched Natoli Farber in straight sets at number three singles, the key to the overall contest.   Juniors Eric Huang and Michael Helkowski controlled the action at number two doubles in a straight set win over Anthony Clark and Logan Blackwood for the second team point.  The match clincher came shortly thereafter, served from the rackets of the number doubles tandem of sophomore Andrew Xu andsenior Stephen Chuirazzi over Central's Tom Watson and Jorge Reyes-Arbujas.  Seniors Kevin Goth and Kylie rounded out the singles action with strong efforts against Adam Blasinsky and Mike Santa Lucia.
With the quarterfinal win secured during the last home match of the season, the 16-1 Tigers continue their playoff run with a Semi-Final match Tuesday afternoon against Shady Side Academy.  The starting time for the contest, to be played at the neutral site of Sewickley Academy, is scheduled for 3:30 PM. For a look at the entire Class AAA bracket, click here.
Match Summary
WPIAL Team Championships-Quarterfinal Round (5/5/14)
NORTH ALLEGHENY—3  CENTRAL CATHOLIC–2
Singles
#1  Adam Blasinsky (CC) def. Kevin Goth (NA) 6-3, 6-1
#2  Mike Santa Lucia (CC) def.Kylie Isaacs (NA) 6-1, 6-1
#3  Jared Isaacs (NA) def. Farber (CC) 6-0, 6-1
Doubles
#1  Andrew Xu/Stephen Chuirazzi  (NA) def. Tom Watson/Jorge Reyes-Arbujas(CC)  6-0, 6-2
#2  Eric Huang/Michael Helkowski(NA) def. Anthony Clark/Logan Blackwood (CC) 6-1, 6-0