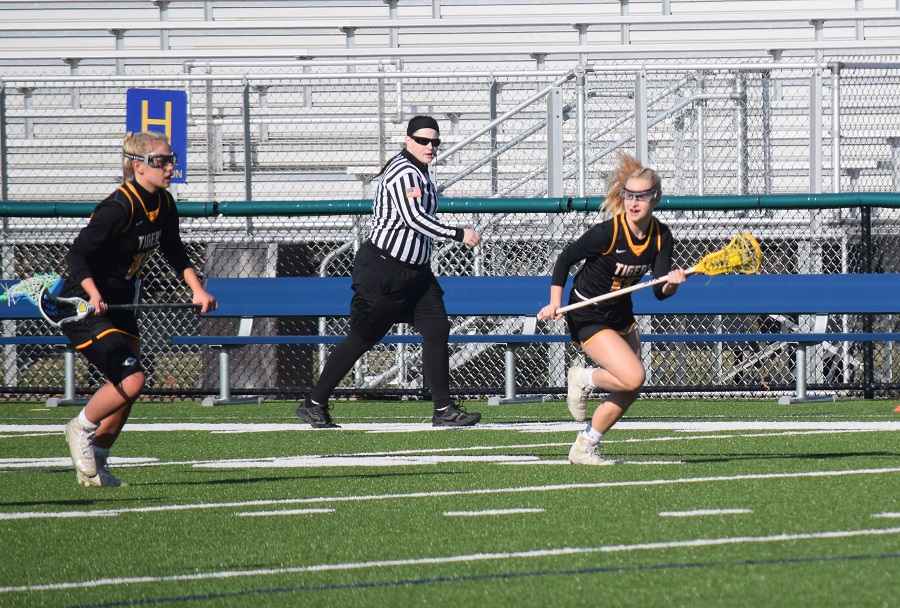 Tigers Swat Yellowjackets For Section Blowout, 23-3
The North Allegheny girls' lacrosse team blasted Freeport on Wednesday afternoon for a 23-3 victory in Section 2-AAA action. The Tigers dominated the contest from wire to wire and jumped to a 6-0 lead before Freeport touched the scoresheet. Sophomore Skye DePrado led NA to the blowout win with six goals and three assists.
In all, 10 different Tigers scored goals in a well-balanced effort. Senior Brooke Ferringer posted five goals and three assists, while fellow senior Paige Jones notched a hat trick and three assists. Senior Lexi McClure and sophomore Lola Wilhite tallied two goals apiece. Scoring one goal each were Katie Oates, Val Davis, Ryley McClellan, Makenna Tuman and Ava Collaizzi.  
With the win, North Allegheny jumps to 3-2 overall and 1-1 in Section 2-AAA. Freeport falls to 0-2 in section play. The Tigers will visit the reining WPIAL Class AAA champions on Monday with a 7:30 p.m. contest at Pine-Richland. The game will be broadcast live via the internet on the North Allegheny Sports Network.