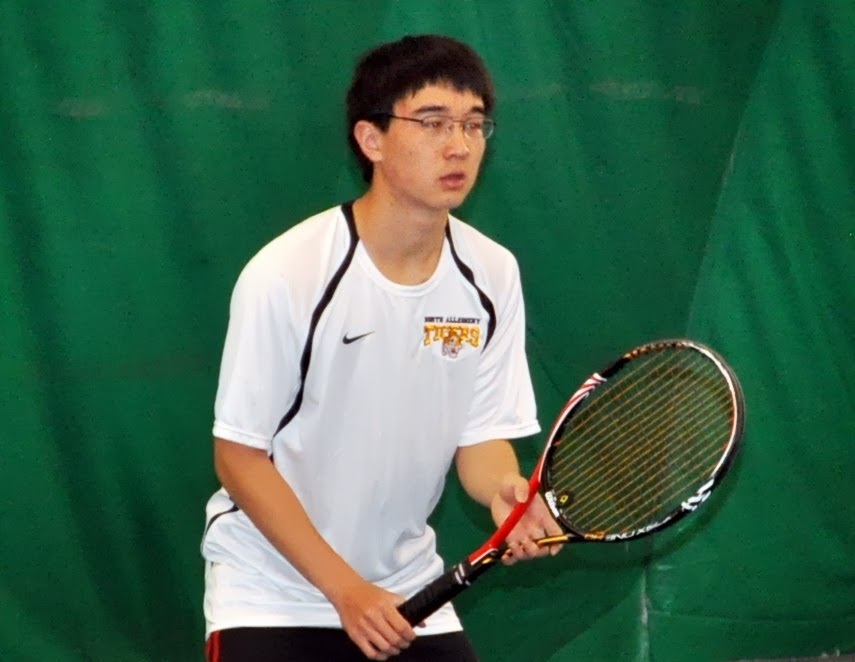 Tigers Sweep Seneca Valley in Section Rematch
The Tigers tennis squad traveled to Harmony, PA Wednesday afternoon where they swept their rivals from the north, Seneca Valley, 5-0, for the second time this season.  Opening the scoring for the Tigers was sophomore Jared Isaacs at number two singles.  The second team point came via the number three singles spot manned by sophomore Andrew Xu.  Senior Kylie Isaacs delivered the third and clinching point at number one singles.  All three singles matches were claimed in straight sets. 
Rounding out the victory parade were freshman Ryan Marczak and sophomore Apoorv Anand at number two doubles. A new combination at number one doubles, juniors Eric Huang and Michael Helkowski took the honors after a tough, three set match against Eric Abbott and Michael Garczynski. 
Improving to 9-1 on the season with an 8-1 mark in Section 2 play, the Tigers take on another section foe Friday afternoon, Hampton.  The starting time for this road match against the Talbots is scheduled for 3:30 PM (on the Shaler Area courts).
Match Summary (4/9/14)
NORTH ALLEGHENY—5  Seneca Valley–0
Singles
#1  Kylie Isaacs (NA) def. Alex Park (SV) 6-0, 6-1
#2  Jared Isaacs (NA) def. Corey Fetter (SV) 6-0, 6-1
#3  Andrew Xu  (NA) def. Jacob Yankel (SV) 6-0, 6-0
Doubles
#1  Eric Huang/Michael Helkowski (NA) def.  Eric AbbottMichael Garczynski (SV) 3-6, 6-1, 6-2
#2  Ryan Marczak/Apoorv Anand (NA) def. Alex Garczynski/Sean Yanez (SV) 6-2, 6-2