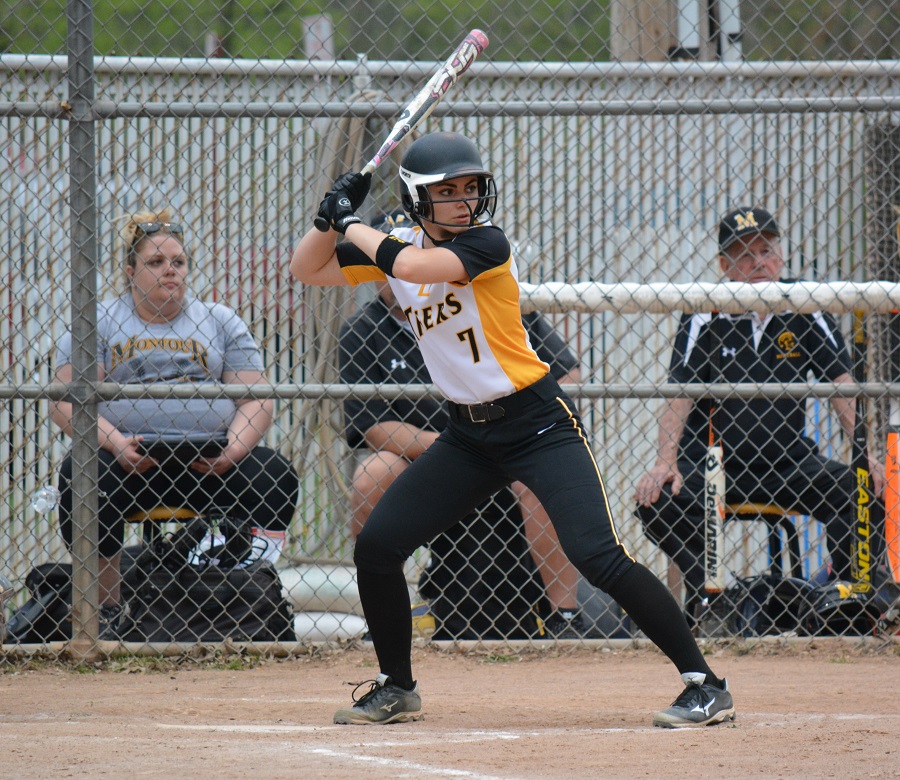 Tigers Take It To The Macs In WPIAL Quarterfinals
The North Allegheny Varsity Softball Team traveled to Baldwin for the second consecutive day on Tuesday afternoon, with Monday's attempt being rained out, and this time left with a 6-3 victory over Canon McMillan to advance to the W.P.I.A.L. Semi-Finals where they will meet Baldwin on Thursday at a site and time to be determined.  After a scoreless first inning, North Allegheny's sophomore third baseman Maddy DeRubbo hit a clutch two-out single in the bottom of the second to drive in senior first baseman Logann Woodley, who had singled and was advanced to second by senior right fielder Anna Sardon, giving the Tigers a 1-0 lead.
The score remained 1-0 until the bottom of the fifth inning, when NA tallied three more runs, with the big blow being a two-out two-run home run to deep right-center field by junior pitcher Madi Beining, with junior courtesy runner Allie Green, running for junior catcher Liz Scherer, scoring in front of Beining.
Canon McMillan narrowed the margin to 4-3 in the top of the sixth by crafting three runs on a walk, a single, and back-to back doubles.  The Tigers, however, re-established the three run margin with a two-run bottom of the sixth. Sardon got things started with a one-out single and was sacrificed to second by a DeRubbo bunt.  Following a single by senior center fielder Laura Cotter, senior left fielder Mackenzie Gostomski ripped a double to deep left-center field scoring both Sardon and Cotter for the final tallies of the evening.
Canon McMillan did not go quietly in the seventh, with two singles putting the tying run at the plate, but Beining induced right fielder Taylor Bruno to hit a popup caught by junior shortstop Lacey Hilderbrand to close out the victory.
Beining finished the evening allowing six hits while striking out eleven and walking three.  With the win, the Tigers raise their overall record to 20-1 and will face the Baldwin Highlanders on Thursday at a site and time to be determined.  The North Allegheny Athletic Website will have those details as soon as they become available. The game will be broadcast live via the internet on the North Allegheny Sports Network.
NA Softball vs. Canon-McMillan, 5-19-15
| Score by Innings | 1 | 2 | 3 | 4 | 5 | 6 | 7 | | R | H | E |
| --- | --- | --- | --- | --- | --- | --- | --- | --- | --- | --- | --- |
| Canon-McMillan | 0 | 0 | 0 | 0 | 0 | 3 | 0 | | 3 | 6 | 2 |
| North Allegheny | 0 | 1 | 0 | 0 | 3 | 2 | X | | 6 | 9 | 0 |
WP - Madi Beining LP - Tara Fowler