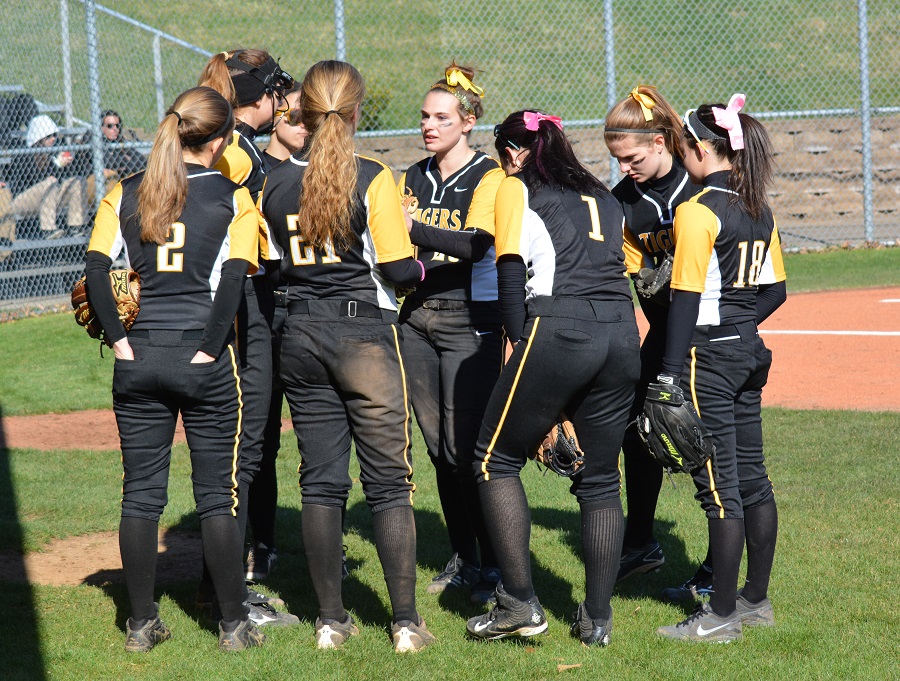 Tigers Take Trip, Trip Trojans
The North Allegheny varsity Softball Team traveled north on I-79 on Wednesday afternoon to take on the McDowell Trojans and returned south with a 5-4 victory.  Senior Sami Beining and sophomore Madi Beining shared the circle for the Tigers, giving up a total of four runs on eight hits.  NA played errorless ball to support their efforts in a well-played game against a solid McDowell team who had only two losses going into the contest.
Tiger RBI's came from sophomore Lacey Hilderbrand via a double, and three from junior second baseman Emily Hogan on a single, a double, and a bases-loaded walk. The other Tiger tally scored as a result of a Trojan error.  Other Tigers with extra base hits were junior left fielder Mackenzie Gostomski, who doubled, and senior third baseman Mary Funderlich, who tripled.
The win brings the Tigers' record to 14-4 on the year, having previously completed Section 3AAAA play with a 9-3 mark. The final regular season game for NA will be played on Thursday evening at Fairhaven Park as the Tigers will take on the Montour Spartans in a 6:30 start.  The team also awaits their W.P.I.A.L. playoff seeding and opponent, which will be announced some time during the day on Thursday.
Line Score - NA Softball vs. McDowell, 5/7/14
| Score by Innings | 1 | 2 | 3 | 4 | 5 | 6 | 7 | | R | H | E |
| --- | --- | --- | --- | --- | --- | --- | --- | --- | --- | --- | --- |
| North Allegheny | 2 | 0 | 1 | 0 | 2 | 0 | 0 | | 5 | 6 | 0 |
| McDowell | 2 | 0 | 0 | 0 | 0 | 1 | 1 | | 4 | 8 | 1 |
WP - Madi Beining (8-2) LP - M. Kraus