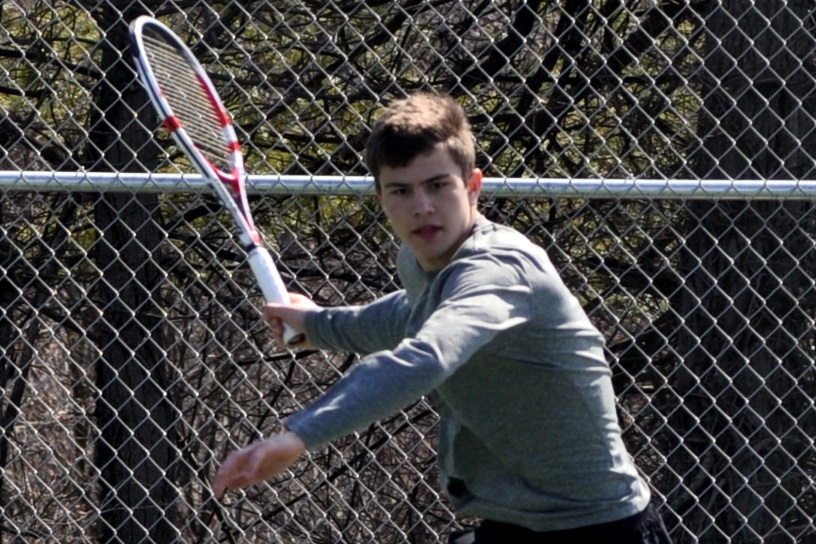 Tigers Tame Foxes In Opening Round, 4-1
The Tigers tennis squad started their 2014 WPIAL playoff journey with a home match in the first round against Fox Chapel Thursday afternoon and came away with a 4-1 victory against the Foxes.  The match up pitted the #3 seeded Tigers against the 14th seeded Foxes in a rematch of last year's quarterfinal round.
The first team point was delivered convincingly by senior Kylie Isaacs who defeated Josh Lehman in straight sets at number two singles.   Sophomore Jared Isaacs cruised to a straight set victory at number three singles over Jake Norman for the second point.  The clincher was courtesy of the first doubles duo of sophomore Andrew Xu and senior Stephen Chuirazzi who took the better measure of Tom Fennell and Alex Heimler, once more in straight sets.   Rounding out the scoring, juniors Eric Huang and Michael Helkowski faced an uphill struggle but held on to defeat Lucas Fennell and Pat Campbell in a three set match.   With the team match in hand, senior Kevin Goth played what amounted to an exhibition match against Sid Rajupet at number one singles.
Following completion of this first round win, the 15-1 Tigers will host Central Catholic on Monday afternoon on the NASH courts.  The starting time is scheduled for 3:30 PM. For a look at the entire Class AAA bracket, click here.
Match Summary:  WPIAL AAA Team Championship, First Round  (May 1)
NORTH ALLEGHENY—4 Fox Chapel—1
Singles
#1  Sid Rajupet (FC) def. Kevin Goth (NA)  6-4, 7-6 (8-6)
#2  Kylie Isaacs (NA) def. Josh Lehman (FC) 6-1, 6-0
#3  Jared Isaacs  (NA) def. Jake Norman  (FC) 6-1, 6-2
Doubles
#1  Andrew Xu/Stephen Chuirazzi (NA) def. Tom Fennel/Alex Heimler (FC)  6-1, 6-4
#2  Eric Huang/Michael Helkowski (NA) def. Lucas Fennell/Pat Campbell (FC) 6-3, 5-7, 6-1