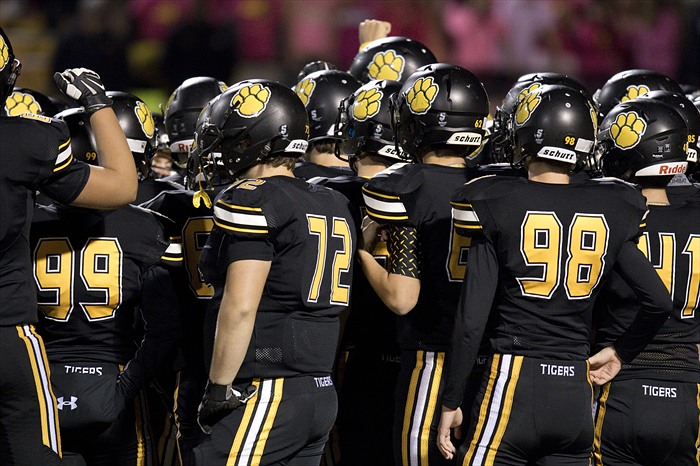 Tigers To Open NA Football Classic vs. Olentangy Liberty
The first annual Western Pennsylvania Football Classic is just weeks away with great anticipation and excitement. Wright Field at Newman Stadium will play host to the event, a four-game extravaganza on August 26-27. The kickoff for the classic is a battle between the host North Allegheny Tigers and the Olentangy Liberty Patriots (Columbus, Ohio) at 7:30 p.m. on August 26.
North Allegheny is coming off a 9-2 season a year ago and is expected to be one of the top contenders in the new alignment in Class 6-A. The Tigers reached the WPIAL quarterfinals last season before falling to the eventual WPIAL and PIAA champions, the Pittsburgh Central Catholic Vikings. The black and gold hope to go even deeper into the postseason in 2016 thanks to a deep roster that includes a couple Division I recruits and an electrifying playmaker at quarterback.
On the offensive line, North Allegheny boasts Notre Dame recruit Josh Lugg at left tackle and Temple recruit Griffin Sestilli at tight end. A formidable blocker, Sestilli also displays soft hands which reeled in seven passes for 100 yards and three touchdowns last season. Versatile senior quarterback Ethan Maenza will facilitate the offense with a dynamic ability to beat opponents with his arm or his legs. Maenza was NA's leading rusher last season with 834 yards and eight touchdowns. Through the air, Maenza passed for 875 yards and seven touchdowns. A threat on special teams as well, Maenza returns kicks and scored on a 55-yard punt return against Latrobe last season.
Other notable returnees include running back Michael Pope who toted the ball 119 times for 629 yards and 11 touchdowns. Senior receiver Niko Mermigas could be a major factor in the passing game this fall. Mermigas pulled in eight receptions for 160 yards and two touchdowns a year ago, to go along with 74 yards and one score on the ground.
North Allegheny's opponent on opening night, Olentangy Liberty, is a perennial power from central Ohio. Playing in the Ohio Capital Conference's Central Division, Olentangy Liberty qualified for the playoffs last season with a 7-4 record. The Patriots began the year with a 6-1 mark but stumbled down the stretch before being eliminated by Solon High School in the first round, 19-9. A school that opened in 2003, Olentangy Liberty has reached the state playoffs eight times.
The Patriots will return their top pass catcher from last season in the form of junior receiver Johnny Wiseman who posted 59 receptions for 813 yards and two touchdowns in 2015. In addition to Wiseman, senior receiver Brendon White is an athletic target who hauled in 26 passes for 316 yards and three touchdowns. White also plays defensive back and is an Ohio State recruit. Adding to the bounty of options in the passing game, senior tight end Drew Rosi is a Toledo recruit who delivered three touchdowns and 347 receiving yards last year. There is a major question mark at quarterback, however, as the Patriots will have to replace Alex Lando and his 1,640 passing yards and nine touchdowns.
On defense, junior linebacker Edward Warriner is a headliner for Olentangy Liberty. Warriner is garnering plenty of Division I attention and has scholarship offers from Rutgers, Army, Bowling Green, Buffalo, Central Michigan, Colorado State, Kent State, Ohio and Toledo. Warriner is the son of Ohio State offensive coordinator and tight ends coach Ed Warriner.
Olentangy Liberty is led by long-time head coach Steve Hale. North Allegheny is coached by Art Walker, Jr., winner of five WPIAL titles with North Allegheny and Pittsburgh Central Catholic. Walker is entering his 12th season as Tigers head coach and 20th season overall and boasts a career record of 170-50. The Tigers have also won two PIAA crowns under Walker's command.
Advanced tickets for the Western Pennsylvania Football Classic can be purchased in the North Allegheny athletics office and any respective school participating in the event. For Friday's game, tickets are $9 for adult reserve seats, $8 for adult general admission and $5 for students. Ticket prices for Saturday are $10 for adults and $7 for students. Saturday's tickets will be good for all three games played that day.
The WPLFC schedule will be as follows:
Friday, August 26, 2016
7:30 pm – Olentangy Liberty (Columbus, Ohio) vs. North Allegheny
Saturday, August 27, 2016
12:00 pm – St. John's (Washington D.C.) vs. Pittsburgh Central Catholic
3:30 pm – Frazier vs. McGuffey
7:00 pm – Canada Prep Academy (Welland, Ontario) vs. Penn Hills