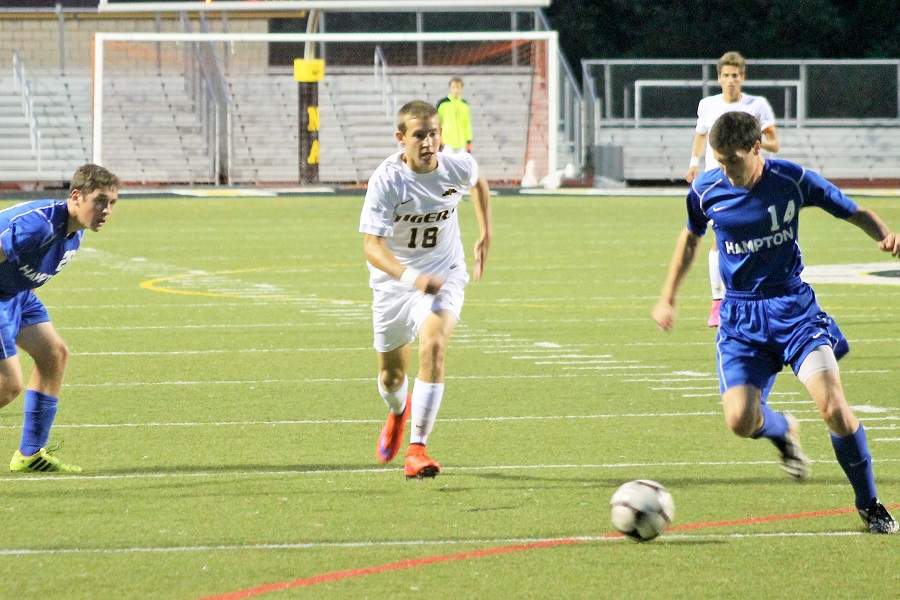 Tigers Top Talbots In Overtime, 1-0
In game two of a girls/boys doubleheader at Newman Stadium on Thursday night, the night cap was a thriller as the North Allegheny boys' soccer team outlasted the Hampton Talbots for a 1-0 win in overtime. Senior forward Michael Peters netted the game winning marker with 4:46 on the overtime clock to propel the Tigers to victory. For his timely goal, Peters was named the Wright Automotive Player of the Game.
While the game was scoreless most of the night, North Allegheny maintained persistent pressure on the Talbots and goalie Matt Easler. It was Peters who generated the best scoring opportunities, including a first half shot that clanged off the right post. The field was heavily tilted in NA's favor and the Tigers collected 13 corner kicks on the night while the defense did not permit a single Hampton shot on net.
The Talbots had their best scoring opportunity early in the second half when Alex Rhea streaked into the box in an attempt to chase down a lead pass. However, North Allegheny goalie Josh Krassenstein aggressively charged the ball at the top of the box and made a sliding scoop of the ball to prevent a breakaway shot by Rhea. Krassenstein posted the first Tigers shutout of the season.
In overtime, North Allegheny appeared determined to finish off Hampton. Sophomore Josh Luchini led a charge just 1:30 into overtime but his pass on the door step was just beyond the reach of two of his Tigers teammates and missed wide right. Minutes later though, it was a hustling play by Luchini that set up the game winner. On a lead pass that seemed destined to roll out of bounds in the right corner, Luchini raced to the ball, maintaining possession and position in bounds, and placed a perfect centering pass to Peters who finished off the play with 4:46 to go in overtime for a 1-0 NA victory.
The win was North Allegheny's fifth straight against Hampton since the Talbots joined Section 2-AAA in 2012. The Tigers record climbs to 2-1 overall and 1-1 in section play. Hampton falls to 2-2 overall and 1-1 in the section. NA visits top-ranked Peters Township on Saturday at 2:30 pm.