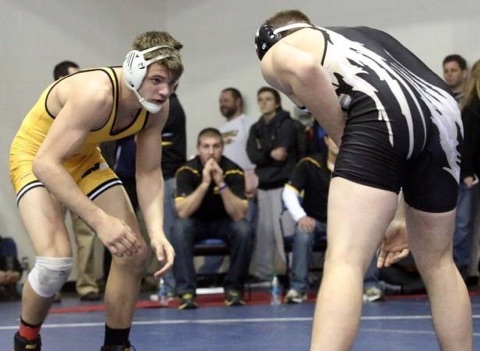 Tigers Trip Up Tornado, 39-28
The North Allegheny wresting team won its second straight section meet with a 39-28 victory over the Butler Golden Tornado on Wednesday night. The Tigers jumped to a 24-0 lead and held off a Butler rally for the win to improve to 2-1 in Class AAA Section 3-A. Butler had been undefeated in the section prior to their rendezvous with the Tigers.
North Allegheny started the night with five straight victories, including falls by Jacob Downing over Isaiah Christy at 106 pounds and Gabe Falo over Braydon Hoffman at 113 pounds, for a 24-0 lead. However, the Golden Tornado stormed back and came to within seven points of the Tigers with three bouts to go.  NA put the section triumph on ice thanks to a 13-4 major decision by Jake Woodley at 182 pounds over Thomas Greaves and a win by fall courtesy of Francis Duggan over Jacob White at 195 pounds for a 39-22 advantage. Butler's Justin Johnson won the final bout by fall to bring the final score to 39-28.
North Allegheny improves to 4-4 overall and 2-1 in section action. Butler falls to 2-1 in the section. The Tigers will face Mars on next Wednesday in a matchup that can be heard live via the internet on the North Allegheny Sports Network.
Wrestling Match Summary: NA vs. Butler
| Weight | Wrestlers | Score |
| --- | --- | --- |
| 285 | Charles Sanders (NA) dec. Saavon Mosby (B) | 7-5 |
| 106 | Jacob Downing (NA) pinned Isaiah Christy | 1:53 |
| 113 | Gabe Falo (NA) pinned Braydon Hoffman | 0:46 |
| 120 | Andrew Wang wbf | |
| 126 | Jiatian Qu (NA) dec. Shane Culp (B) | 16-12 |
| 132 | Samuel Dietrich (B) maj. dec. Devin Lasch (NA) | 14-0 |
| 138 | Jake Hinkson (NA) dec. Scott Dietrich (B) | 8-6 |
| 145 | Michael Vought (B) pinned Manuel Batista (NA) | 0:37 |
| 152 | Caleb Baxter (B) pinned Jake Smalley (NA) | 3:20 |
| 160 | Sean Kalmeyer (NA) dec. Hank Finan (B) | 6-1 |
| 170 | Christian Sequete (B) pinned Jimmy Turici (NA) | 2:24 |
| 182 | Jake Woodley (NA) maj. dec. Thomas Greaves (B) | 13-4 |
| 195 | Francis Duggan (NA) pinned Jacob White (B) | 2:35 |
| 220 | Justin Johnson (B) pinned Kevin Tang (NA) | 1:27 |