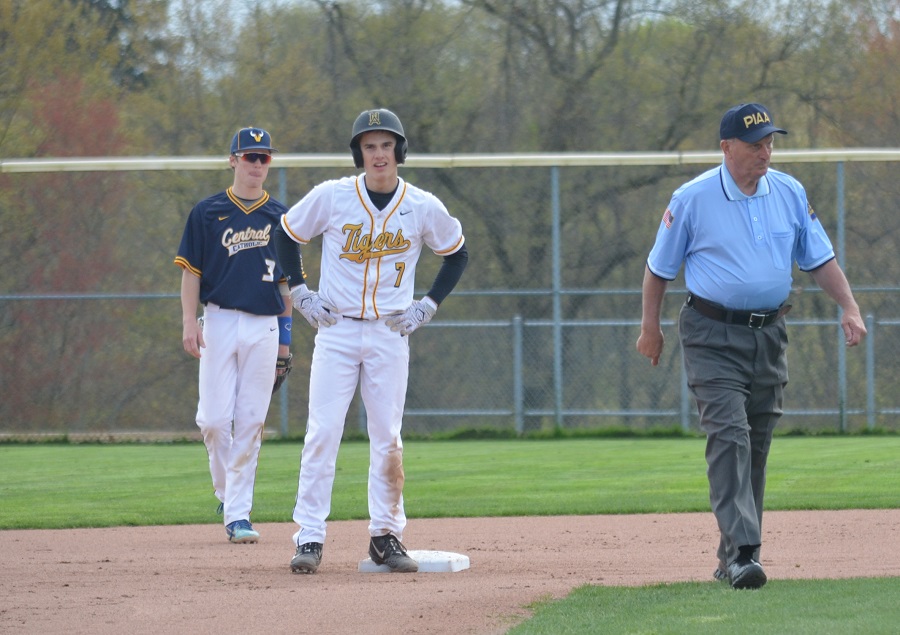 Tigers Vanquish Vikings For Section Win, 11-1
North Allegheny won its third straight game in mercy-rule fashion as the Tigers claimed an 11-1 victory in six innings over the visiting Central Catholic Vikings. The Tigers used a six-run sixth inning to put the Section 1-6A contest on ice, capped on an RBI single by Anthony Hattrup for the 11th and final run.
Penn State recruit Ryan Partridge was the winning pitcher for North Allegheny with a masterful complete-game performance. Partridge limited the Vikings to just two hits and surrendered only one run on a bloop single by Brandon Gelpi in the sixth inning.
With Partridge firing on all cylinders on the mound, the North Allegheny lineup gave him more than enough runs to work with. The Tigers struck first in the bottom of the first on a double steal that allowed J.T Montross to score for a 1-0 lead.
The lead swelled to 3-0 in the third inning when Jared Orwell smacked a two-out double and scored moments later on a two-run homer by Cole Young. The home run was Young's first of the season and just the start of a fantastic performance for the freshman on the afternoon. Young reached base four times, going 3 for 3 with a homer, a double, a walk and four RBI. For his efforts, Young was named the Wright Automotive Player of the Game.
In the fourth inning, the Tigers tacked on two more runs for a 5-0 advantage courtesy of an RBI single from C.J Weller and an RBI triple by Logan Andreyko.
Despite Gelpi's bloop RBI base hit for Central Catholic in the top of the sixth, the Tigers went for the jugular with a six-run bottom of the sixth. North Allegheny batted around in the big inning, which included an RBI single from Andreyko, a two-run double by Young, an RBI single by Cam Medic and an RBI base hit from Hattrup.
Central Catholic starter Conor Deasy took the loss and was chased in the fourth inning. Deasy allowed four runs in 3.1 innings with seven strikeouts and two walks.
With the win, North Allegheny improves to 10-5 overall and 4-2 in Section 1-6A. Central Catholic dips to 9-5 overall and 2-4 in the section. The Tigers continue section play on Monday night with a visit to Butler at 7:00 p.m. The game will be broadcast live via the internet on the North Allegheny Sports Network.
Box Score - Baseball vs. Central Catholic - 04/27/2019
| Score by Innings | 1 | 2 | 3 | 4 | 5 | 6 | 7 | R | H | E |
| --- | --- | --- | --- | --- | --- | --- | --- | --- | --- | --- |
| Central Catholic | 0 | 0 | 0 | 0 | 0 | 1 | X | 1 | 2 | 0 |
| North Allegheny | 1 | 0 | 2 | 2 | 0 | 6 | X | 11 | 11 | 1 |
WP - Ryan Partridge (2-1) LP - Conor Deasy