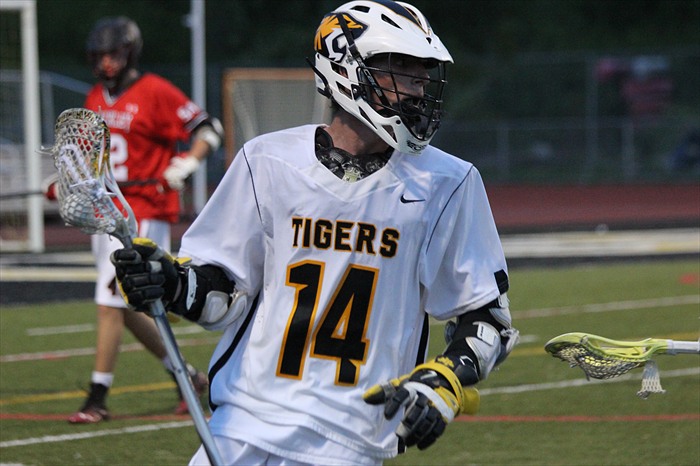 Two Tigers Named All-American, John Rullan WPIAL Coach of the Year
Following a highly successful 2015 season, and appearances in the WPIAL title game and PIAA playoffs, North Allegheny head coach John Rullan has been named the WPIAL Boys Lacrosse Coach of the Year. Under Rullan's tutelage, the Tigers won the Division 1, Section 2 crown with a perfect 6-0 record and finished the year with an overall mark of 15-5.
Coach Rullan's son, Kyle, was named an All-American and WPIAL Player of the Year following a spectacular senior season. Kyle Rullan was an offensive stalwart, leading the team with 52 goals and 47 assists. Joining Kyle Rullan as an All-American was senior Zach Smith who won 232 of 313 faceoffs on the season. A physical force in the faceoff circle, Smith also scooped up a team-best 182 ground balls and added 17 goals offensively. Rullan and Smith also received All-WPIAL  recognition.
Joining Rullan and Smith on the All-WPIAL Team was defenseman Greg Ferringer. The sophomore led the team with 29 forced errors and his presence was sorely missed during the final month of the season as Ferringer was out with a leg injury.
Rullan, Smith and Ferringer were all named to the All-Section Team, along with senior attack Zech Nachazel. Second on the team in ground balls with 63, Nachazel was an all-around force with 17 goals, 13 assists and 19 forced errors. Congratulations to the North Allegheny post-season award winners.
All-WPIAL Division 1
Attack:                  Kyle Rullan
Defense:             Greg Ferringer
Face-Off:             Zack Smith
All-Section Division 1
Attack:                 Kyle Rullan
Midfield:             Zech Nachazel
Defense:             Greg Ferringer
Face-Off:             Zack Smith