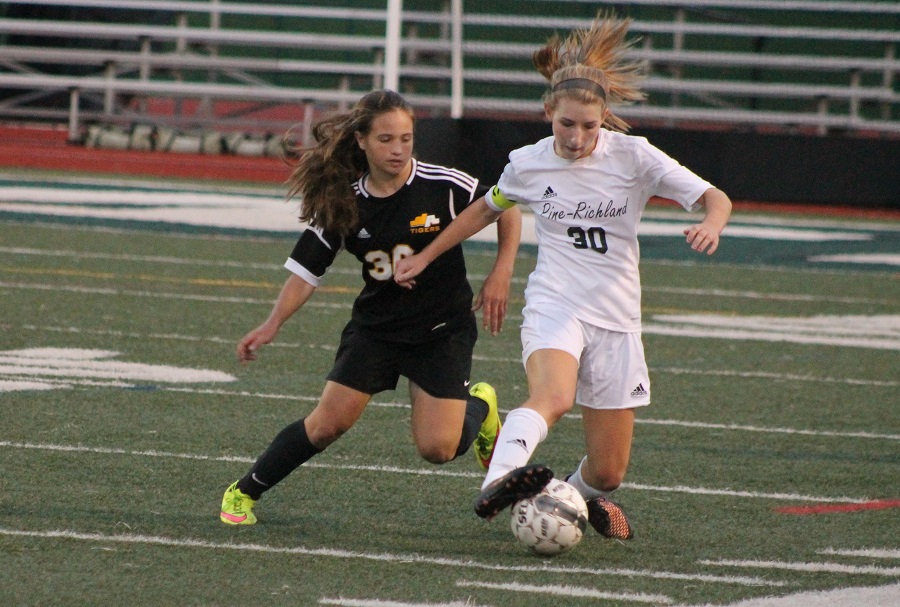 Undefeated Rams Outlast Lady Tigers, 2-1
Amanda Kalin's goal in the 60th minute broke a 1-1 tie and lifted Pine-Richland to a 2-1 win in Section 2-AAA action on Friday night over the North Allegheny Tigers. The multi-sport athlete netted both of Pine-Richland's goals and gave the Rams a 1-0 lead with her first marker of the night, a goal in the game's 15th minute.
The score remained 1-0, Rams, until North Allegheny mounted some strong pressure in the second half. In the 53rd minute, senior Gabby Smychynsky sent a direct kick into the box where senior Morgan Treser passed it to senior Amanda Miller for a goal and the game was tied, 1-1. The deadlock lasted until the 60th minute when Kalin converted a free kick into a game winning goal for the Rams, 2-1.
North Allegheny slips to 3-2 overall and 2-2 in Section 2-AAA. The undefeated Rams improve to 5-0-1 overall and 4-0 in section play. The Lady Tigers host Mars in a non-section game tonight at Newman Stadium. Kickoff is at 8:00 pm.