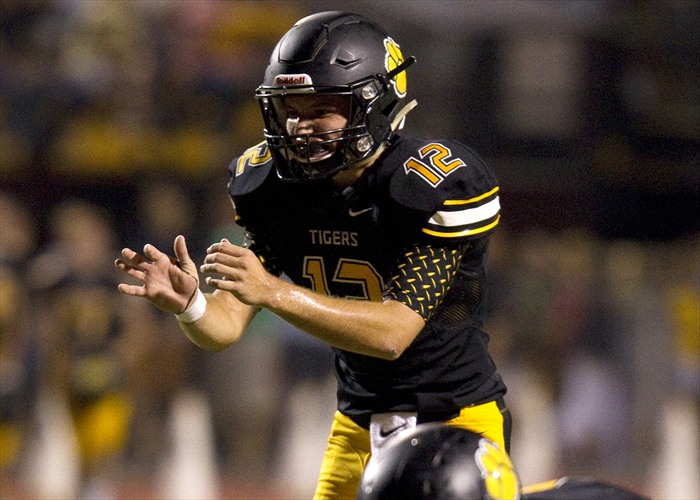 Western PA Legends Football Classic Preview
For many teams in Western Pennsylvania, this weekend marks the beginning of the high school football season. For the North Allegheny athletic program and its football team, it also signals the dawn a premier annual event that kicks off tonight at Wright Field at Newman Stadium. The Western Pennsylvania Legends Football Classic opens with the host North Allegheny Tigers facing off against Ohio powerhouse Olentangy Liberty High School. The game starts at 7:30 p.m. and will be broadcast live via the internet on the North Allegheny Sports Network. To listen to tonight's broadcast, click here.
North Allegheny's clash with Olentangy Liberty serves as the commencement for a weekend filled with action with some of the best talent in the northeast taking the field. Let's take a look at Saturday's tripleheader.
Pittsburgh Central Catholic vs. St. John's (D.C.) – 12:00 p.m.
Since 2000, the Pittsburgh Central Catholic Vikings have the third highest win total in the WPIAL with 177 wins, which includes five WPIAL titles and three PIAA championships. The Vikings are coming off another state championship season (15-1 in Class AAAA) in 2015 and are considered one of the favorites in the WPIAL's new 6-A classification. Central Catholic has six players receiving interest from major colleges and one of the top recruits in the nation at linebacker in senior David Adams. Lineman Kurt Hinish is headed to Notre Dame and fellow lineman C.J. Thorpe is a four-star recruit who has chosen Penn State as his next stop. Central Catholic's opponent, St. John's of Washington D.C., will not be in awe of the powerful Vikings since the Cadets boast a roster with several high-profile transfers. St. John's is coming off a 7-4 season in the Washington Catholic Athletic Conference and reached the semifinals in the WCAC playoffs. The most notable transfer for the Cadets is senior quarterback Kasim Hill, a Maryland recruit. Freshman linebacker Shane Lee already has offers from seven schools and senior defensive tackle Cam Spence is another Maryland recruit who stands 6-foot-6, 310 pounds. With the arrival of these new reinforcements for this season, St. John's is hoping this transfer of power will result in its first league title since 1989.
McGuffey vs. Frazier – 3:30 p.m.
The middle game in Saturday's tripleheader pits a pair of Western Pennsylvania teams in a head-to-head duel. The McGuffey Highlanders  play in Class AAA and are regarded as one of the top contenders in the Interstate Conference this season. McGuffey went 6-4 last season and reached the WPIAL playoffs for the second consecutive year. With the return of all-conference quarterback Marcus Czulewicz, who threw for over 1,000 yards and led the team in rushing last season, the prospects for a third straight trip to the playoffs looks promising. Junior Spencer Gillespie was all-conference pick at linebacker a year ago for the Highlanders and senior Teague Nicolella is regarded as one of the best kickers in the Interstate Conference. The Frazier Commodores bump up to Class AA this season after winning Class A's Tri-County South in 2015 with an 11-1 overall record. The Commodores brought some thrills to their fans last year with two one-point playoff victories before eventually bowing out to Clairton in the semifinals. Frazier hopes to have another lengthy playoff run and will pose a formidable threat in the Century Conference. A key player for the Commodores is quarterback Chris Pierce who tossed 14 touchdowns while throwing only one interception as a junior. Other significant returnees include receivers Damon Lovis and Joshua Cox.
Penn Hills vs. Canada Prep Academy (Welland, Ontario) – 7:00 p.m.
Similar to North Allegheny and Pittsburgh Central Catholic, the Penn Hills Indians will play in the imposing Northern Seven Conference in Class 6-A this fall. Unlike the Tigers and Vikings, the Indians are in a rebuilding phase after posting a sub-par 3-7 record in 2015. Senior receiver Rick Squires and junior receiver Julian Major both have FBS scholarship offers and could provide some electrifying plays if they get their hands on the football. Penn Hills will have a stiff test against Canada Prep Academy, a school that has been a literal Division I football player factory in its three years of existence. The boarding school in Welland, Ontario, now in its fourth year, primarily serves as a preparatory stop for high school athletes bound for post-secondary football careers. Of this year's crop of talent, receiver Brandon Brown is a Division I recruit who received All-Western New York laurels while playing for Bennett High School in Buffalo last season. Another intriguing player for Canada Prep Academy is 19-year old tight end Blake Williams who missed his junior year of football at Mustang High School in Oklahoma because of a condition called dysautonomia, a term used to describe several different medical conditions that cause a malfunction of the Autonomic Nervous System. Now fully recovered, Williams is a 6-foot-4, 230-pound tight end with soft hands and drawing attention from Syracuse University.
For the NA vs. Olentangy Liberty preview, click here.
Advanced tickets for the Western Pennsylvania Football Classic can be purchased in the North Allegheny athletics office and any respective school participating in the event. For Friday's game, tickets are $9 for adult reserve seats, $8 for adult general admission and $5 for students. Ticket prices for Saturday are $10 for adults and $7 for students. Saturday's tickets will be good for all three games played that day.