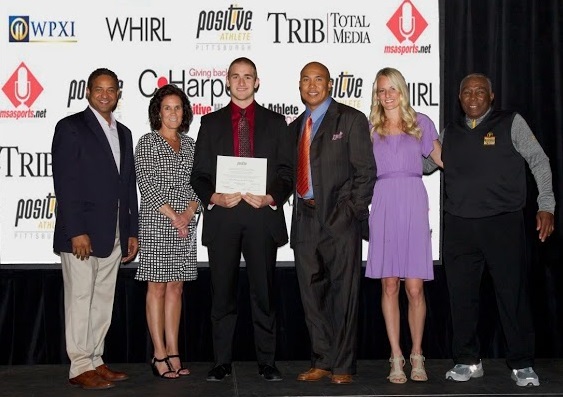 Zach Buerger Receives Most Positive Athlete Award
PITTSBURGH (May 19, 2014) –  North Allegheny High School's Zachary Buerger was presented with the title of Western Pennsylvania's "Most Positive High School Athlete" in the sport of Boy's Swimming on Saturday, May 3 by former Pittsburgh Steelers wide receiver Hines Ward, and Roberto Clemente, Jr., the son of the late Pirates Hall of Famer Roberto Clemente.
Buerger was presented the award along with 25 other winners representing a variety of boys and girls sports at the C Harper Positive High School Athlete Awards at the Senator John Heinz History Center and Western Pennsylvania Sports Museum in downtown Pittsburgh.  Nearly 1,000 nominations from coaches, principals, athletic directors, teachers, and parents were submitted by a total of 125 Western Pennsylvania high schools.
"This is the third year for the C Harper Positive High School Athlete Awards, and the stories of our nominees continue to amaze me," said Ward.  "I was always credited with having a positive influence on my team during my days with the Steelers, but the stories I hear about kids like Zach really inspire me to be a better person."
In addition to an awards' certificate signed by Mr. Ward, Buerger a senior at Pittsburgh North Allegheny, took photos with the former Super Bowl MVP and Mr. Clemente.
Positive Athlete Pittsburgh (http://pittsburgh.positiveathlete.org) and the Positive High School Athlete Awards is in its third year and was created as a movement for more positivity in youth sports. In addition to excellence on the field, each participating Positive Athlete shares similar characteristics including an optimistic attitude, teammate encouragement, servant leadership, heart for others, ability to admit imperfections, giving 100 percent all the time, and realizing the team as more important than the individual.
"We did not put out a search for the best athletes in Western Pennsylvania," said Ward, "We put out a search for kids with positive attitudes whose efforts don't necessarily show up on the stat sheets.  These kids are also positive role models in their schools who get involved in charitable causes, and have already learned the meaning of giving back at an early age".
Mayor Robert Brooks of Murrysville also presented each of the athletes with an FR PROUD t-shirts as a thank you to the entire Pittsburgh community for their support of Franklin Regional High School. A group photo of all of the athletes in their FR PROUD t-shirts will capped off the award presentations.
"We hope this program focuses the spotlight on how important a positive attitude is not only in sports, but in life as well," said Roberto Clemente, Jr.  "My father's legacy will always be remembered for his heart for others, something that ultimately cost him his life".