View Game Summaries For
2018-2019 Game Summaries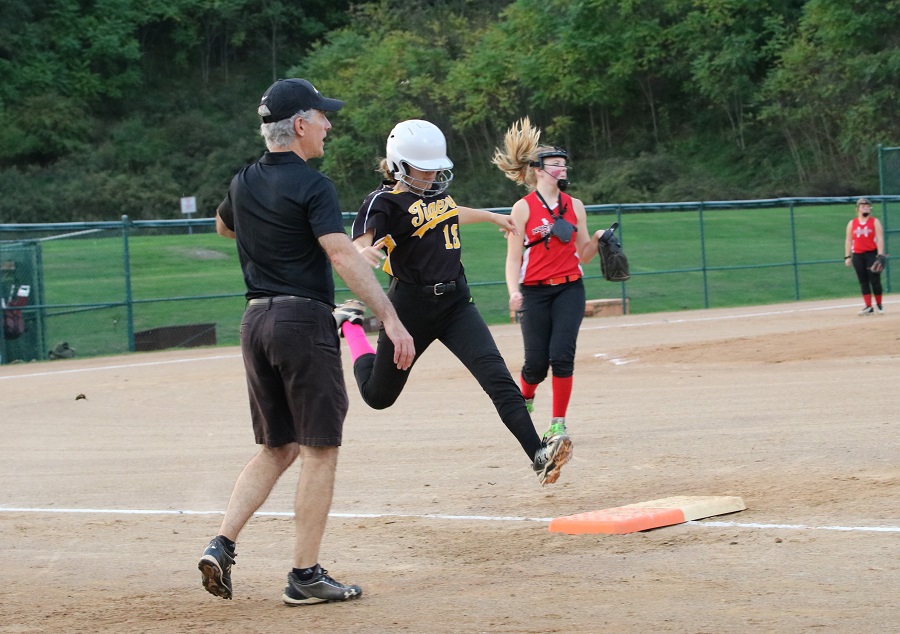 by NA Slow-Pitch Contributor
The North Allegheny slow-pitch softball team dropped a 10-6 decision to the North Hills Indians on Tuesday night.
NA had a strong start at the daunting Herb Field in Ross Township.  Juniors Kenna White and Abby Birch, and sophomore Meg Patterson all hit doubles in the top of the first inning.  Seniors Lindsay Holmes and Jenni Booker also each got an RBI. By the end of this inning, NA had earned four runs. North Hills came back with three runs, but NA was able to keep their lead.  Defensively, both teams were strong with no runs scored until the bottom of the fourth inning.
North Hills hit in two runs, now leading 5-4 over NA. At the top of the sixth inning, White and Patterson both drove in one more run, putting NA back in the lead once more. Unfortunately, a missed or overthrown ball at this field means runs – which is exactly what happened to the Tigers at the bottom of the sixth inning. North Hills scored four more runs in the inning, and NA just wasn't able to regain their lead. Patterson proved to be invaluable in this game with some dramatic catches deep in right field.
With the loss, North Allegheny has a record of 7-6 on the season. The Lady Tigers return to action on Sunday at Montour.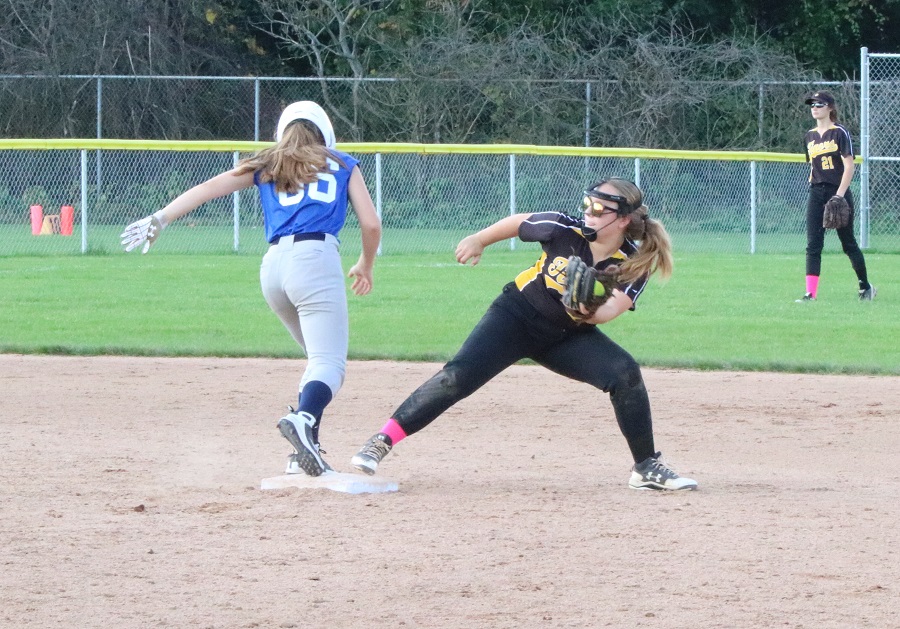 by Slow-Pitch Softball Contributor
The North Allegheny slow-pitch softball team earned a doubleheader spit on Sunday with the Mt. Lebanon Blue Devils. The Lady Tigers lost game one, 14-9, but bounced back in game two for an 18-6 victory.
NA had a rough first inning in game one. The Blue Devil scored five runs, but they were eventually stopped with two outs by sophomore shortstop sophomore Lizzie Wetmore, and by strong pitching from senior Melissa Metzger. Finally, in the bottom of the second inning, NA's bats were back. Wetmore hit a triple to deep center, bringing in one run. Senior Jenni Booker brought in another run, junior Kenna White hit a double earning NA a run, and junior Abby Birch brought in two more. It was back and forth the rest of the game, but the Tigers came up short, losing 14-9.
Game two against the Blue Devils was a whole different ball game. In the top of the first inning, NA earned 12 runs. Birch started it off hitting a double, bringing in 3 runs.  Wetmore, Booker, sophomore Carly Snyder, senior Callie Beck, freshman Emily Yanchak, and senior Lindsay Holmes all earned a run. White hit a powerful triple, earning three.  In the third inning, NA brought in six more runs. Defensively, Mt. Lebanon couldn't get anywhere. White, in particular wowed the players and fans with dramatic catches in right center. The Tigers took the Devils in this match-up after only five innings, winning 18-6.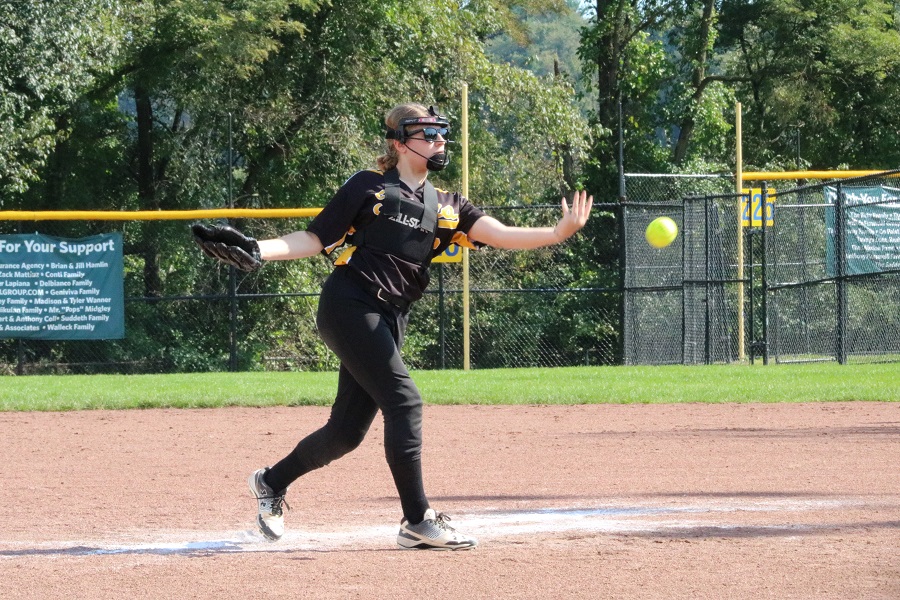 The North Allegheny slow-pitch softball team earned a doubleheader sweep over the Hampton Talbots on Sunday. The Lady Tigers claimed the twin bill by scores of 20-0 and 25-1.
In game one, the North Allegheny Lady Tigers roared into the first inning against Hampton, earning eight runs during their first at-bat. The rest of the game continued in this fashion with powerful hitting and a strong defense. Junior Kenna White was unstoppable with two home runs and a double. Sophomore Carly Snyder was on fire with a triple and three doubles. Defensively, senior Jenni Booker played a strong game at first base with out after out and a dramatic double play to third baseman, Sydney Korvick. Senior Melissa Metzger pitched a beautiful game, striking out three opponents.
In the second game, NA continued to roll with its hitting and defense. Freshman Emily Yanchak struck out two opponents, and senior Callie Beck led the team over the two games with seven RBIs.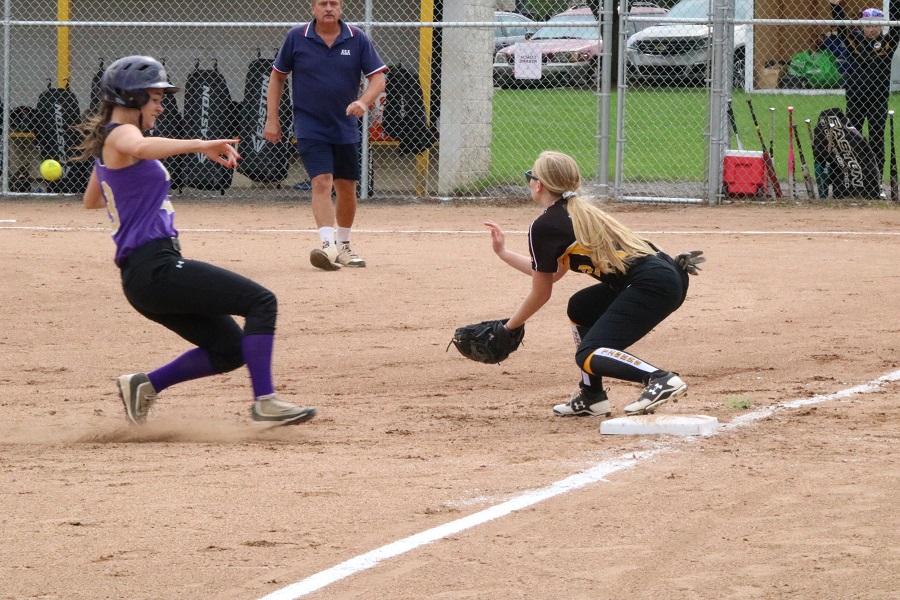 By Slow-Pitch Softball Contributor
The North Allegheny slow-pitch team had a busy weekend with a pair of doubleheaders. The Tigers took on Plum for a twin bill on Saturday and faced Bethel Park for two more on Sunday.
It was a rough Saturday for North Allegheny as the Tigers were swept by the Plum Mustangs, 5-2 and 17-3.   Plum started out strong in game one with five runs after the first inning. It seemed like it might start to get turned around when sophomore Lizzie Wetmore hit a triple in the bottom of the second inning, but only one run was earned.   In the third inning, junior Kenna White hit a beautiful home run to deep right field, followed by a double from junior Abby Birch and another double by Wetmore. After the third inning, the wheels came off, and NA couldn't catch a break.  Final score: Plum 20, NA 5.
In the second game with Plum, it didn't get much better.   Wetmore and White both got triples, and senior Lindsay Holmes got a double.  Plum was relentless in their strong fielding and powerful hitting. Unfortunately, there was a similar outcome to this game, with Plum beating NA 17-3.
---
North Allegheny played a strong game one against Bethel Park on Sunday to earn an exciting 8-7 victory.  After a slow beginning with NA giving up four runs to Bethel, the Tigers responded with some strong bats.  Junior Kenna White hit a strong home run to deep right field bringing in two runs. Bethel scored only two more runs the rest of the game thanks to strong fielding from White in right center field.  She slid, she jumped, she ran, and she stopped Bethel again and again with her incredible plays. In the fifth inning, NA's bats were back. Sophomore Meg Patterson started NA off with an RBI, followed by senior Jenni Booker with two RBIs.  The inning ended with senior Melissa Metzger also earning NA a run. It was now tied up. In the 6th inning, Bethel snuck one more run by the Tigers, but their lead wasn't going to last for long. Junior Abby Birch got a double. Sophomore Lizzie Wetmore got a double. Finally, Booker hit them home to tie up the game.  In the extra inning, NA was able to hold Bethel at 7-7, but this tie wasn't going to last long. Birch sent the ball sailing to deep right center, bringing White home to win the game, 8-7.
In between the games, seniors from Bethel and NA were honored, followed by some delicious cookies enjoyed by both teams. This enjoyment was short-lived, however, when Bethel found every hole in NA's defense early on in the second game.  It was a frustrating end to what started out as a great day. Despite an RBI from both White and Metzger, NA lost to Bethel 14-2.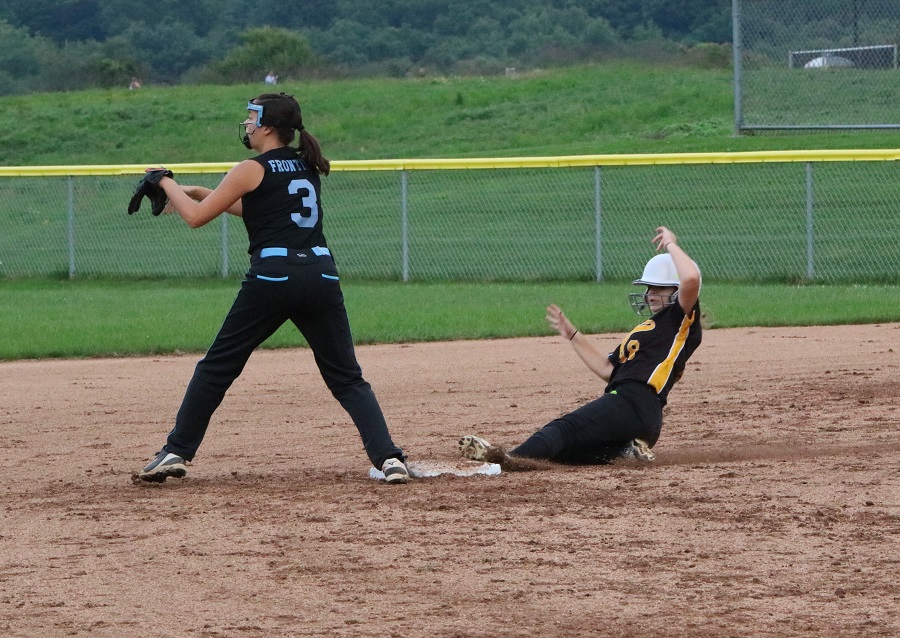 by Slow-Pitch contributor
North Allegheny's Varsity Slow-Pitch team lost on Wednesday night to Seneca Valley, 12-9.  After a shaky first inning in the field, Seneca was up by five when the Lady Tigers finally got their first at-bat.  NA responded with a strong first inning, earning three runs with junior Abby Birch getting a triple and two RBIs and senior Lindsay Holmes also getting a triple and one RBI.
Going into the second inning, it was Seneca 5, NA 3.  NA's defense was strong in the second frame. NA's senior pitcher Melissa Metzger snagged a hard line drive up the middle and chucked the ball to senior Jenny Booker at first for a double play. Holmes also had her first of two dramatic catches in deep left-center field, running towards the fence and jumping high into the air.  Keeping Seneca at only earning one additional run this inning, NA had some ground to make up. Their bats came alive this inning when junior Kenna White sent a ball sailing deep into right center. Senior Sydney Korvick followed with another strong hit, bringing in White for an RBI.  Later in this inning, sophomore Lizzie Wetmore smacked the ball over the outfielders' heads, bringing in two runs. She slid into third, but after an overthrow, Wetmore jumped up and hightailed it home for NA's only home run of the game.
It was back and forth for the rest of the game, as each team chipped away at the other.  Despite some strong fielding, including a double play in the fifth inning by NA's shortstop, Wetmore, to Booker at first, NA came up short, losing their first home game 12-9.