View News For
2017-2018 News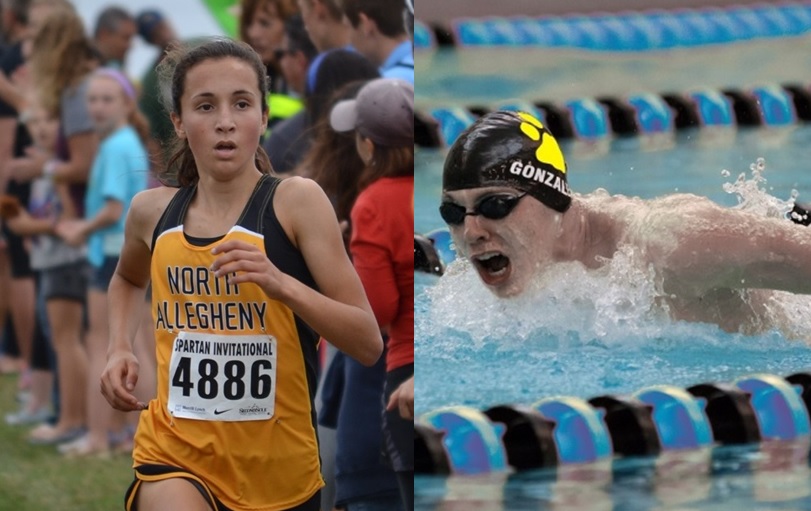 The WPIAL announced on Wednesday that North Allegheny senior athletes Clara Savchik and Mason Gonzalez have won the 2017-2018 WPIAL Jim Collins scholar athlete award. Savchik and Gonzalez are two of just 21 awardees who will be honored at a luncheon on May 14 at the Oakmont Junior Ballroom of the Double Tree Hotel in Green Tree. Each winner will receive a $1,000 scholarship and a commemorative plaque.
Savchik is a dynamic runner on the North Allegheny cross country, indoor track and track & field team. She has committed to Duke University where she'll continue her athletic career. This past fall on the cross country team, Savchik captured a PIAA silver medal and a WPIAL bronze. Last season, Savchik captured first place in the WPIAL cross country championships and grabbed silver in PIAA competition. In 2015, Savchik also took home WPIAL bronze at the championship event at Cooper's Lake.
Gonzalez is a standout swimmer for North Allegheny and Stanford University commit. He helped the Tigers swimming & diving team to back-to-back PIAA championships and was a member of the 400 free relay that not only won state gold but set a new national record with an incredible time of 2:53.81.
Congratulations to Clara and Mason on being named WPIAL scholar athlete award winners.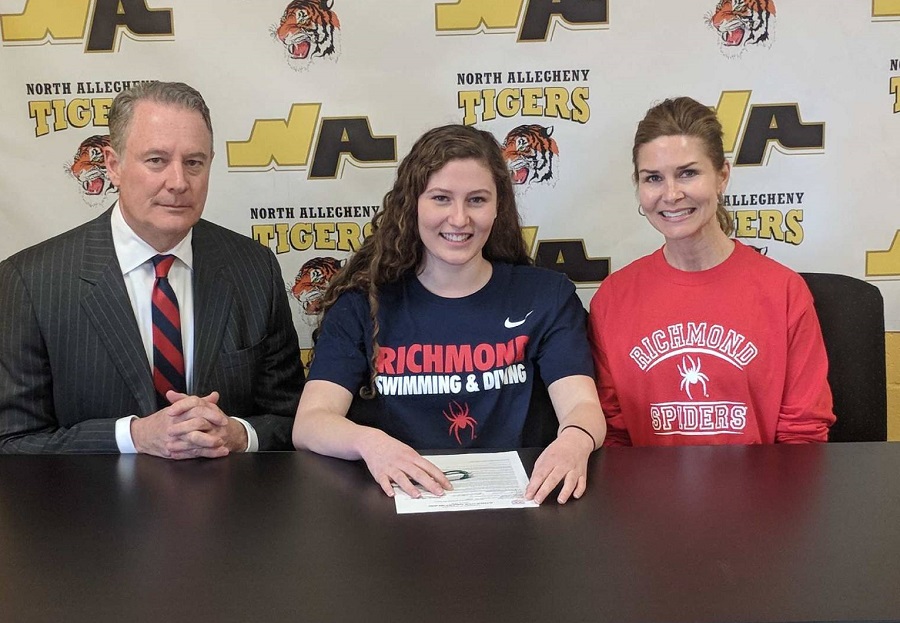 North Allegheny swimmer and All-American, Kristine Mihm, has signed her letter of intent to attend the University of Richmond to continue her athletic and academic career.
Mihm is a four-time WPIAL champion and three-year state qualifier with the North Allegheny girls' swimming & diving team. She also served as a co-captain for the team this past winter.
Mihm is a member of the National Honors Society and will major in Business at the University of Richmond. She is pictured above with her father, Rick, and her mother, Kathleen.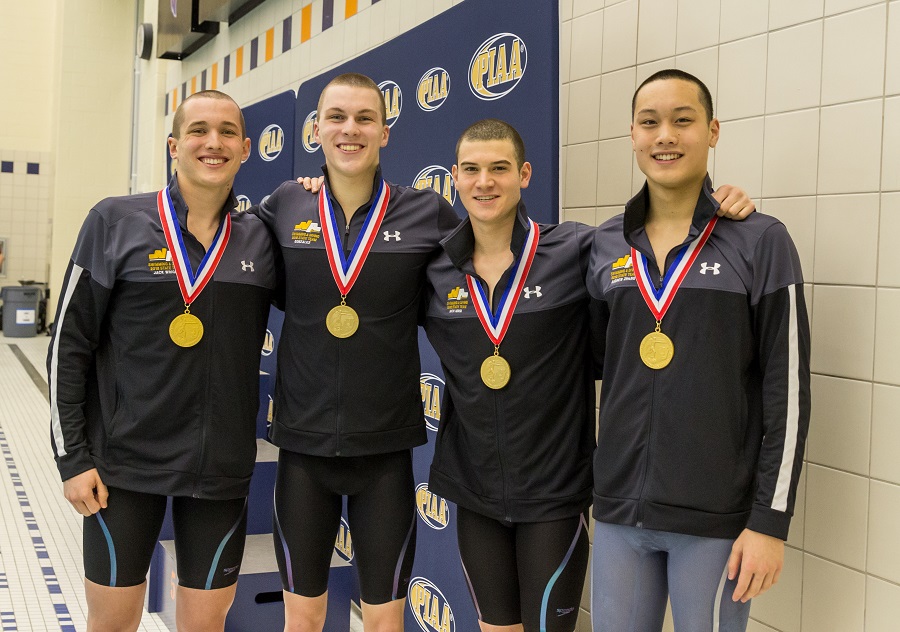 (Article courtesy of www.swimswam.com).
The Independent Schools' grips on the unofficial overall national high school relay records came to an end on Thursday, when a quartet from North Allegheny High School in Pennsylvania swam a 2:53 in the 400 free relay in the AAA State finals.
The group of Mason Gonzalez (43.27), Andrew Zhang (44.24), Jack Wright (43.22), and Rick Mihm (43.08) combined for an incredible 2:53.81. That time broke not only their own National public school record, of 2:57.59, set in December, but also cleared the famed Bolles School independent schools' record of 2:54.43 from 2012. That Bolles relay included Olympic gold medalist Ryan Murphy, Olympic gold medalist Joseph Schooling, and Olympic 4th-place finisher in the 100 free Santo Condorelli.
The swim also broke the 15-18 National Age Group Record of 2:55.96 that they set at the 2017 Winter Juniors – East championships in December.
While the National Interscholastic Swim Coaches Association (NISCA), the official national record-keeping group of high school swimming, doesn't recognize overall records, the fastest of the public and independent school records are colloquially referred to as overall records. Until Thursday, all of those records were held by independent schools – and weren't that close.
But that's now changed, thanks to North Allegheny's swim – that had an incredible three swimmers go sub-44 in a student body of around 650 students per grade.
Gonzalez, the leadoff leg, was even faster in the individual event, swimming a 43,03 lifetime best, ahead of his 43.62 from this meet last year. After winning the 50 free earlier in the meet (19.99), he came away with a perfect 4-for-4 in sprint relay titles. That included North Allegheny's 200 free relay, where with Gonzalez, Wright, Mihm, and Joel Songer broke the public schools' record on Wednesday
What makes these North Allegheny records even more special is that all of the swimmers developed as a group with the Allegheny North Swim Club and now with North Allegheny High School. Of the 5 swimmers involved in the National Record relays this weekend, 4 have been with the Allegheny North Swim Club since at least 2009, and Jack Wright has been with the club since he was 11 in 2011 (and didn't previously have any USA Swimming affiliation). These were fully home-grown relay records.
New Trier, a public school, became the first sub-3 minute high school relay in 2012. Not long after, Bolles dropped that record by 5 seconds.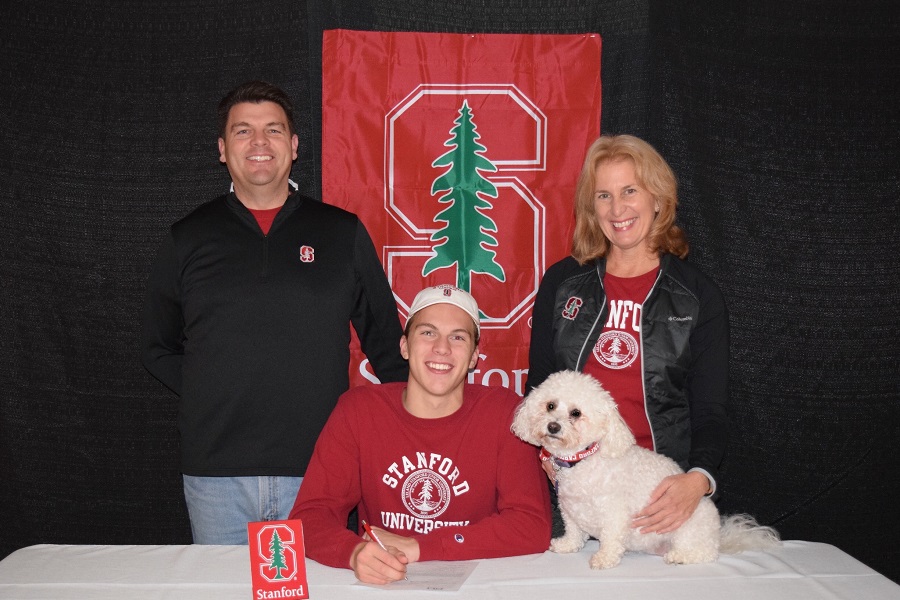 Ahead of the winter sports season, North Allegheny senior Mason Gonzalez made his commitment to Stanford University official by signing his letter of intent to attend college and swim next season for the Cardinal. Gonzales helped the North Allegheny boys' swimming team to a state championship and a sixth consecutive WPIAL title.
It was another record-setting performance from Gonzalez in the WPIAL finals who went to break his own mark of 44.82 in the 100-yard freestyle with a new-record time of 44.17. At states, Gonzalez was spectacular and captured PIAA gold in the 100-yard freestyle with a time of 43.62.
Gonzalez and the North Allegheny swimming and diving team will open the 2017-18 season on Tuesday, December 12 at home against North Catholic.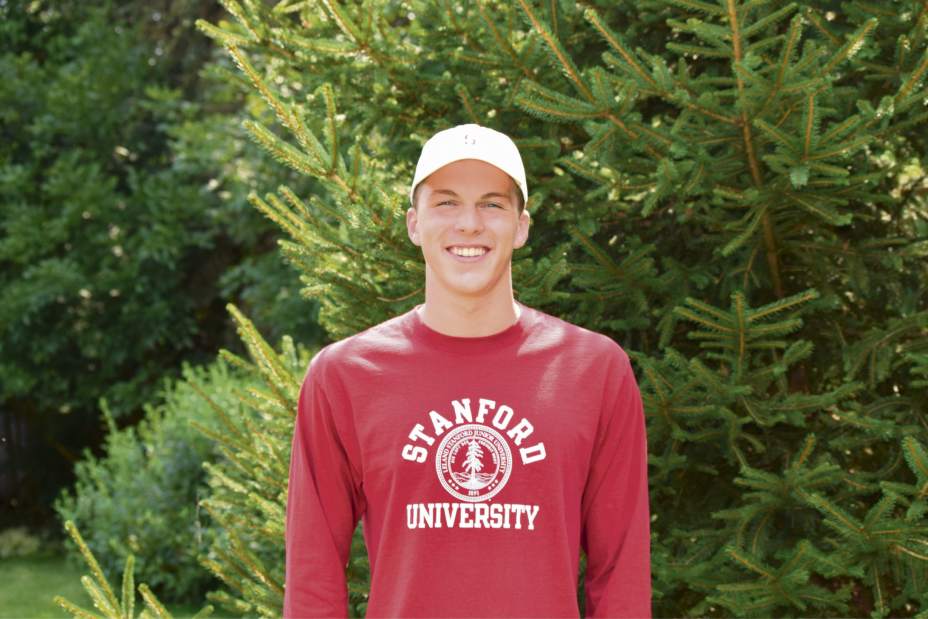 While we're still several months away from the start of the WPIAL Swimming & Diving season, North Allegheny senior Mason Gonzalez has continued to make waves over the summer. In mid-July, Gonzalez made a verbal commitment to Stanford University to continue his swimming career to follow his final year at North Allegheny. The Cardinal has won the Pac-12 title over the past two seasons and placed fifth in the NCAA championship last year.
Along with his college announcement, Gonzalez and three other North Allegheny standouts set a meet record at the National Club Swimming Association Championship on August 1-5 in Indianapolis. Competing in the 400-meter freestyle for the Allegheny North Swim Club, the team of Gonzalez, Jack Wright, Andrew Zhang and Rick Mihm also set a national age-group record (15-16 years old) with a time of 3:25.57.
The foursome placed second in the 200 freestyle with a time of 1:33.38 which also broke a national age-group mark. Individually, Gonzalez placed third in the 50 freestyle and sixth in the 100 freestyle. Gonzalez is the WPIAL record holder in both of those events. Gonzalez's older brother Max, who graduated in 2017, will swim for Carnegie Mellon University this season.
Mason Gonzalez and the North Allegheny swim team will begin its quest to capture another state title and a seventh straight WPIAL crown when the season begins on Tuesday, December 12 at home against North Catholic.