View News For
2017-2018 News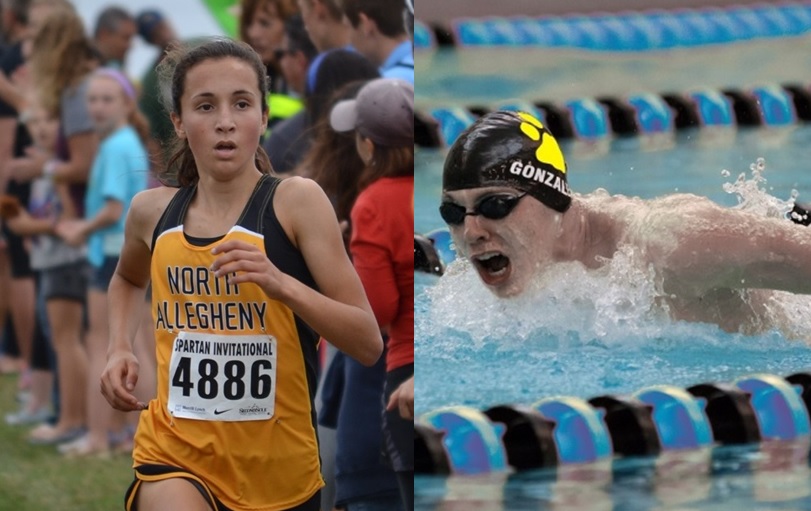 The WPIAL announced on Wednesday that North Allegheny senior athletes Clara Savchik and Mason Gonzalez have won the 2017-2018 WPIAL Jim Collins scholar athlete award. Savchik and Gonzalez are two of just 21 awardees who will be honored at a luncheon on May 14 at the Oakmont Junior Ballroom of the Double Tree Hotel in Green Tree. Each winner will receive a $1,000 scholarship and a commemorative plaque.
Savchik is a dynamic runner on the North Allegheny cross country, indoor track and track & field team. She has committed to Duke University where she'll continue her athletic career. This past fall on the cross country team, Savchik captured a PIAA silver medal and a WPIAL bronze. Last season, Savchik captured first place in the WPIAL cross country championships and grabbed silver in PIAA competition. In 2015, Savchik also took home WPIAL bronze at the championship event at Cooper's Lake.
Gonzalez is a standout swimmer for North Allegheny and Stanford University commit. He helped the Tigers swimming & diving team to back-to-back PIAA championships and was a member of the 400 free relay that not only won state gold but set a new national record with an incredible time of 2:53.81.
Congratulations to Clara and Mason on being named WPIAL scholar athlete award winners.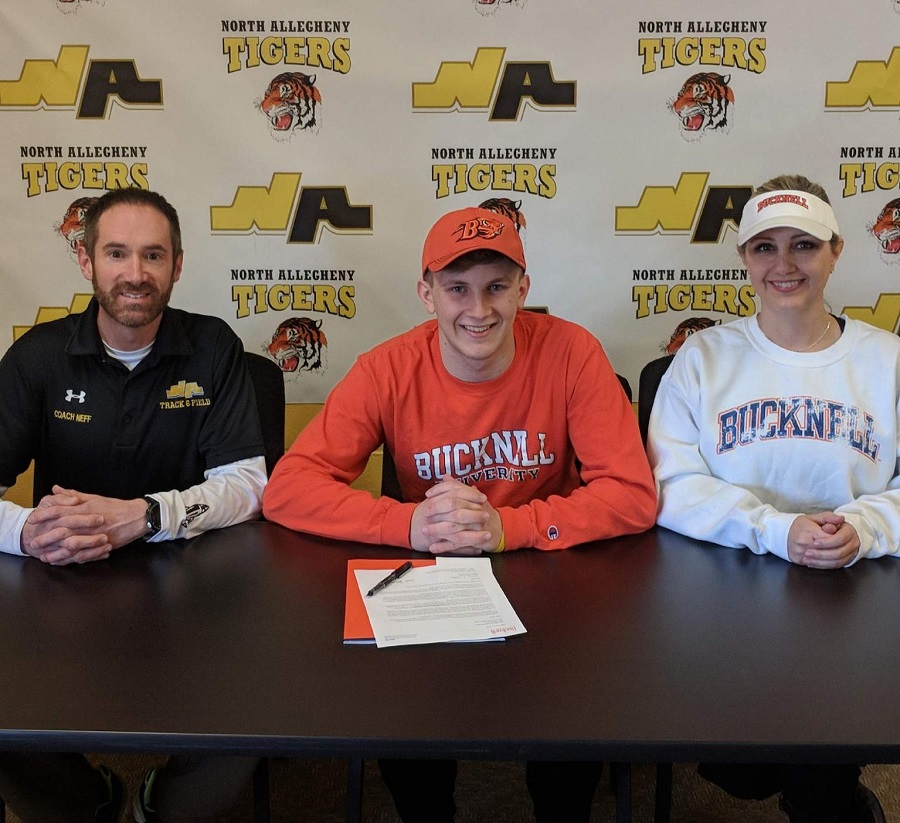 North Allegheny senior track athlete Sean Bartholomew has signed a letter of intent to continue his academic and athletic career at Bucknell University. Bartholomew is a four-year member of the NA track & field team and two-time WPIAL medalist in 2016 and 2017. Additionally, Bartholomew qualified at the indoor state championship in 2017, and qualified for both the Northeastern Regional USATF and  USATF National in 2016-2017.
Academically, he is a National Honors Society inductee and a scholar athlete at North Allegheny in all four years of his high school career.
Bartholomew will pursue a degree in Computer Science & Engineering and Management at Bucknell. He is pictured above with NATF head coach John Neff and his mother, Jennifer.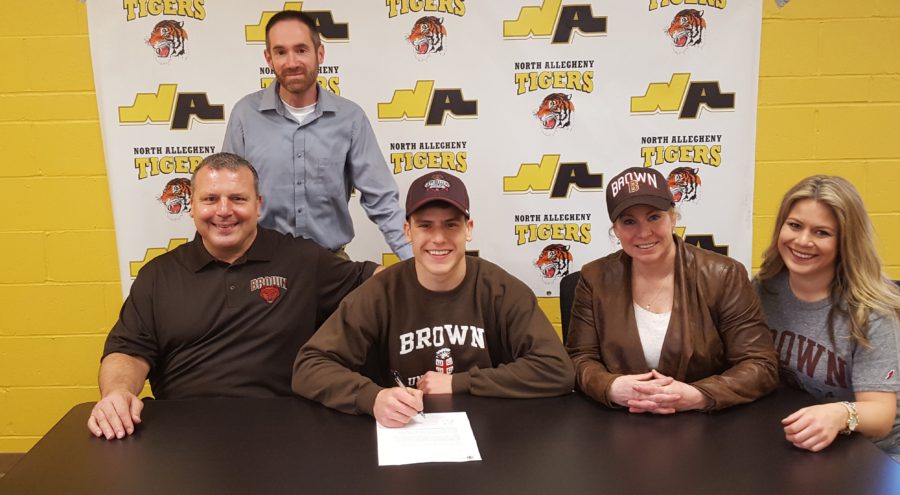 North Allegheny senior Jono Pelusi has signed his letter of intent to compete in track & field at Brown University next year. Pelusi helped the NA boys to a second-place finish at the WPIAL championships and a third-place showing at the PIAA finals last season. At the WPIAL Individual championships, Pelusi took fifth place in the pole vault and qualified for state competition.
Congratulations to Jono Pelusi and good luck at Brown University next season.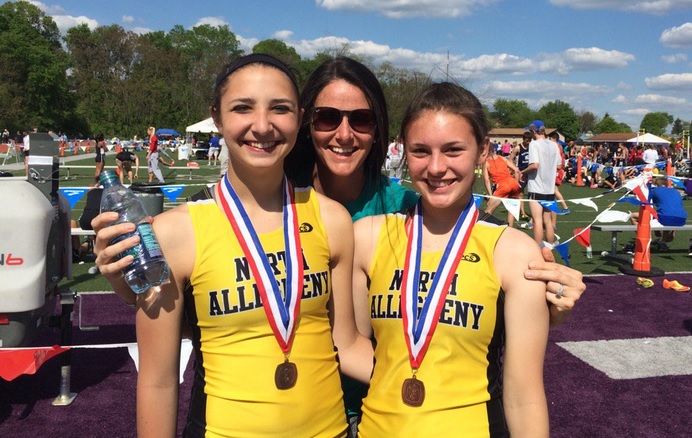 North Allegheny senior pole vaulter Vittoria LaRosa has agreed to join the Saint Francis University track & field team next fall. Saint Francis head coach Doug Hoover said via twitter, "Vittoria had a strong junior year in the pole vault. We look forward to her joining a strong group of vaulters here next fall and we're excited to help her see how far she can go."
LaRosa has been an outstanding pole vaulter for the North Allegheny indoor and outdoor track & field teams and a three-time WPIAL medalist. Last spring, LaRosa earned a podium finish with a fifth-place performance at the WPIAL individual championships. (Photo above of LaRosa on the left at the WPIAL finals).
Saint Francis University is an NCAA Division I program in the Northeast Conference (NEC). Check out Vittoria LaRosa's pole vault highlight reel below.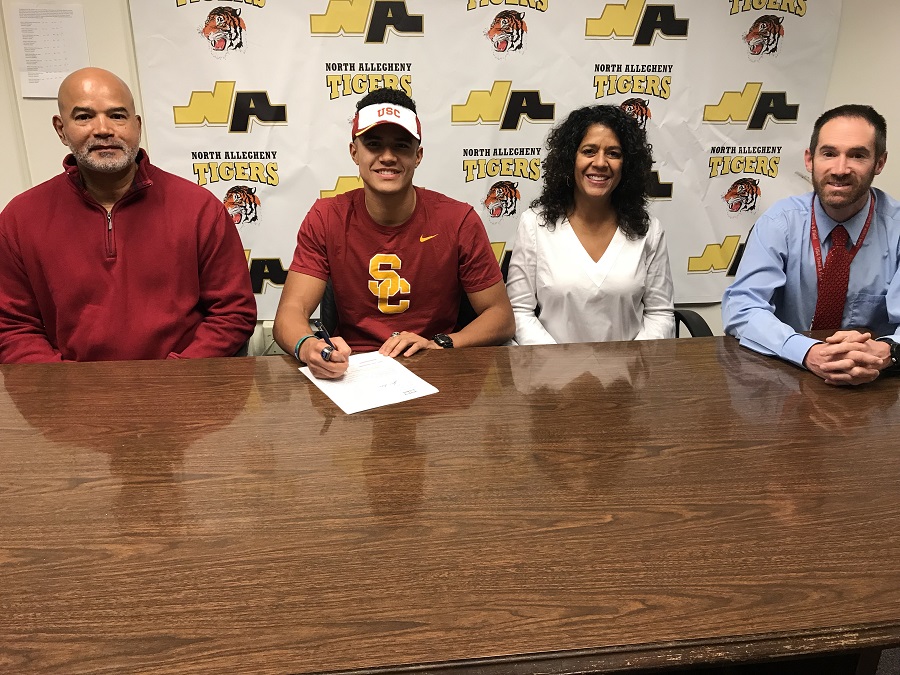 North Allegheny senior track athlete Ayden Owens officially signed his letter to attend the University of Southern California. Owens is a three-time state champion and won the decathlon title at the New Balance Outdoor Nationals in Greensboro, N.C. over the summer. At the PIAA championships in Shippensburg last spring, Owens finished first in the 100 hurdles and the 300 hurdles. His time of 13.76 seconds in the 100 hurdles set a new school record at North Allegheny.
Owens and the North Allegheny track and field team will open the spring schedule on March 27, 2018 with a home meet against Cathedral Prep and Villa Maria.