View News For
2016-2017 News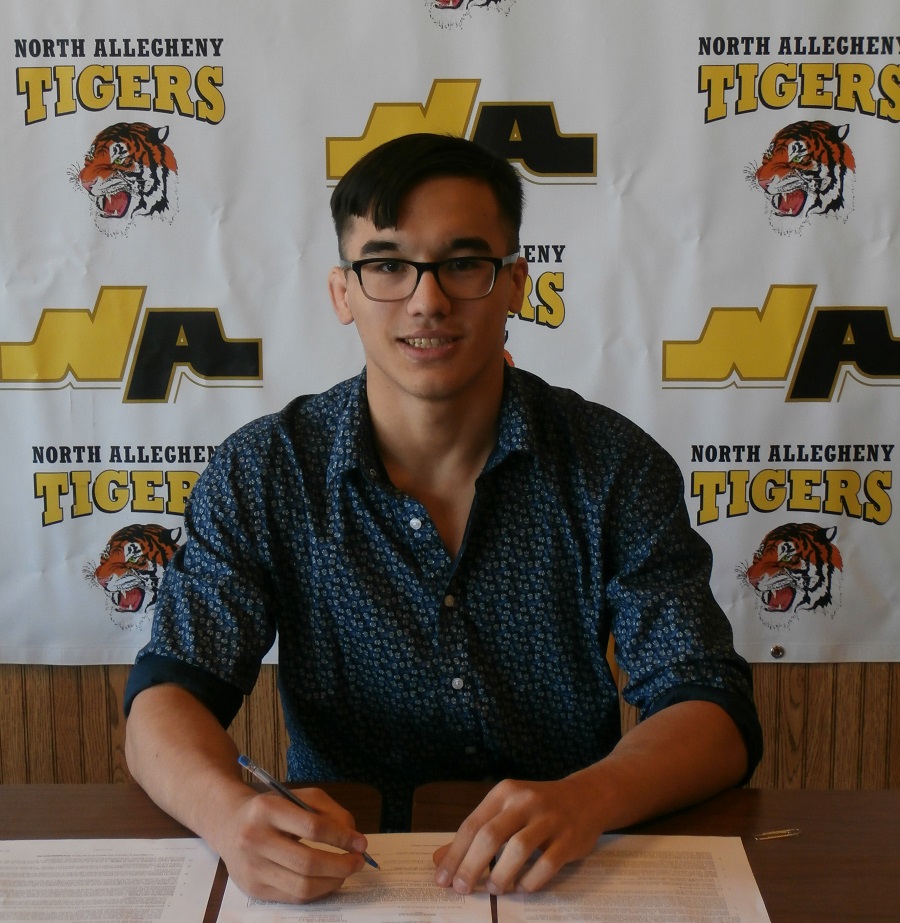 North Allegheny senior Eric Hong has committed to continue his academic and athletic career at American University in Washington D.C.  At American, Hong will wrestle for former North Allegheny alumnus Teague Moore. Hong compiled a record of 35-1 for the Tigers during his senior year, capturing a WPIAL championship and placing third at the PIAA Individual Tournament at 160 pounds. Hong plans to major in Entrepreneurship.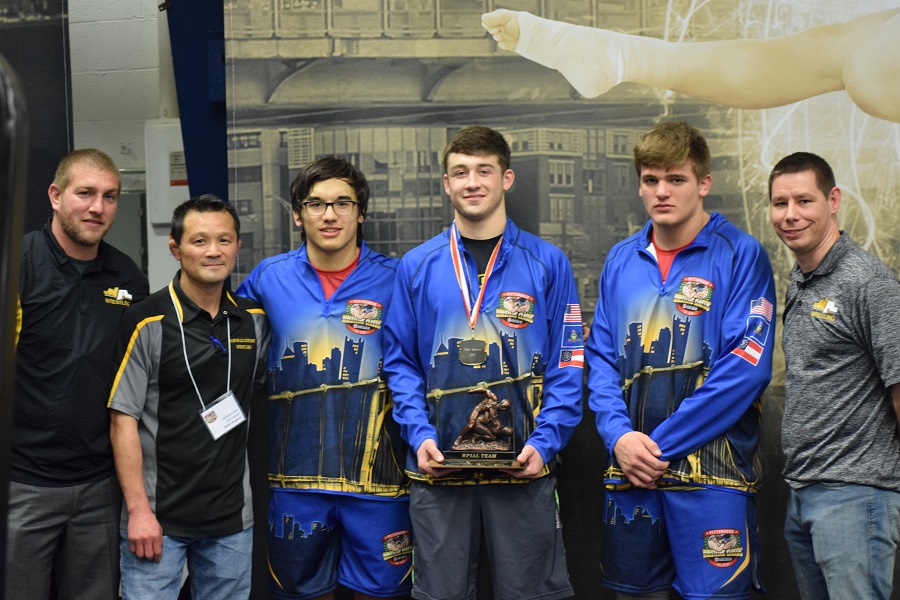 The top wrestlers in the country came to Western Pennsylvania for the Pittsburgh Wrestling Classic and several North Allegheny grapplers played a prominent role in Saturday's event at Pitt's Fitzgerald Field House. The Tigers sent three wrestlers to the classic, the second most in school history. In 1990, NA had four wrestlers on the Pennsylvania team and one on the WPIAL team. North Allegheny's three wrestlers who took part in this year's classic were seniors Jake Hinkson (138-42), Eric Hong (164-13) and Jake Woodley (148-41).
The WPIAL All-Stars defeated the Georgia All-Stars, 29-18, and Hinkson and Hong helped the WPIAL claim the victory. Hinkson, a three-time PIAA place-winner and Kent State recruit, bumped up to 152 pounds to face Georgia State Champion and University of Chicago commit, Will Britain, from Cambridge HS (201-19). Hinkson was trailing, 5-0, going into the final period before he secured four takedowns in the final period to tie the score, 8-8, with 15 seconds remaining. He then picked up his fifth takedown of the match in overtime to win, 10-8. Hinkson's performance earned him the WPIAL Outstanding Wrestler Award. Hinkson joins Andy Candiello, Classic XXXVI – 2010, as the only wrestlers from North Allegheny to win this award.
Eric Hong, a 2017 PIAA third-place finisher and American University recruit, took on three-time Georgia State Champion and West Point commit, Owen Brown, from Commerce (126-6). The match went scoreless through regulation and Brown secured a takedown with a few seconds left in overtime to win 2-0.
The United States All-Stars held off the Pennsylvania All-Stars, 28-20. Woodley, a two-time PIAA state champion and Oklahoma University commit, was a member of a feisty PA squad that gave the U.S. All-Stars all they could handle.  Woodley, ranked No. 3 in the country, took on No. 1-ranked Jacob Warner of Washington Community HS in Illinois. Warner (174-10) is a three-time Illinois State Champion, a Cadet World Bronze Medalist, and a University of Iowa commit. Warner was able to open up a 5-0 lead on Woodley. However, Woodley charged back with an escape and a takedown in the final period to bring the score to 5-3, but wasn't able to close the gap any farther.
For more details on Saturday's event, visit http://wrestlingreport.com/wrestlingclassic.com/index.html.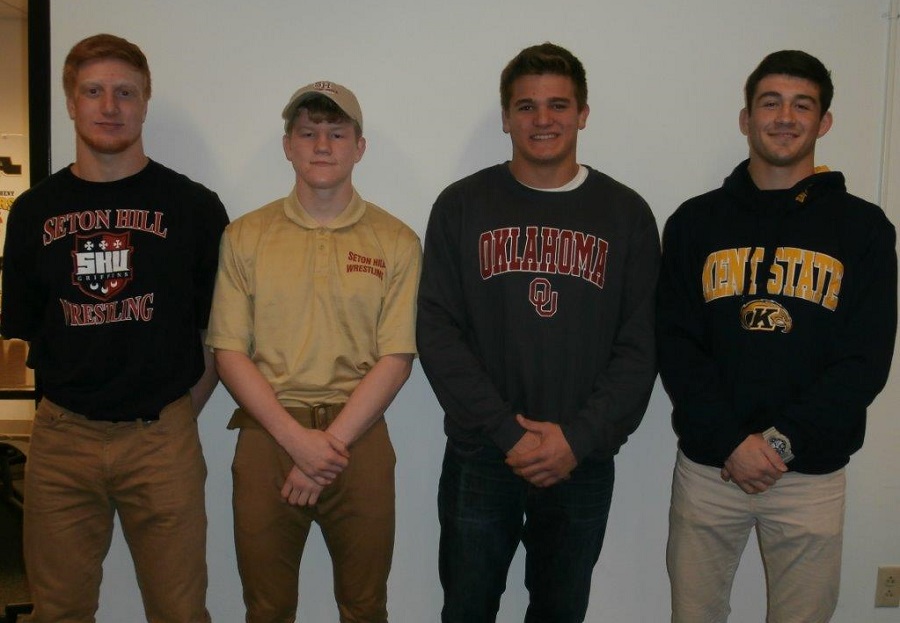 Four senior wrestlers have made their college decisions official by signing their letters of intent at North Allegheny High School. Seniors Jake Hinkson (Kent State), Jake Woodley (University of Oklahoma), Sean Hoover (Seton Hill) and Luke Landefeld (Seton Hill) will all continue their wrestling careers at the collegiate level.
Hinkson posted a record 39-12 last season at 138 pounds and reached the PIAA tournament for the second consecutive year with a fourth place finish at the WPIAL Individual Tournament. Woodley made a grand appearance at the state championships in Hershey by capturing PIAA gold at 182 pounds to cap a 41-3 season. Woodley also won the WPIAL championship with a victory over Belle Vernon's Milton Kobaly, the same man he defeated for the state title.
Landefeld claimed bronze at the WPIAL championships last season with a 3-1 decision over Cole Rush of Waynesburg in the third place consolation bout. Landefeld, who finished with a 17-4 record last season, has reached the PIAA tournament twice during his North Allegheny career and is hoping for a third trip to Hershey this season. Hoover posted an 11-3 record during the 2015-16 season and earned a Section 3-AAA individual championship along the way.
All four senior grapplers will play large roles for the NA wrestling team this season, which begins this weekend with the Eastern Area Individual Wrestling Tournament.