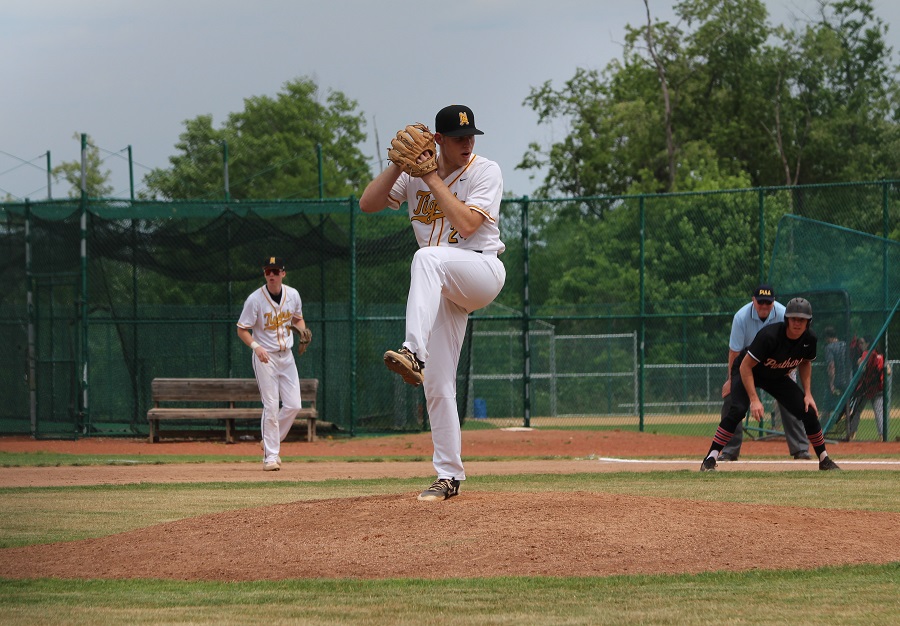 11 Tigers Named All-Big 56 Conference, 5 Earn First-Team Laurels
Eleven members of the North Allegheny baseball team have been selected to the Big Conference Class 6A All-Section Team, including five first-team selections.
Earning first-team all-section laurels were centerfielder Logan Andreyko, pitcher Kyle Demi, designated hitter Joe Manesiotis, catcher Aaron Posey and shortstop Cole Young. It's the second time Andreyko and Young have earned first-team accolades.
Andreyko, a Case Western Reserve commit, has dazzled with his defense in centerfield and has coupled that with a strong season at the plate, hitting .290 with 11 RBI and 20 runs scored.
Demi is North Allegheny's staff leader in wins, ERA and strikeouts. The right-hander boasts a 7-0 record with a sterling ERA of 0.81, while striking out 60 batters in 34.2 innings.
Coming off a 4-for-4 performance with four RBI in the WPIAL semifinals, Manesiotis, a Mercyhurst commit, has totaled a .291 average on the season with 18 RBI and 11 runs scored with 12 walks and only six strikeouts.
Not only a fantastic backstop and receiver for the NA pitching staff, Posey is sporting a .323 average with a home run and 11 RBI.
Young, one of the top shortstops in the state, not only produces jaw-dropping plays on defense but has also delivered big numbers on offense. The Duke University commit boasts a .431 average this season with six home runs, 19 RBI and a team-leading 27 runs scored. With a good eye at the plate, Young has walked 22 times while striking out only five times. He boasts an OPS of 1.470.
Second-team all-section selections included second baseman Spencer Barnett, leftfielder Ethan Gavlik and pitcher Brady Palmer. Barnett, a WVU commit, leads the team in home runs (7) and RBI (29), all while hitting .390 on the campaign. A constant presence on the base paths, Gavlik is batting .315 with 12 RBI and 23 runs scored. A right-hander who pounds the strike zone, Palmer fashions a 5-0 record with a 2.33 ERA.
Tabbed as Big 56 Conference honorable mention picks were first baseman Danny Gallon, rightfielder Erik Sundgren and third baseman Aaron Galaska. Gallon is NA's cleanup hitter and has punished opposing pitching with a team-leading .459 average with a home run, 22 RBI and 24 runs scored. Sundgren has anchored the rightfield position with solid defense and is hitting .275 with six RBI and 14 runs scored. Galaska has flashed the leather at the hot corner, while also clubbing the baseball to the tune of a .386 average with 16 RBI and 11 runs scored.
North Allegheny and its 11 Big 56 Conference selections will vie for a WPIAL Class 6A championship on Tuesday night when the Tigers meet the Hempfield Spartans at 7:30 p.m. You can tune in to the WPIAL championship game on the North Allegheny Sports Network, who has brought you Tigers baseball all season long. Randy Gore and Jared Barton will have the call of the title tilt. Click here for the broadcast.
(Photo by Megan Manesiotis.)