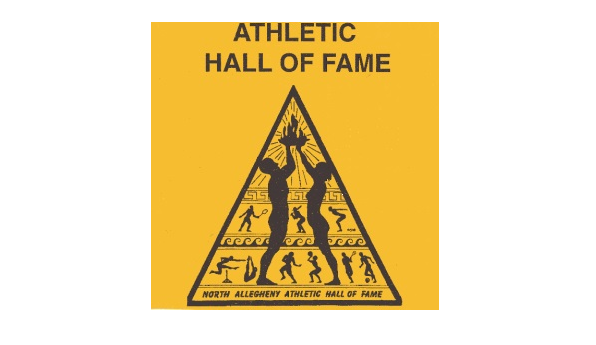 2017 Hall of Fame Induction Class Announced
The North Allegheny Hall of Fame Committee is pleased to announce the Induction Class of 2017. This year's class of inductees includes:
Jonathan Buerger (2010) – Swimming
Erin Huth Blattenberger (1997) – Basketball and Volleyball
Josh Hungerman (2005) – Baseball and Basketball
John Kofmehl (2004) – Volleyball
Kim Markel Masarik (2003) – Track and Gymnastics
Zach Nanni (2003) – Volleyball
Allison Neff Romano (1991) – Gymnastics
Amy Olshenske Mackle (1989) – Basketball and Softball
Dede Rittman (Coach) – Boys Golf
Kim Steel McGlone (1989) – Swimming
James Steidel (2001) – Soccer
In addition, we will be honoring three special individuals for honorary service:
Mr. Jim Turner – Joseph Drazenovich Award for legendary service
Mrs. Susan Sweeney –  Bob Miller Award for outstanding supporter of North Allegheny Athletics
Mr. John Haddad – Bob Austen Award (formerly the Distinguished Coaching Award)
Our 21st Hall of Fame Banquet will be held a memorable event for all. As in past years, we will continue the tradition of acknowledging the preceding year's (2016-2017) Individual and Team PIAA State Championships. This year, the Hall of Fame committee will recognize the PIAA Boys AAA Swimming and Diving Team, along with individual state champions, Clara Savchick (Track & Field – 3200 Meter), Ayden Owens (Track & Field – 300 Meter Intermediate Hurdles & 110 Meter Hurdles), Mason Gonzalez (Swimming – 100yd Freestyle & 50yd Freestyle), Jake Woodley (Wrestling – 2-Time PIAA Champion at 182 and 195 pound weight classes. In addition, we will be honoring out 200 Medley Relay Team of Andrew Zhang, Ricky Mihm, Maxwell Gonzalez and Mason Gonzalez, and our 200 Freestyle Relay team of Jack Wright, Ricky Mihm, Maxwell Gonzalez and Eben Krigger.
The 21st Hall of Game Banquet will be held on Thursday, October 5. For more information, including a Ticket Order and Program Advertising form for the induction banquet, click here.