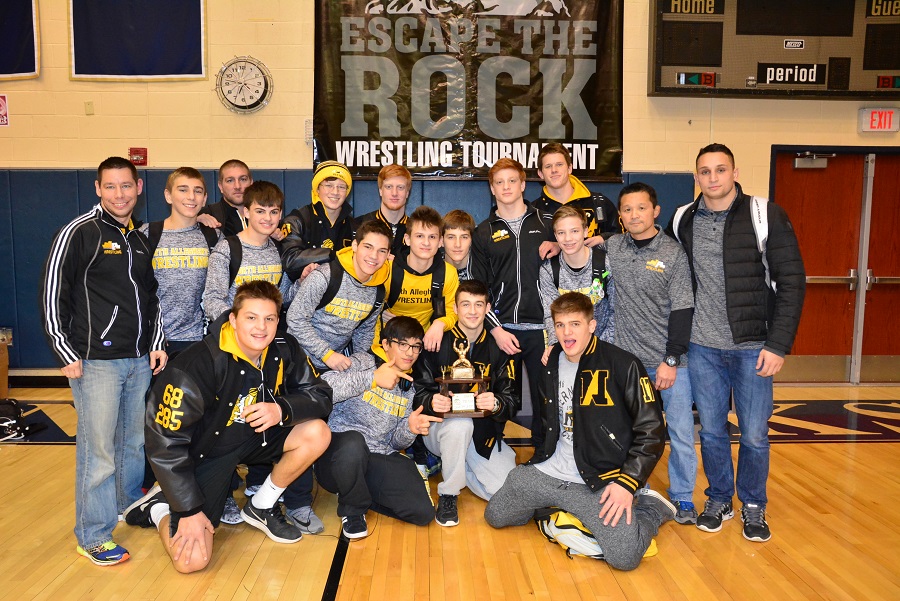 2nd Place For Tigers At Escape The Rock Tournament
The North Allegheny wrestling team posted another impressive showing this weekend at the Escape the Rock tournament, earning second place with a team score of 135.5. The Tigers finished with the highest team score among WPIAL competitors. Malvern Prep claimed the team title with a score of 164.
North Allegheny celebrated two individual champions this weekend. Seniors Eric Hong and Jake Woodley won tournament gold at 160 and 195 pounds, respectively. Hong earned a 2-0 decision over Josh Stillings of Pennridge in his title bout. Stillings was ranked No.2 in the state. Hong also defeated the sixth-ranked wrestler in the state with a semifinal win over Ryan Resnick, 5-1.
Woodley defeated John Borst of Sherando by a 5-3 decision in the 195 pound title bout. The title win for Woodley was also was a revenge victory over Borst who had defeated him in the finals of the Beast of the East tournament, 3-2. Borst was ranked No. 3 in the country.
Senior Jake Hinkson reached the championship bout at 145 pounds but suffered a narrow 8-7 defeat to John Pipa of Bishop McDevitt. Senior Zach Stedeford also reached the finals at 138 pounds but dropped a 10-3 decision to P.J. Crane of Malvern Prep. The outstanding efforts by Hinkson and Stedeford was rewarded with silver medals for each grappler at the tournament. Also medaling was junior Derek Devine at 285 pounds who took seventh place with a win by fall in 2:26 over Alex Darabaris of Northampton. For a look at all the brackets from the tournament, click here.
North Allegheny returns to section action on Wednesday night as the Tigers host the North Hills Indians. Start time is set for 7:00 p.m.