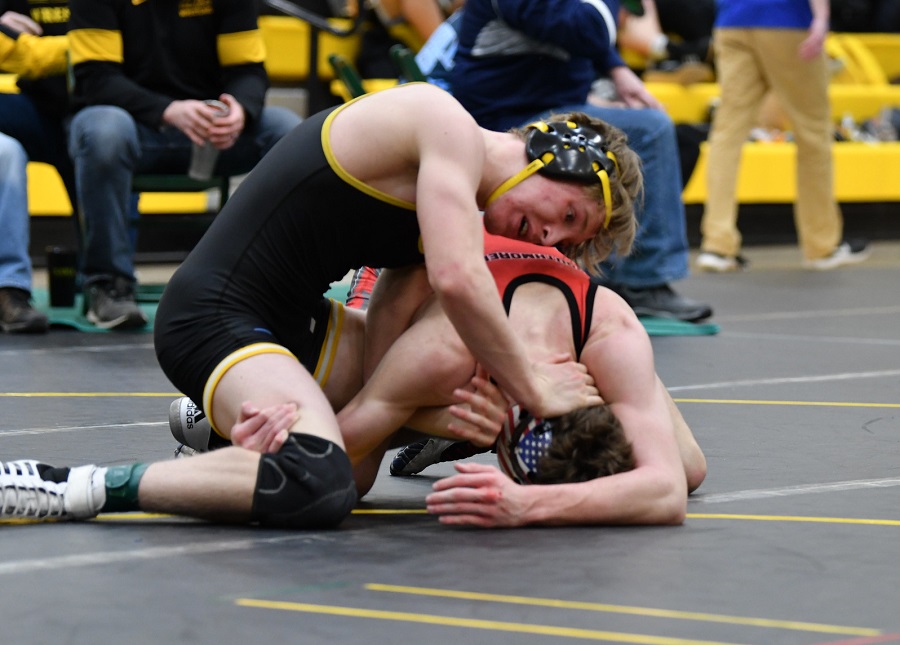 Eight Tigers Advance To Day Two of WPIAL Tournament
Eight Tigers advanced to day two of the WPIAL Class AAA individual wrestling tournament on Friday at Canon-McMillan High School. One NA grappler advanced to the semifinals, while only two were eliminated in day one.
University of Wisconsin commit Dylan Coy was granted the No. 3 seed at 126 pounds and pinned Johnny Baiano of South Fayette at the 3:07 mark of his first round bout. In the quarterfinals, Coy earned a major decision over Penn-Trafford's Hayden Coy, 10-0. North Allegheny's Coy advances to the semifinals where he will take on Ethan Lebin of Hempfield when the WPIAL Class AAA tournament resumes on Saturday morning.
Three other Tigers also advanced to the quarterfinal round but sustained their first defeat in the round of 16. Junior Nathan Monteparte (132), junior Adam Rohan (160) and sophomore Aidan Buggey (215) all picked up first round wins to move on to the quarterfinals. Monteparte defeated Thomas Jefferson's Bode Marlow by a 4-3 decision, Rohan earned a 3-1 decision over Gavyn Beck of Franklin Regional, and Aidan Buggey pinned Caleb Chismar of Greensburg Salem in his first round bout. All three were defeated in the quarterfinals but all remain alive in the consolation bracket. Aidan Buggey gave top seed Brian Finnerty of Thomas Jefferson a run for his money before finally succumbing to a narrow 1-0 decision in the quarterfinals.
After suffering a first round loss, sophomore Casey Walker (106), sophomore Will Bentrim (113), junior Jayson Flener (138) and freshman Kellen Buggey (152) all claimed wins in their first consolation bout to continue into day two. Walker pinned Cade Stern of West Allegheny in his consolation bout, while Bentrim defeated Owen Caracciolo of Hempfield by an 11-7 decision, Flener topped Gabe Gallioto of Thomas Jefferson by a 2-0 decision and Kellen Buggey delivered a 13-6 major decision over Tasso Whipple of Penn-Trafford.
Junior Sam Horton and sophomore Krist Vizcarra also participated at the tournament for North Allegheny. For a look at the Class AAA brackets, click here.
The WPIAL Class AAA individual wrestling tournament resumes at 9:00 am on Saturday at Canon-McMillan High School.
WPIAL Class AAA Wrestling Championships - Day One
Friday, March 4 at Canon-McMillan High School
| Weight | Wrestlers | Score |
| --- | --- | --- |
| 106 | Ejiro Montoya (Mt. Lebanon) dec. Casey Walker (NA) | 12-6 |
| 1st Consolation | Casey Walker (NA) pinned Cade Stern (West Allegheny) | 2:22 |
| | | |
| 113 | Sam Snyder (Plum) dec. Will Bentrim (NA) | 3-0 |
| 1st Consolation | Will Bentrim (NA) dec. Owen Caracciolo (Hempfield) | 11-7 |
| | | |
| 120 - Pigtails | Cody Garancsi (McKeesport) dec. Sam Horton (NA) | 11-6 |
| | | |
| 126 | Dylan Coy (NA) pinned Johnny Baiano (South Fayette) | 3:07 |
| Quarterfinals | Dylan Coy (NA) maj. dec. Hayden Coy (Penn-Trafford) | 10-0 |
| | | |
| 132 | Nathan Monteparte (NA) dec. Bode Marlow (Thomas Jefferson) | 4-3 |
| Quarterfinals | Vincent Citrano (Plum) dec. Nathan Monteparte (NA) | 9-3 |
| | | |
| 138 | Kole Doppelheuer (Belle Vernon) dec. Jayson Flener (NA) | 7-1 |
| 1st Consolation | Jayson Flener (NA) dec. Gabe Galioto (Thomas Jefferson) | 2-0 |
| | | |
| 145 | Nate Jones (Waynesburg) pinned Krist Vizcarra (NA) | 2:39 |
| 1st Consolation | Brady Fitz (Thomas Jefferson) pinned Krist Vizcarra (NA) | 0:54 |
| | | |
| 152 | Danny Turner (Indiana) pinned Kellen Buggey (NA) | 3:02 |
| 1st Consolation | Kellen Buggey (NA) maj. dec. Tasso Whipple (Penn-Trafford) | 13-5 |
| | | |
| 160 | Adam Rohan (NA) dec. Gavyn Beck (Franklin Regional) | 3-1 |
| Quarterfinals | Jared Kesler (Connellsville) pinned Adam Rohan (NA) | 4:46 |
| | | |
| 215 | Aidan Buggey (NA) pinned Caleb Chismar (Greensburg Salem) | 3:07 |
| Quarterfinals | Brian Finnerty (Thomas Jefferson) dec. Aidan Buggey (NA) | 1-0 |
| | | |