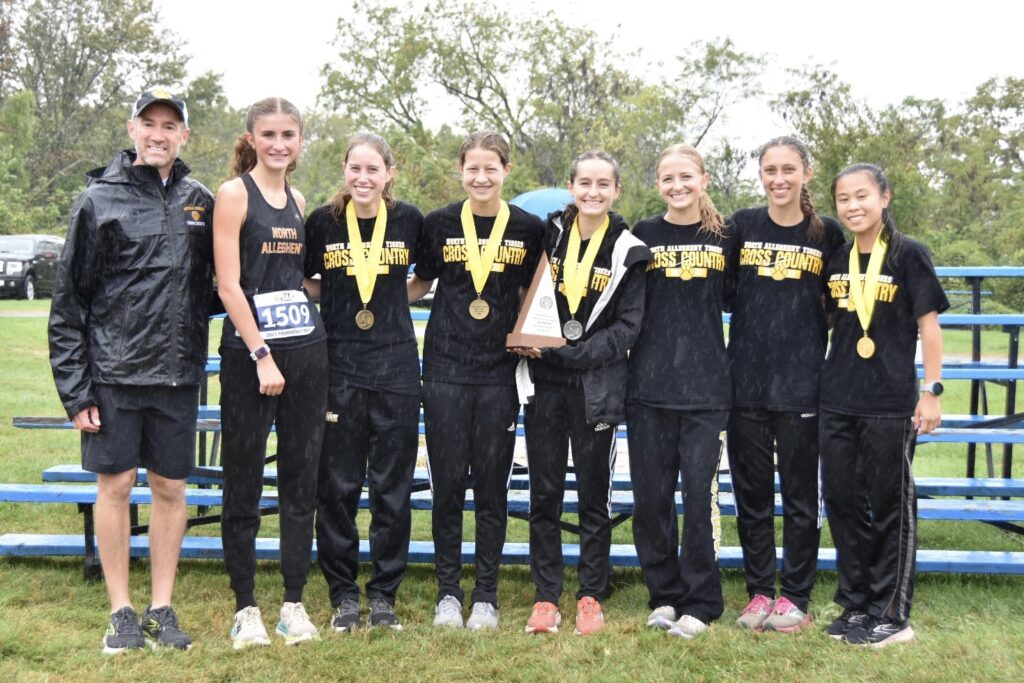 Girls Take 1st Place, Boys 3rd at PIAA Foundation Meet
by Cross Country Contributor
The North Allegheny cross country team traveled to Hershey, PA for the PIAA Foundation meet. The NA Girls dominated the field of 42 AAA teams from across the state. The NA Boys placed third out of 41 AAA teams.
The Lady Tigers were dominant with a 46 point score and 154 point margin of victory.  It helped that the Tigers had three girls in the top five.  Junior Robin Kucler won the race outright with a beautiful second half of the race, pulling away from the field. Senior Eva Kynaston was with the lead pack from the beginning and turned it on in the second half to grab second overall. Senior Erin McGoey had a breakout performance, moving up throughout the race to grab a great fifth-place finish.  Next up was junior Camille Swirsding who had a big day. She was tough all race long and earned a 15th place medal. Stepping up to grab the important fifth spot for NA was junior Kendall Lucas who had a phenomenal race, placing 24th overall. Freshman Lily Ries (41st) and junior Elizabeth Pizon (44th) were very good, displacing top five runners from every team in the race.
The NA Boys placed third, behind State College and Manheim Township. Junior Jack Bertram earned a low stick with a second place finish. Bertram passed a bevy of runners, moving into second place in the second half of the race and holding that spot until the finish line. Senior James Behrend had a good race, grabbing 15th place and earning a medal. Junior Anthony Miklos continued his breakout season with another strong performance, taking 44th overall.  Senior Michael Gauntner was next up for the Tigers, placing 48th overall. Senior Connor Williams rounded out the top five Tigers with an 89th place finish.  Senior Alex Mitterer was not far behind Connor, taking 100th overall. Junior Greg Abel was 134th, rounding out the top seven North Allegheny runners.
Complete results can be found by clicking here.
NAXC's next action is on Tuesday against section opponents North Hills and Seneca Valley. North Hills will host at its home course in North Park.