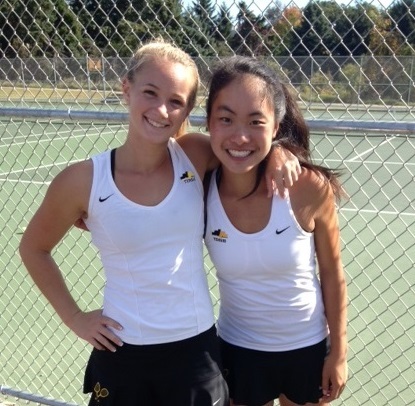 Adams, Li Reach WPIAL Doubles Championship
North Allegheny's Maddy Adams and Anna Li have reached the finals of the WPIAL Class AAA Doubles Championships.  The Tigers dynamic duo was the top seed in the Class AAA bracket and had a first round bye to open the tournament on Wednesday afternoon.  In the quarterfinals, Adams and Li topped Kristi Riley and Skyler Morgan of Mt. Lebanon, 10-2.  Adams and Li followed that up with a semifinal sweep of Natalia Perry and Jenna Bailey of Franklin Regional, 6-0, 6-0. This afternoon, Adams and Li will take on Fox Chapel's Laurel Shymansky and Lacey Cohen at 2:00 for the WPIAL Doubles crown.  North Allegheny serves as the home court for the Class AAA championships.
Adams and Li weren't the only NA pairing to take part in the WPIAL doubles tournament. Tristyn Maalouf and Tina Li claimed an opening round win over Jen Holcombe and Megan Hixon of Peters Township, 10-4, but ultimately fell in the quarterfinals to Oakland Catholic's Nicole Cysterski and Marley Shovlin.
WPIAL CLASS AAA Semifinals:
Maddy Adams and Anna Li (North Allegheny) over Natalia Perry and Jenna Bailey (Franklin Regional) 6-0, 6-0
Laurel Shymansky and Lacey Cohen (Fox Chapel) over Nicole Cyterski and Marley Shovlin (Oakland Catholic) 6-2, 6-2
WPIAL CLASS AAA Quarterfinals:
Maddy Adams and Anna Li (North Allegheny) over Kristi Riley and Skylar Morgan (Mount Lebanon) 10-2
Natalia Perry and Jenna Bailey (Franklin Regional) over Jenn Stroyne and Morgan Parisi (Peters Township) 10-4
Laurel Shymansky and Lacey Cohen (Fox Chapel) over Yvon Martinez and Angela Consiglio (Pine-Richland) 10-2
Nicole Cyterski and Marley Shovlin (Oakland Catholic) over Tristyn Maalouf and Tina Li (North Allegheny) 11-10 {7-4}
WPIAL CLASS AAA First Round:
Maddy Adams and Anna Li (North Allegheny) – BYE
Kristi Riley and Skylar Morgan (Mount Lebanon) over Liza Plakseychuk and Amanda Murphy (Shady Side Academy) 10-8
Natalia Perry and Jenna Bailey (Franklin Regional) over Nina Barbano and Jessica Fanning (Bethel Park) 10-4
Jenn Stroyne and Morgan Parisi (Peters Township) over Hannah Famili and Stephanie Levine (Allderdice) 11-9
Laurel Shymansky and Lacey Cohen (Fox Chapel) over Charlotte Vertes and Dana Kelly (Pine-Richland) 10-2
Yvon Martinez and Angela Consiglio (Pine-Richland) Madison DeBone and Maura Sackett (Hempfield) 10-6
Nicole Cyterski and Marley Shovlin (Oakland Catholic) over Maddy Mordoh and Devin Gramley (Shady Side Academy) 10-1
Tristyn Maalouf and Tina Li (North Allegheny) over Jen Holcombe and Megan Hixon (Peters Township) 10-4