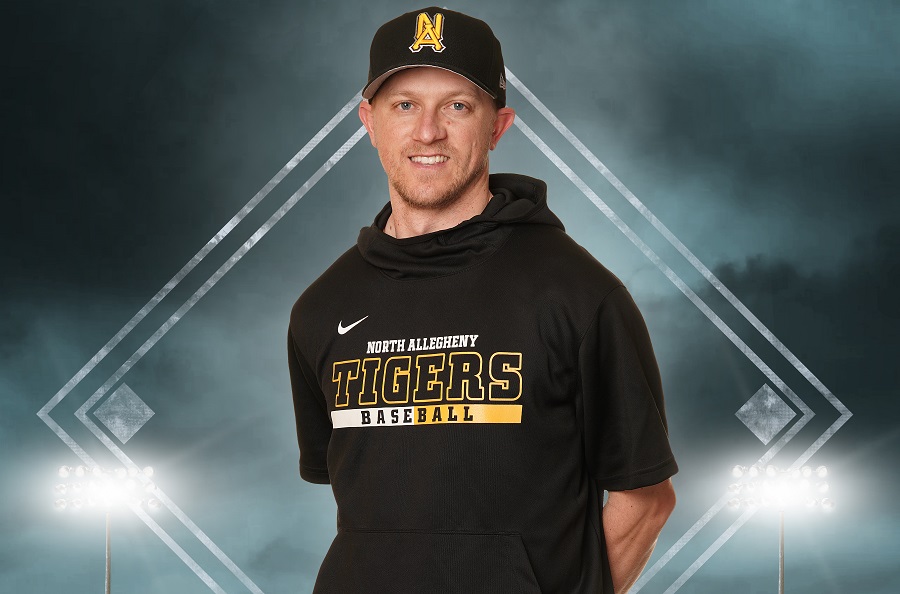 Andrew Heck Earns 100th Career Coaching Win, NA Blasts Butler, 11-0
North Allegheny head coach Andrew Heck earned his 100th career coaching win as the Tigers rolled to an 11-0 victory at Butler in five innings on Tuesday night. Spurred on by a six-run third inning, the Tigers breezed by the Tornado to take a two-game lead in the Section 1-6A standings.
For the fifth straight game, North Allegheny scored a first-inning run and took a 1-0 lead on an RBI single by Cole Young. With runners at the corners and nobody out, Danny Gallon followed with a ground ball double play that scored Ethan Gavlik from third base for a 2-0 lead.
In the third inning, the Tigers busted the game wide open thanks to a six-run frame for an 8-0 lead. The big inning was aided by two Butler errors and highlighted by a two-run single by Aaron Galaska.
Senior Joe Manesiotis added a two-run double in the fourth inning and Harron Lee closed out the scoring in the fifth, racing home on a wild pitch to bring the final score to 11-0, Tigers.
North Allegheny starter Kyle Demi improved to 5-0 on the season with five innings of shutout baseball. The right hander allowed only two hits with three walks and three strikeouts. Butler's Cooper Baxter suffered the loss, allowing eight runs (two earned) in three innings with four walks and one strikeout.
With the win, North Allegheny improves to 12-2 overall and 7-1 in Section 1-6A. Butler slips to 9-5 overall and 5-3 in the section.
Box Score - Baseball vs. Butler - 04/27/2021
| Score by Innings | 1 | 2 | 3 | 4 | 5 | 6 | 7 | R | H | E |
| --- | --- | --- | --- | --- | --- | --- | --- | --- | --- | --- |
| North Allegheny | 2 | 0 | 6 | 2 | 1 | X | X | 11 | 7 | 1 |
| Butler | 0 | 0 | 0 | 0 | 0 | X | X | 0 | 2 | 2 |
WP - Kyle Demi (5-0) LP - Cooper Baxter